San Angelo State Park SASP
Location: Central West Texas
Business Address: 3900-2 Mercedes Road, San Angelo TX 76901
GPS Coordinates (main park entrance – not the equestrian entrance):
Latitude: 31.463922
Longitude: -100.508038
Contact: Park 325.949.4757 Reservations 512.389.8900
Website:
https://tpwd.texas.gov/state-parks/san-angelo
FaceBook page:
https://www.facebook.com/San-Angelo-State-Park-Texas-Parks-and-Wildlife-120216764662169/
Directions to North Shore Gatehouse entrance for Equestrian use: You must go through this gatehouse first to check in, pay fees, and have your Coggins checked. You will get a map, directions to where you are camping or the day use area, and the gate code. There is more than one way to get there; here is one, from US 87 turn south on FM 2288 (also known as Grape Creek Road and near the little town of Grape Creek north of San Angelo, TX). Just before the bridge crossing / river, turn left (see park signs) to the San Angelo State Park North Shore Gatehouse entrance. There is enough room to get your rig turned around easily once you get checked in.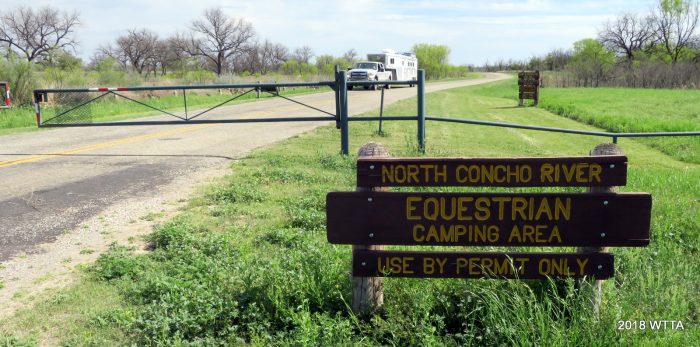 Hours for the North Shore Gatehouse:
Spring/Summer Monday – Thursday 9am – 6pm and Friday – Saturday 9am – 7pm
Fall/Winter Monday – Thursday 9am – 5pm and Friday – Saturday 9am – 6pm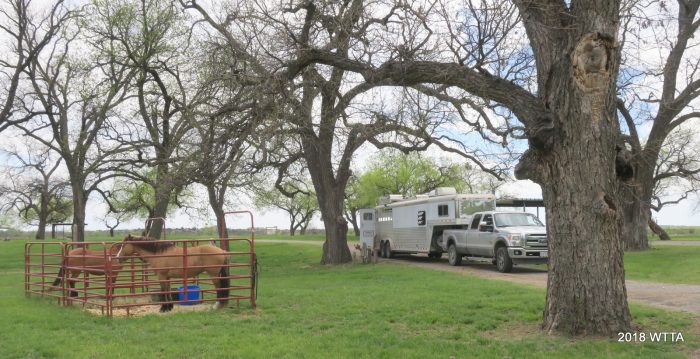 Facilities:
Day Use – First, check in at the North Shore Gatehouse (pay fees, have Coggins check, get the gate code, and be sure to get a map). Turn around and head back out of the gate entrance, go left on FM 2288, cross the river, and take the first left. Pass the North Concho Camping area and continue to the end of the road where there is a large parking lot area. This area is basically a concrete parking lot. At the backside of the parking lot is the main trail access entrance called, Bells's Trailhead (point #7 on the maps) with a brick metal archway, posted map, hitching rail, and two benches (which can be used as mounting blocks). From here continue straight for a beautifully shaded stroll next to the river on Shady Trail or go right through the gate to get to the main trailhead to trailhead route and/or Dinosaur Trail.
North Concho Camping Area – is the main equestrian camping area. First check in at the North Shore Gatehouse (pay fees, have Coggins check, get the gate code, and be sure to get a map). Turn around and head back out of the gate entrance, go left on FM 2288, cross the river, and take the first left (gated entrance ). When riding to the trails you can just cross over the main park road and go through the gate or you can follow the park road south to Bell's Trailhead (point #7 on the maps).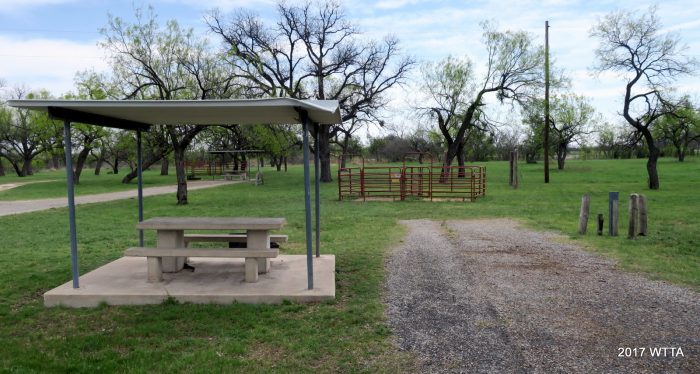 At North Concho, there are 23 well maintained camp sites, all are primitive except for sites 1-10. Sites 1-10 have water, electric, a covered picnic table, grill, two metal paneled horse pens that share a center panel and are about 10 by 10, three tethering posts to high tie your horses, a level asphalt parking pad, and large oak trees. Some of the sites are pull through. There are no mounting blocks. The campsites are beautiful and well kept. On my visit in March we had no issues with the electric hookups but in November of 2017 they were working on some of the electric hooks ups and was able to get mine going just in time. However, my microwave did end up shorting out and I was not sure if that was due to it's age or problems with the electricity. There is lots of shade and grass on the campsites and you can set up your own pens (to include electric) if you want your horse to have more space and grazing time. Park hosts told us we could spread our manure in the field.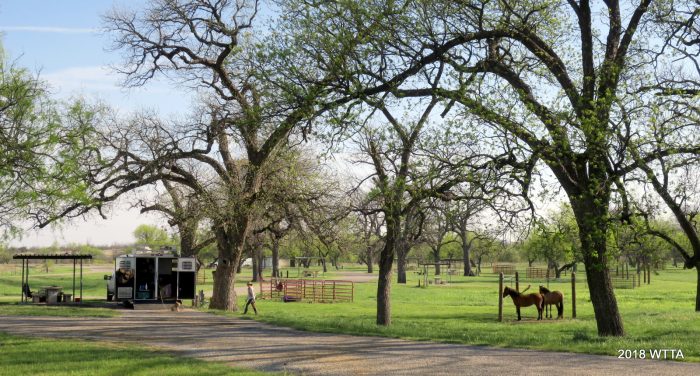 I loved the extra option of the tethering posts and used them to high tie my horses to give them a break from the small stalls while I cleaned the stalls, or tied them to tack up. I also high tied my younger mare using the tethering posts when I rode off on her buddy and left her behind. This was the safest way to contain her, as she most likely would have reared up on the stall panels and possibly caught a hoof in between the panels. She does not like being left behind. The stall would not have been safe for her while in a state of emotional abandonment. My husband stayed behind and kept a close watch on her as well.
The primitive sites vary with some (not all) having one larger paneled horse pen and/or three tethering posts, covered picnic tables, grill and/or fire ring, and some had paved parking pads while others are only dirt. There are no mounting blocks.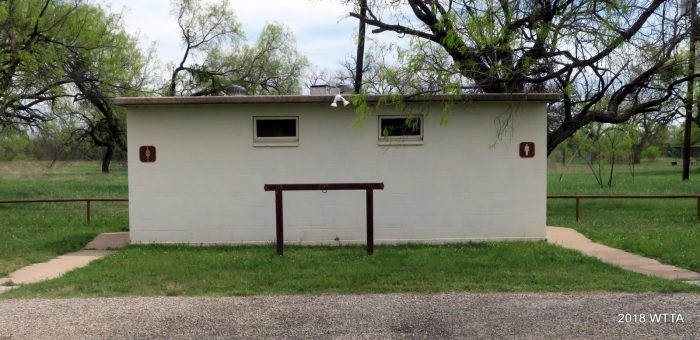 There is an enclosed men's/women's restroom (chemical toilets) but no showers. There are showers in the Bald Eagle Camping Area which is located by way of the North Shore Gatehouse entrance.
Firewood: is provided and located by the restroom area; donations are encouraged.
A dumpster for trash is also located near the restroom area.
An RV dump station is located on the way out of the North Concho Camping Area.
Bald Eagle Camping Area – This area has water/electric sites as well as primitive sites. Horses are sometimes allowed here, with permission from park staff, but there are no pens or tying posts. You are allowed to bring your own portable pens to the park. There is a shower house and restroom located in this area. This area can be reached by going through the North Shore Gatehouse.
Other non-equestrian camping areas are located throughout the park and on the south side of the park. There are also primitive camping areas within the park that you can ride, hike, or bike to.
Pets: Pets are allowed but must be contained or remain on a leash. In addition to our two horses we brought along our two dogs and one cat. Yes, one cat! This was my first time to camp with a cat and it actually went well and saved us $$ on boarding fees!. Itsy Bitsy had her own little pop up cat playpen, harness & leash, and she stayed in the trailer with us at night.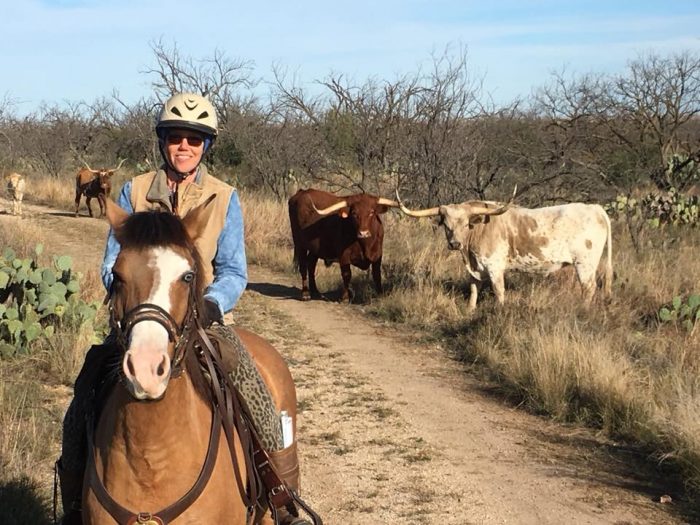 Park residents: When entering SASP we saw a rafter of turkeys taking flight. At our campsite we also saw owls and hawks. Our shady site seemed to also be the social hang out for all the park owls who were enjoying teasing our dog all night long. We received several warnings about rattle snakes but luckily I saw none on our trips there so far. We did see deer, javelina, and a wide variety of birds. Longhorns roam throughout the park. San Angelo State park is the home of the Official Texas State Longhorn Herd. I frequently came across these beautiful residents while on trail and learned that you go around them, not the other way around. It was really exciting when we were on a trail leading to a large water trough and the Longhorns were running from behind us, evidently to get to the water. They were thirsty and we had to get our spooked horses out of their way fast. Quick note on trail etiquette for San Angelo State Park; everyone yields to the Longhorns! After we all settled down one of my riding friends, Kathy, took this great picture (above) of me on Angel with the Longhorns. On the south side of the park there is a herd of buffalo (they have their own section in the park and do not roam on the park multiuse trails). Check with the Park for Buffalo or Longhorn educational tours/events.
Cell Phone Service: My service with AT&T was good at this park.
Trails Users: The trail is shared and divided between equestrians, hikers, and bicyclist. Everyone is to yield for the horse (except for the Longhorns and wildlife of course). No motorized vehicles allowed on trails. I saw several bicyclists on trail during both my visits to SASP in 2017. They were very courteous and careful around the horses.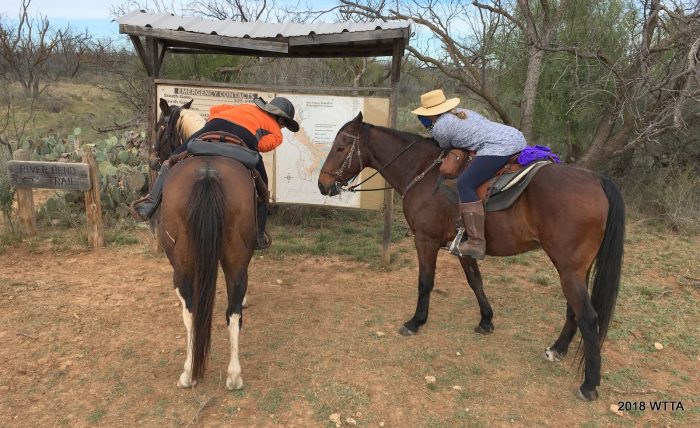 Mileage: SASP has approximately 50 miles of multiuse trails. Now that's a lot of riding!
Maps:
The park has two official trail maps (North and South Unit maps) and a facility park map which you can ask for at the gate and which is also listed on their website; see links below: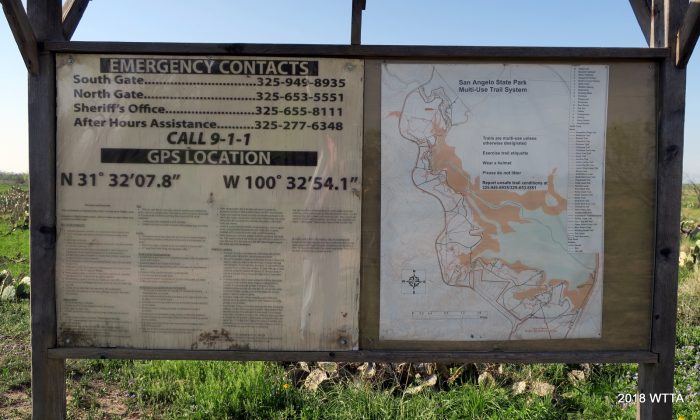 The trail maps are not as detailed as the maps posted along the trail. I suggest you take a good look at the map signs on trail as they are much more thorough and often have a "YOU ARE HERE" bullet on the map. I took a picture of one of the maps which is posted above.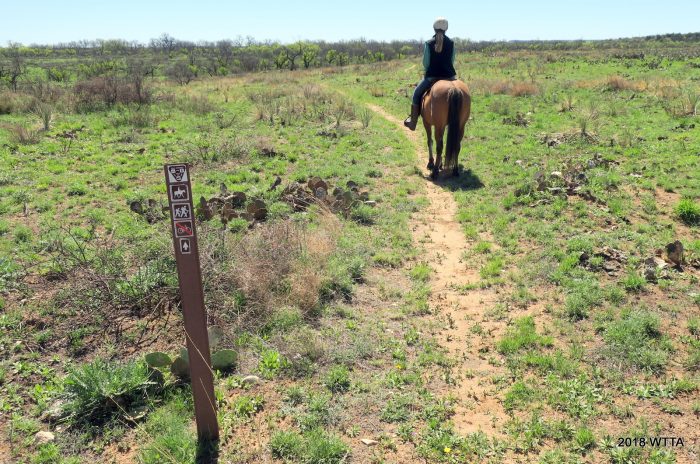 Trail Markers: Overall, I found the trail markers (mix of wood and metal markers) to be pretty good. On a few spots there were trail intersections that had no marking but I just stayed on what appeared to be the main trail and had no trouble. It is fairly easy to navigate this park because the trails are all in between the river and FM 2288. If the road is on your right and the river on your left, then you are heading south and away from the North trailhead… and vise versa.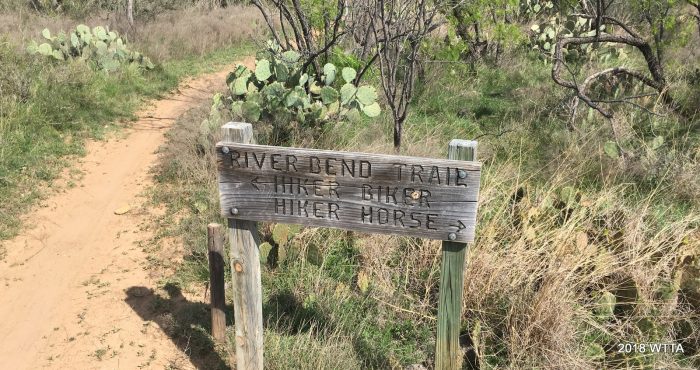 What is awesome about a lot of the trails is that they have separated the bike trails from most of the horse trails with hikers being able to go on either the bike or horse trail. The bike trail often runs alongside parallel to the horse trail. However, there are still some sections of trail that are shared by all users.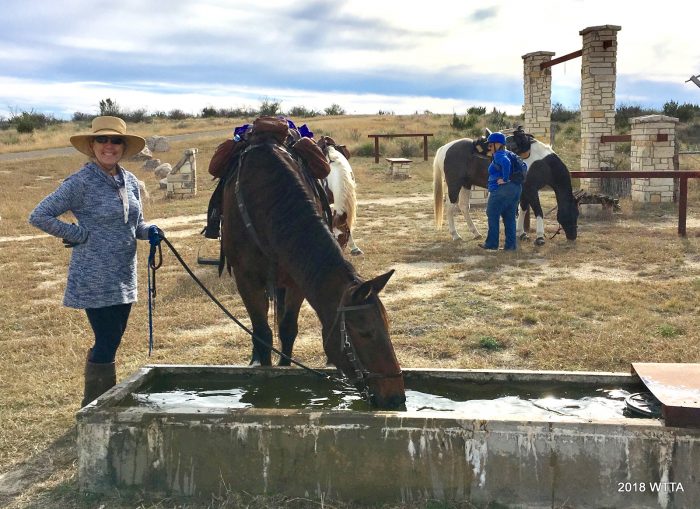 Water On Trail: Above is a water trough located at Burkett Trailhead which is marked at point number 2 on the maps. There are a few water troughs located on the trails. A water trough is also located on point 4 on the maps which is called Five Points (not sure why they did not assign it as point five on the map, lol). Another one of the water troughs is off of Dinosaur Trail closer to the equestrian campgrounds. There are also a few streams on some of the trails that are most likely dry during the summer or dry seasons.
Gates: I will say there are several gates to open and close along the trails but most are fairly easy to open/close off the back of your horse while a few are sticky and tricky (being too close to the cattle guard making your horse nervous). So if your horse is not gate trained, ride with someone who can easily open/close gates or be prepared to dismount/mount as needed to get through them.
Terrain: San Angelo State Park offers diversity in it's terrain with four regions converging, Edwards Plateau, Hill Country, Rolling Plains, and the Trans-Pecos desert. Most of the trails are fairly flat and level but there is a little Hill Country in Concho Land. Be ready for a few ups and downs in some areas. You can tell by the name of some of the trails if they will be challenging or not, such as Roller Coaster Trail versus Tasajilla Flats Trail.The ground varies from black dirt, sandy clay type soil, and hilly rock surfaces. My horse got by fine barefoot but there are some rocky and hilly areas in which you may want boots or shoes on your horse. Some of the trails are wide open with miles and miles of catus but no tree coverage, while other trails have short brushy trees, lots of mesquite, and oak groves closer to the North Concho River.
A Short Description:
San Angelo State park is off the banks of the O.C. Fischer Reservoir and the Concho River. Opened in May of 1995, it is approximately 7,500 acres. My first equestrian camping trip to the park was March of 2017 but I was eager to return, going back in Nov. of 2017. I'd love to time my next trip when all of the prickly pair cactus are blooming, because they are everywhere. The park is really interesting and diverse in it's landscape. The Reservoir water levels have greatly receded leaving behind several abandoned picnic and camping sites now far from the shores and over grown with cactus. While at the park be sure to check out the inviting town of San Angelo and it's Fort Concho a National Historic Landmark.
Lots of Pictures!