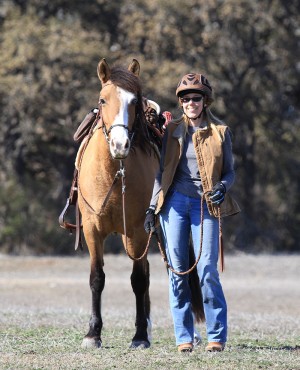 Where The Trails Are (WTTA) strives to provide a useful database of equestrian trails. Keep your eyes here for a growing resource guide. The trails for horse back riding are unfortunately dwindling and it can be hard to find places to ride. The best resource for knowledge of equestrian trails are the trail riders themselves. It is the hope of Where the Trails Are that riders will contribute information about trails they know with their fellow equestrians. Watch for our articles in The Horse Gazette and "like" us on WTTA's Facebook page.
Help WTTA grow by submitting a trail review to share with your fellow riders!
If you would like to contribute information about riding trails then please check out the Submit A Review Tab for more information. You are encouraged to include pictures of the trails, you and your riding buddies on the trail, and of the facilities, but they do need to be at least 800 pixels wide. Getting a shot at the trailhead or facility entrance with you and all your riding buddies always makes for a super photo and helps people know what to look for when they are trying to find the park/ranch.
Thanks so much and happy trails!
Kelly Hurd
Send me an e-mail at: hurdkn@gmail.com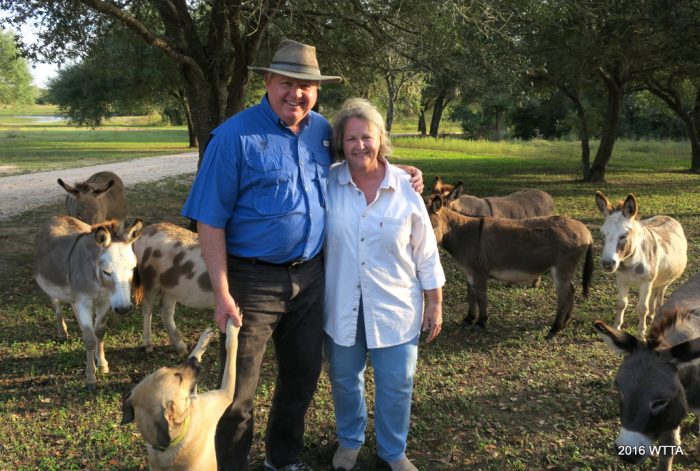 Location: Berclair, TX (near Goliad, TX)
Mailing address: P.O. Box 626, Berclair, TX 78107
Physical address: 8212 FM 883, Berclair, TX 78107
Facebook page: https://www.facebook.com/BQ5RANCH/?tn-str=k*F
Contact/Reservations: Claire 361.542.0348 or barnhartranchretreat@gmail.com
Overnight horse boarding facilities with barn, paddock, and pasture $25 a night per horse
Three unique rental cottages ranging from $100 to $350 a night, contact Claire for up to date rates and specials
Pets welcome, no more than two dogs per cottage and a $10 cleaning fee per stay
Approximately 18 miles of trails sectioned off in several pastures; 706 acres total
No trailer/RV hookups yet, but plans are in the works to have them by 2020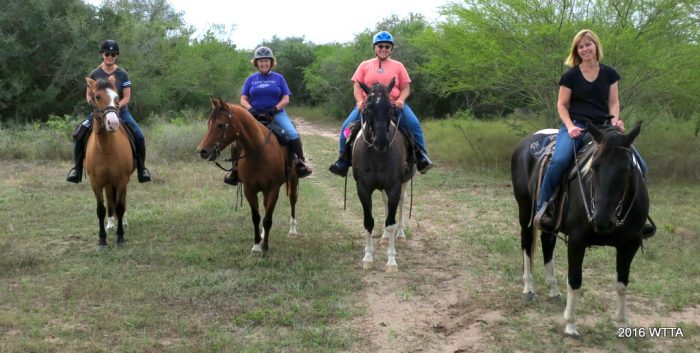 Five of us visited the family owned and run Barnhart Q5 Ranch and Nature Retreat a few years back. I have been meaning for a while to get a trail info page up on this great little piece of Texas in Goliad County. This is an eco-tourism working ranch and nature preserve. Claire and her family raise Mediterranean Miniature donkeys along with about 30 or so head of cattle and have many other animals and projects underway on their family owned ranch. Saved from demolition and moved to the ranch in 2005, the charming 1877 Maetze-von Dohlen House was our lovely retreat for the weekend. The Maetze home sleeps up to ten with a total capacity of 14. For this trip five was a perfect number! We prepared great meals in the fully equipped kitchen. Enjoyed a wonderful camp fire, which Barnhart set up for us behind the house. Rocked on the back porch enjoying the big and bright Texas stars while savoring Kerri's homemade goat cheese and sipping wine. The home was so charming and such a happy and relaxing respite was had by all. But, I have not reached the best part yet, we brought our horses with us and hit the trails!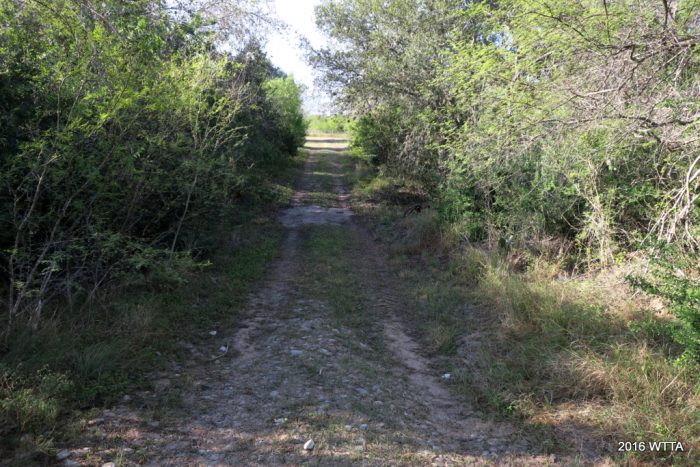 Getting to the horses from Maetze House was a pleasant walk down to the barn and pasture. There is a covered barn, about a four acre pasture and a paddock closer to the main road, FM 883, where you will enter the ranch if you are traveling with horses. Contact Claire for specific directions. There was more than enough room for our five horses. Our equine friends loved being able to roam freely in the pasture and graze.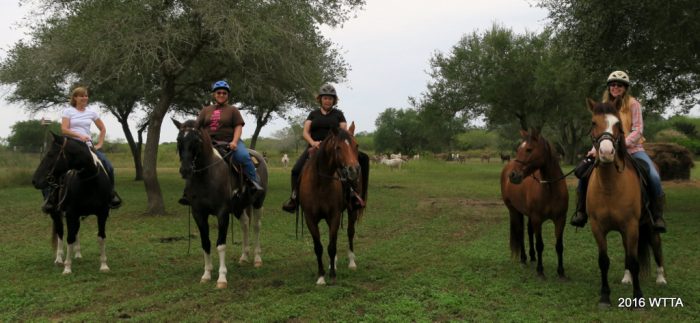 On trail we got to enjoy seeing the miniature donkeys, cattle, and wildlife. Trails are not marked but easy enough to follow as they kept them well mowed down and wide. Several ponds and tanks to water your horse were easily discovered along the trail. The Ranch is kept in a state of natural beauty. Before we rode out Claire gave us a tour of the ranch from her ATV which was lots of fun, especially when the cattle came barreling through, running past us.
I must apologize for the brief info on this wonderful ranch, as I waited way too long to enter this little gem on WTTA. There are about 18 miles of trails but you will need to be prepared to open and close several gates, great practice if you are wanting to perfect your horseback gate opening/closing skills. There were no mounting blocks when I last visited.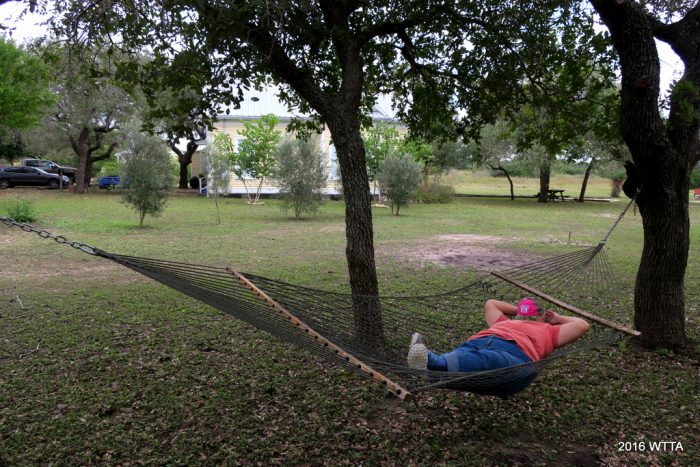 This is a great place to relax; very peaceful and secluded. If you are a Texas History lover then you must also make the short drive to visit Goliad. This is also a very popular birding location.
Lots of Pictures from our visit to Barnhart Ranch and Nature Retreat Q5.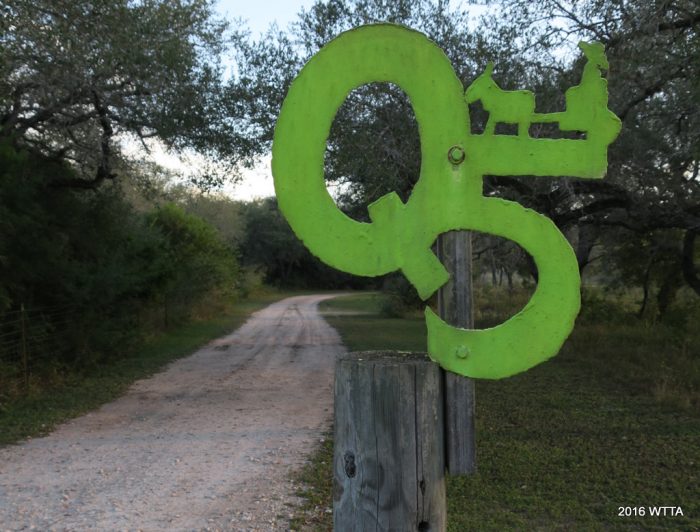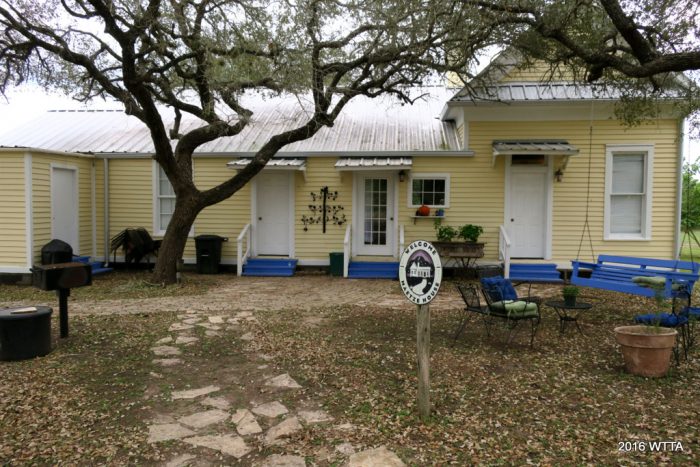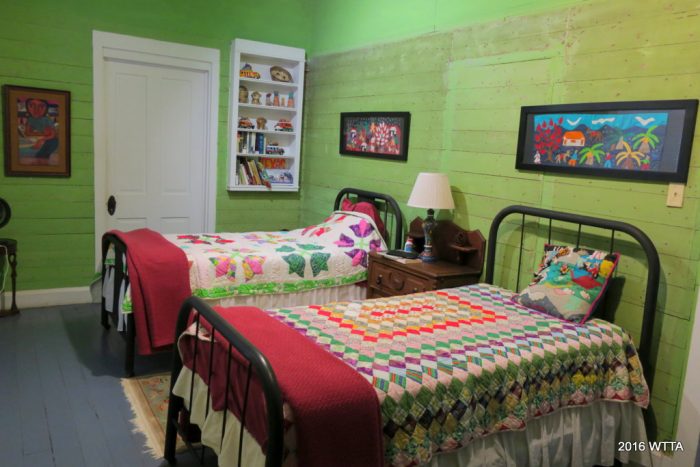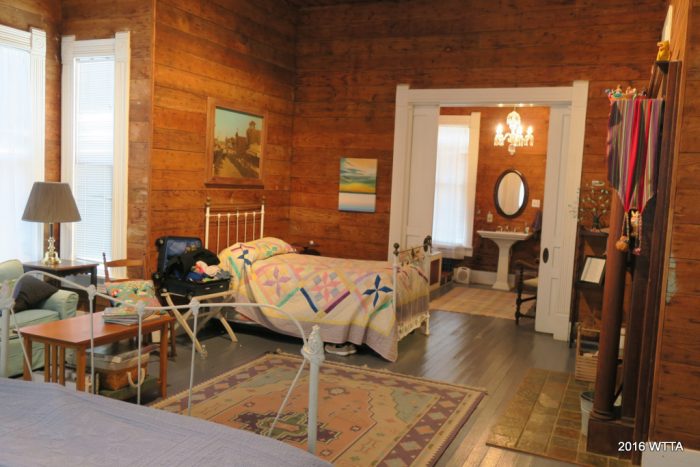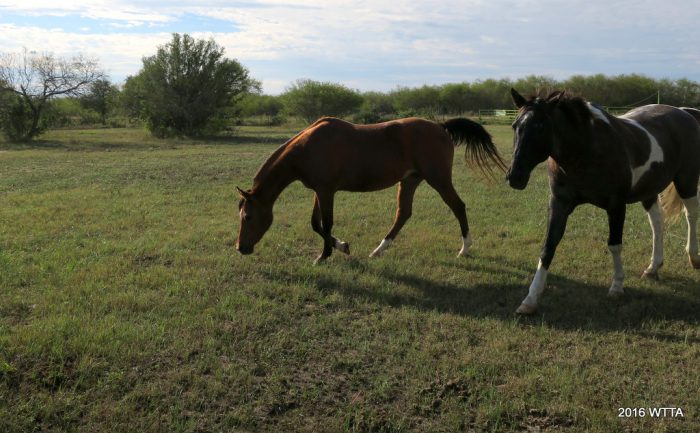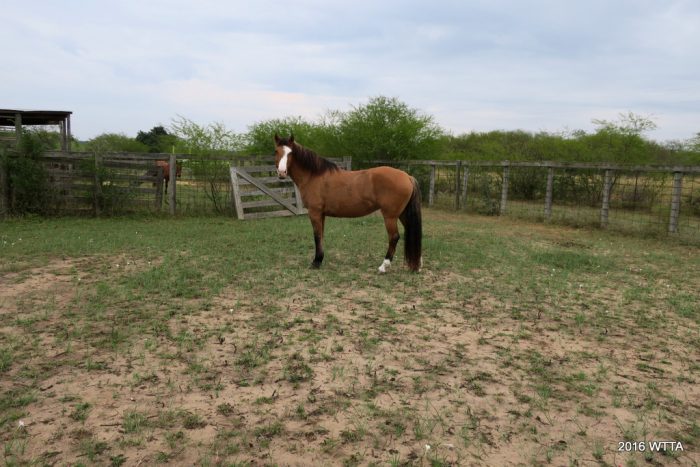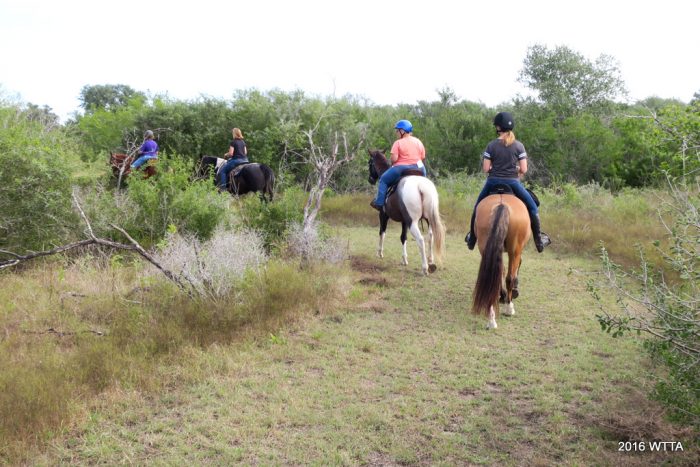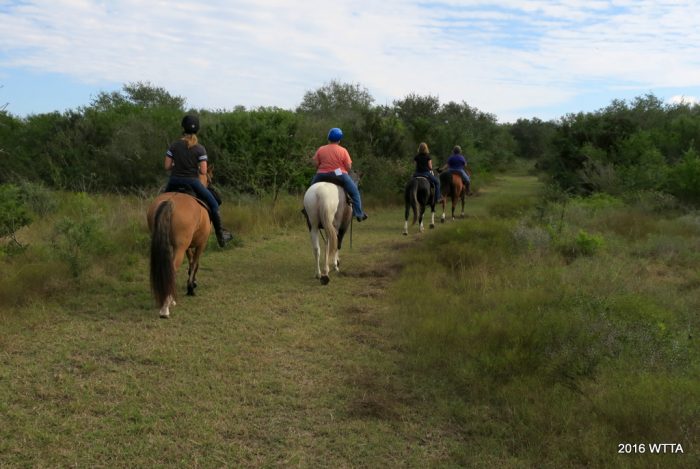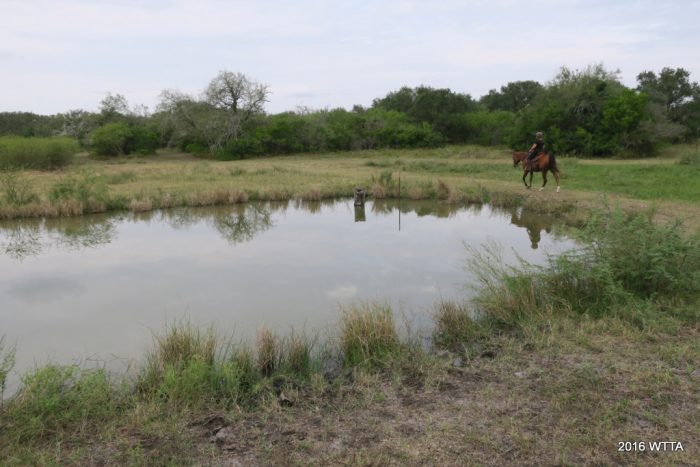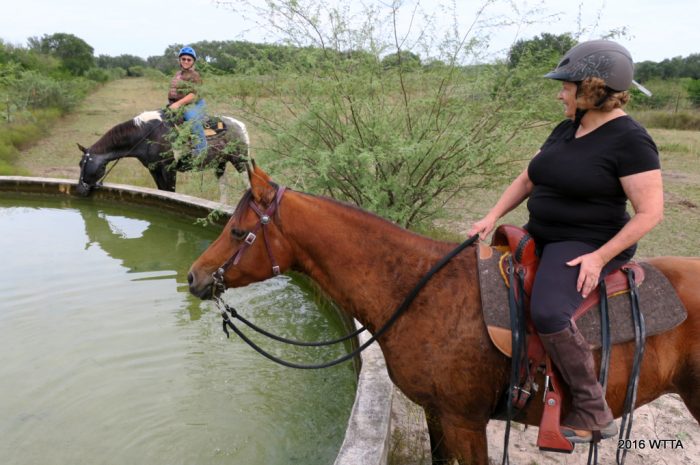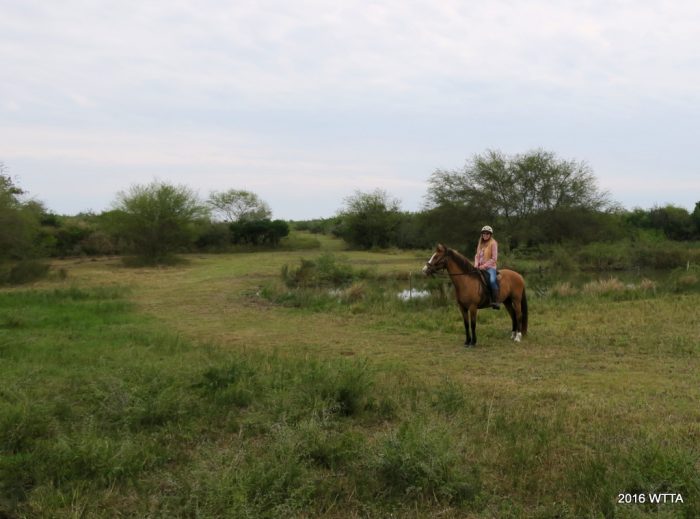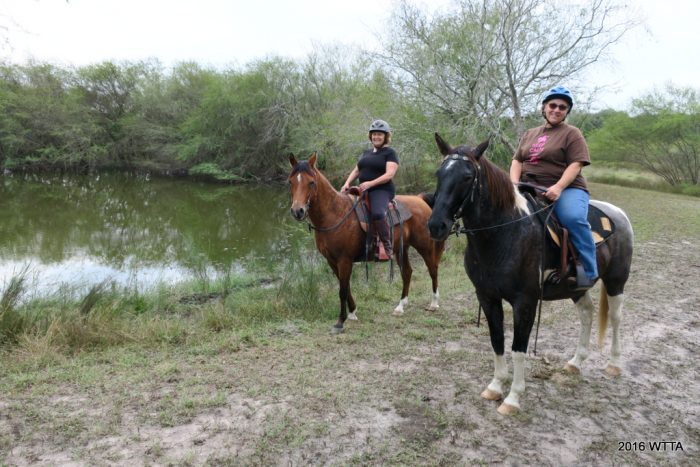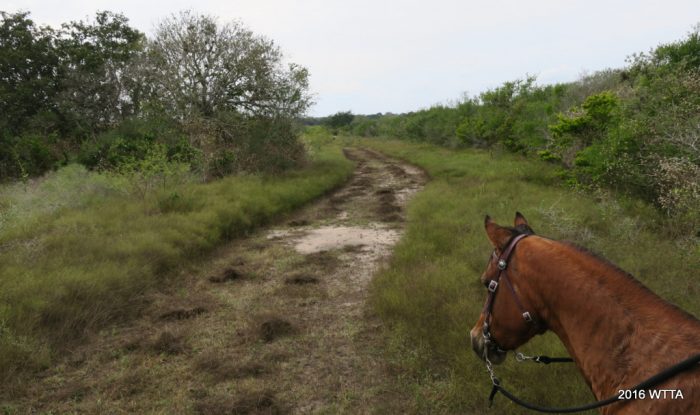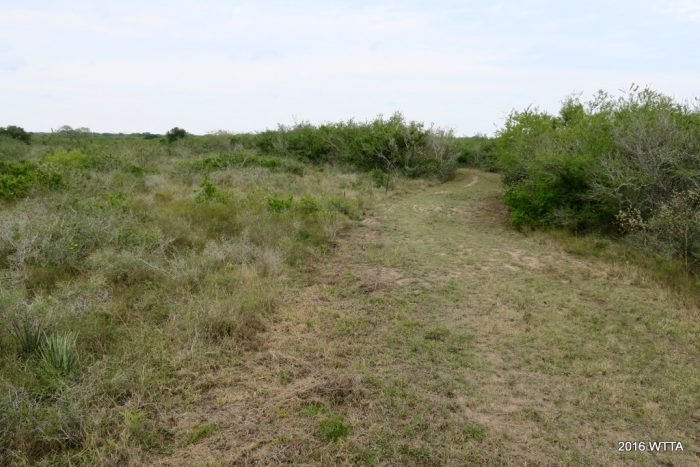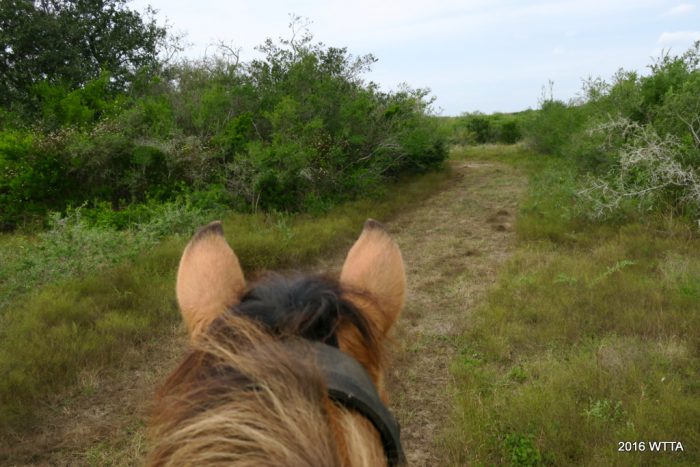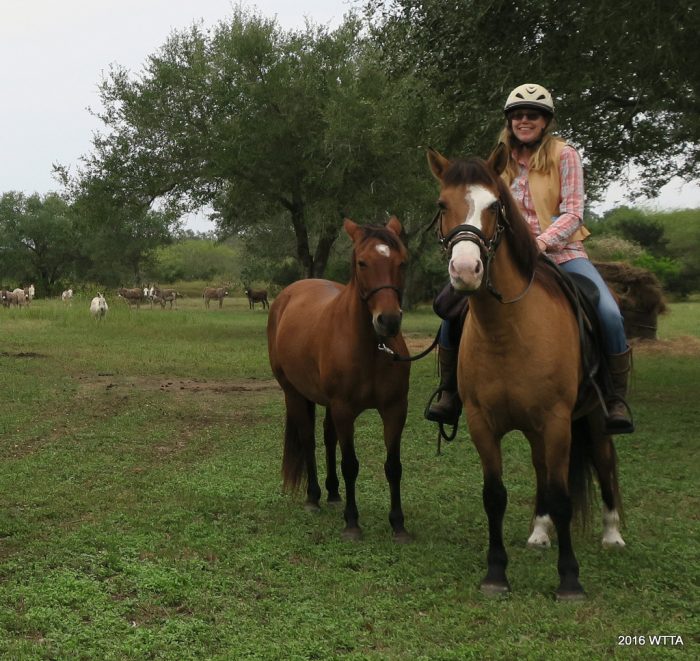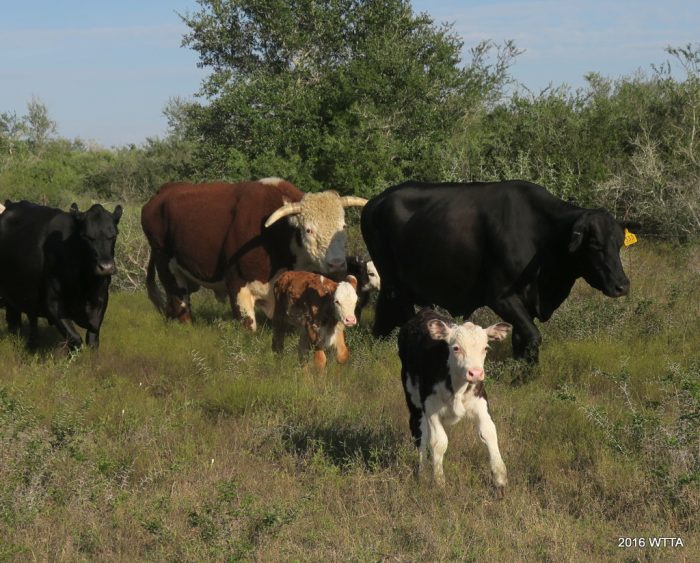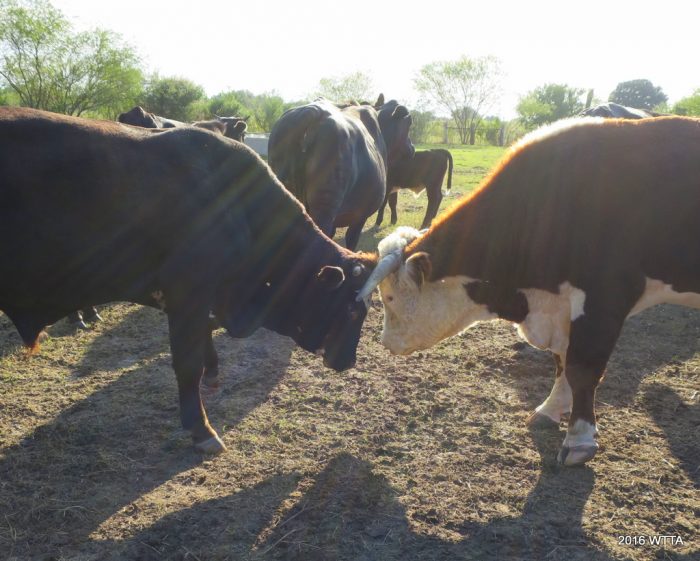 My favorite activity at Barnhart; donkey loving!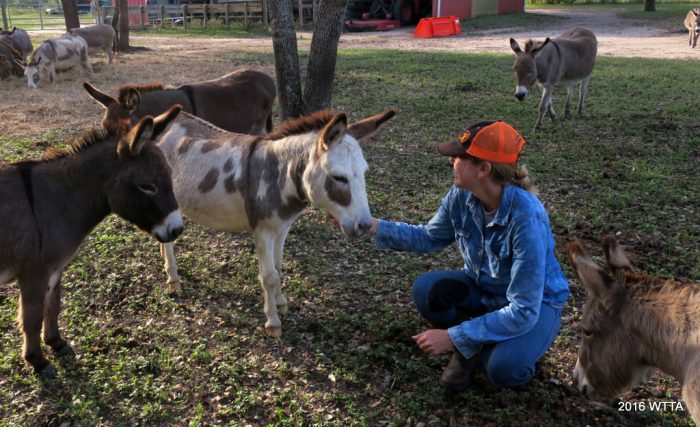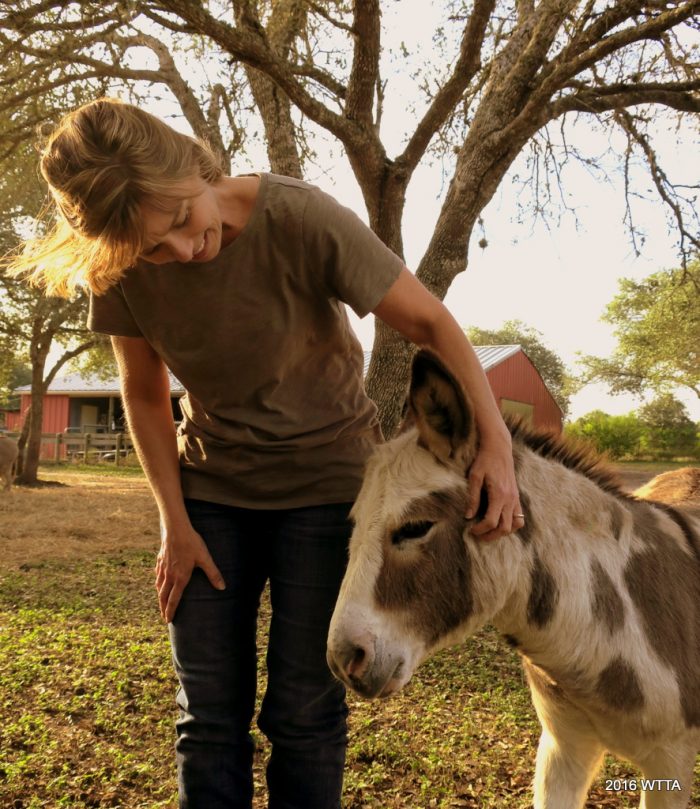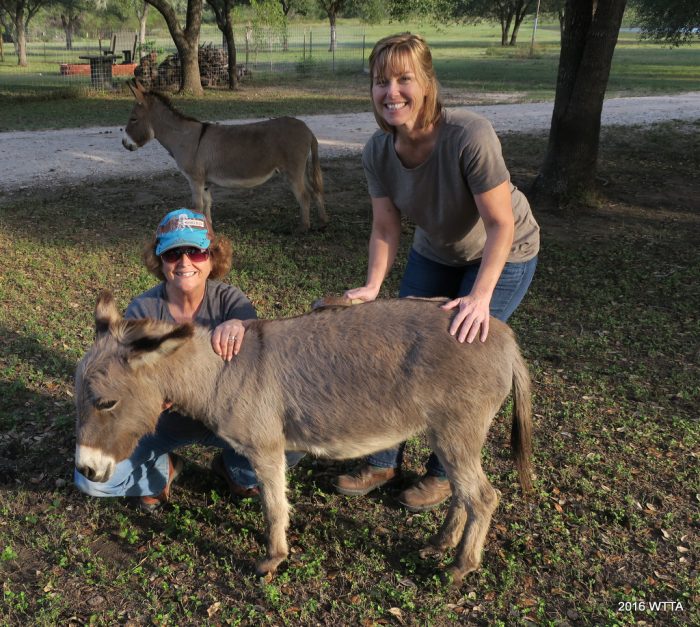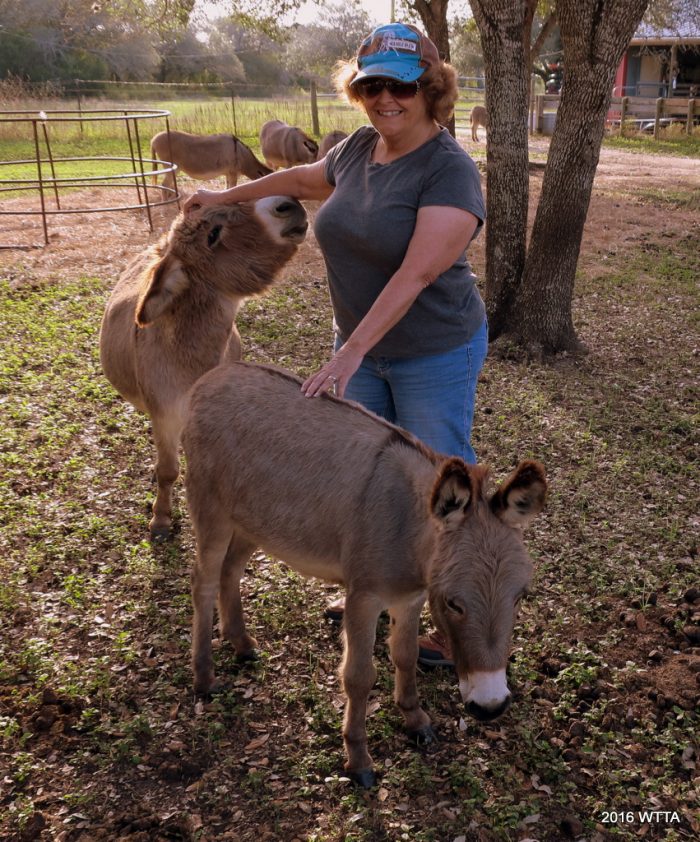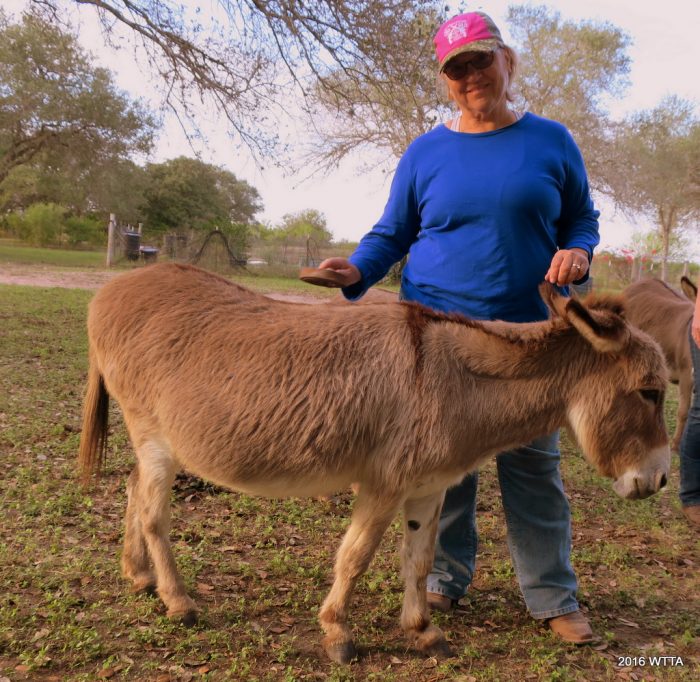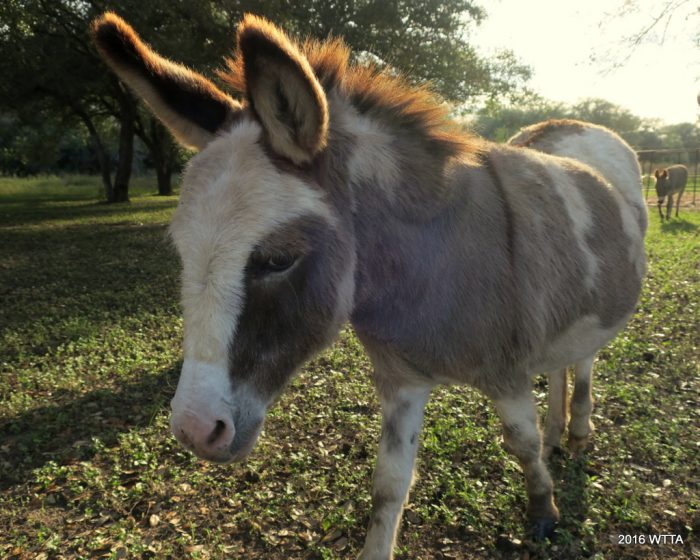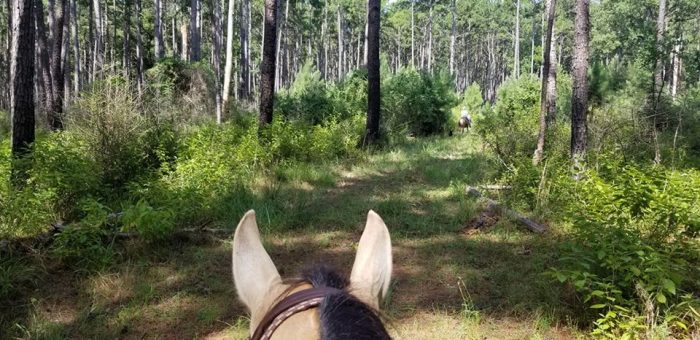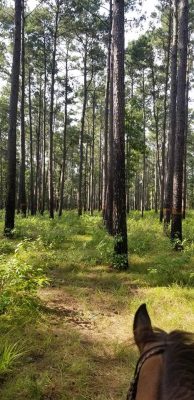 Location:
T bar S Horse Camp in the Davy Crockett National Forest
6387 FM2781
Kennard, TX 75847
Website: https://tbarshorsecamp.com
https://www.facebook.com/DavyCrockettNationalForestequestriantrailriding
Directions: from Huntsville, travel on TX-19 approximately 20 miles to Trinity. In Trinity turn RIGHT on TX-94 (the 2nd traffic signal) towards Groveton. Travel 16 miles and TX-94 ends/merges with Hwy 287, turn LEFT towards Crockett. Go approximately 8 miles to Pennington and turn RIGHT on FM2781, there is a Spitfire Grill/Gas Station at the intersection. In Pennington make the RIGHT (just past the Church) and then a LEFT (just past Avery's Welding & Feed) to stay on FM2781 towards Kennard. T bar S is then 6 miles ahead, just past Baker Springs, on the RIGHT.
or
From Crockett or Nacogdoches, travel on TX-7 to Kennard, turn SOUTH at the flashing yellow light which is FM2781. Go approximately 6 miles and T bar S is on the LEFT.
If you accidentally pass T bar S, you can continue on to either Kennard or Pennington to get turned back around.
Contact:
Tom & Stephanie Hanslik
Tbarshorsecamp@yahoo.com
(936) 655-3328 office
(832) 928-9584 cel / txt
Reservations: online at https://tbarshorsecamp.com/reservations
Hours: Open daily from 8am to 8pm
Overnight camping:
Equestrian overnight camping is allowed, with parking space available for day riders if camp is not full.
Facilities:
Restrooms and showers were recently added! 16 sites with 30 amp electric and water hookups, and 2 horse pens per site. Several of the pens are covered. Horse pens are 12×12', and most can be opened to 12×24 for those camping with one horse.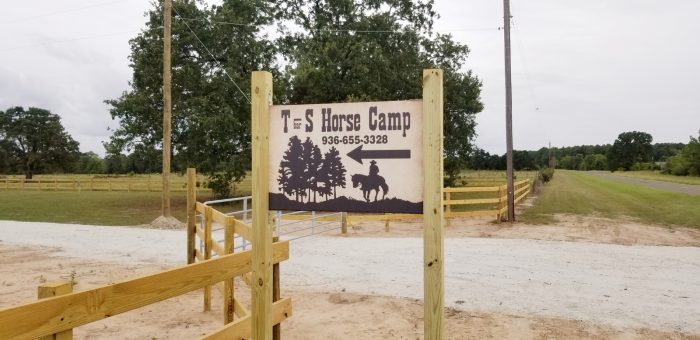 Rates:
Camp for $35/night with 2 pens included in that price, reservations required. Day Riders are welcome (if space available) at $10 per trailer. Includes secured parking and access to potable water & facilities. Contact camp in advance. There is no fee to ride the trails.
Policies: listed on website.
Proof of Negative Coggins Required.
Check-in time is 1pm, check-out time is 12 noon. For later departure check with owners if site is reserved by anyone else. If so, can move to day rider spot or another site if want to ride before heading home.
No Stallions.
Dogs welcome but MUST be kept on a leash. It is a working farm with cats, chickens, and ducks.
Do not tie horses to pens or trees, tie to side of trailer only please.
Horse pens must be cleaned of all manure and hay upon departure.
Shavings are permitted, but not provided.
Campfires allowed in above-ground rings or community fire ring only.
No discharging of any waste or gray water.
Quiet hours begin at 10pm.
Maximum 4 persons per site
Maximum 2 horses per site. If more than 2 horses please contact owners, additional pens (if available) are $10/horse per night.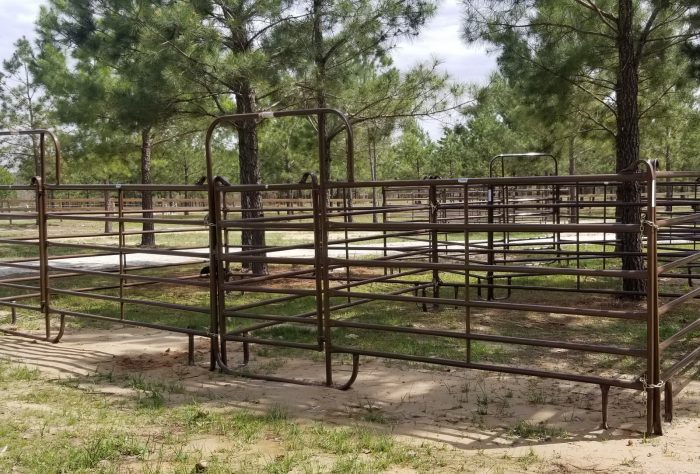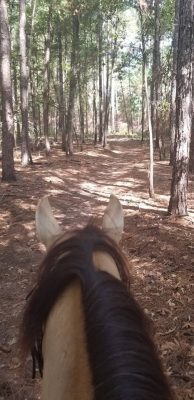 Description:
This is a brand new horse camp, which opened in 2019. Future improvements are planned and include a pavilion with bathroom & shower facilities. Currently there is a very clean porta-toilet for campers. A dumpster for trash is provided. Manure is to be cleaned out of the pens and campsites and then deposited in the manure spreader, there are limited muck buckets so if camp is busy be sure to bring your own muck bucket and manure fork to make the job easier. There are two areas where multiple pens are grouped together, a water spigot and hose is supplied for those. But be sure and bring your own water hose for your campsite. Camp and horse pens are very shady, pens that would otherwise be in full sun are covered! Some of the sites are pull-through. Camp is located right off a paved farm-to-market road, very easy to find and no rough dirt or gravel roads to negotiate with your trailer.
Direct access to the 50+ miles of marked and mapped trails in the Davy Crockett National Forest.
The Trails:
The Piney Creek Horse Trail is a system of horse trails that meanders approximately 53 miles through the East Texas piney woods in the Davy Crockett National Forest.
The trail is primitive; its path cleared through the forest which follows Forest Service roads, tram roads, pipeline right-of-ways, game trails, and in some places it was established by clearing brush and trees through the forest. Primarily, it is on National Forest land, but there are crossings on private property and along public road right-of-ways. In general, the route is well cleared. Trails are very well marked, and all road crossings are well signed. Different colored triangular markers indicate the route. Trails are easy with gently rolling terrain. It is also very shady, making it a great place for summer riding. There are no motorized vehicles / atv / utv / dirt bikes allowed in the forest.
The trail is barefoot-friendly, though there may be short gravelly sections that could bother very sensitive hooves.
Additional Info:
There is hunting allowed in the forest, so it is best avoided Nov 1st through the end of gun season. The forest is commonly too wet to ride in these months anyway.
AT&T and Straight-Talk cel service is very good; Sprint, Verizon etc. is very poor.
San Angelo State Park SASP
Location: Central West Texas
Business Address: 3900-2 Mercedes Road, San Angelo TX 76901
GPS Coordinates (main park entrance – not the equestrian entrance):
Latitude: 31.463922
Longitude: -100.508038
Contact: Park 325.949.4757 Reservations 512.389.8900
Website:
https://tpwd.texas.gov/state-parks/san-angelo
FaceBook page:
https://www.facebook.com/San-Angelo-State-Park-Texas-Parks-and-Wildlife-120216764662169/
Directions to North Shore Gatehouse entrance for Equestrian use: You must go through this gatehouse first to check in, pay fees, and have your Coggins checked. You will get a map, directions to where you are camping or the day use area, and the gate code. There is more than one way to get there; here is one, from US 87 turn south on FM 2288 (also known as Grape Creek Road and near the little town of Grape Creek north of San Angelo, TX). Just before the bridge crossing / river, turn left (see park signs) to the San Angelo State Park North Shore Gatehouse entrance. There is enough room to get your rig turned around easily once you get checked in.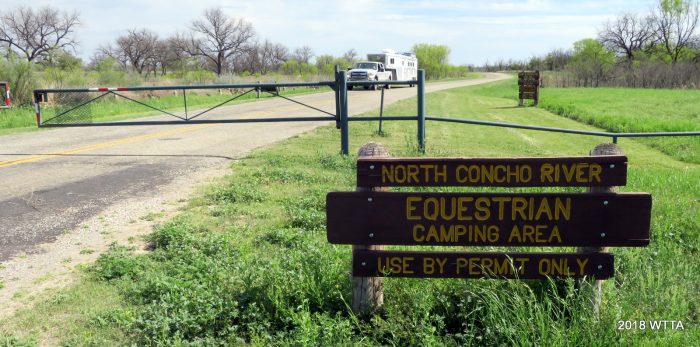 Hours for the North Shore Gatehouse:
Spring/Summer Monday – Thursday 9am – 6pm and Friday – Saturday 9am – 7pm
Fall/Winter Monday – Thursday 9am – 5pm and Friday – Saturday 9am – 6pm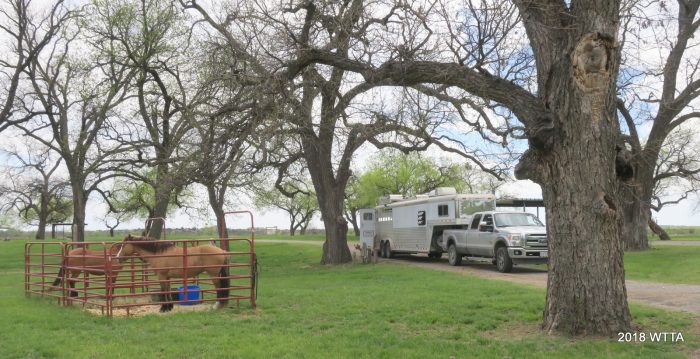 Facilities:
Day Use – First, check in at the North Shore Gatehouse (pay fees, have Coggins check, get the gate code, and be sure to get a map). Turn around and head back out of the gate entrance, go left on FM 2288, cross the river, and take the first left. Pass the North Concho Camping area and continue to the end of the road where there is a large parking lot area. This area is basically a concrete parking lot. At the backside of the parking lot is the main trail access entrance called, Bells's Trailhead (point #7 on the maps) with a brick metal archway, posted map, hitching rail, and two benches (which can be used as mounting blocks). From here continue straight for a beautifully shaded stroll next to the river on Shady Trail or go right through the gate to get to the main trailhead to trailhead route and/or Dinosaur Trail.
North Concho Camping Area – is the main equestrian camping area. First check in at the North Shore Gatehouse (pay fees, have Coggins check, get the gate code, and be sure to get a map). Turn around and head back out of the gate entrance, go left on FM 2288, cross the river, and take the first left (gated entrance ). When riding to the trails you can just cross over the main park road and go through the gate or you can follow the park road south to Bell's Trailhead (point #7 on the maps).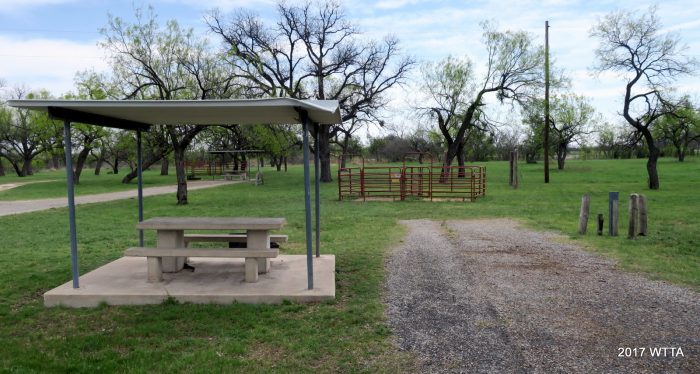 At North Concho, there are 23 well maintained camp sites, all are primitive except for sites 1-10. Sites 1-10 have water, electric, a covered picnic table, grill, two metal paneled horse pens that share a center panel and are about 10 by 10, three tethering posts to high tie your horses, a level asphalt parking pad, and large oak trees. Some of the sites are pull through. There are no mounting blocks. The campsites are beautiful and well kept. On my visit in March we had no issues with the electric hookups but in November of 2017 they were working on some of the electric hooks ups and was able to get mine going just in time. However, my microwave did end up shorting out and I was not sure if that was due to it's age or problems with the electricity. There is lots of shade and grass on the campsites and you can set up your own pens (to include electric) if you want your horse to have more space and grazing time. Park hosts told us we could spread our manure in the field.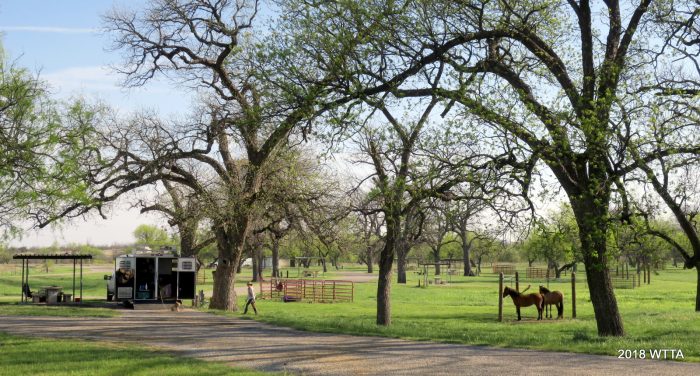 I loved the extra option of the tethering posts and used them to high tie my horses to give them a break from the small stalls while I cleaned the stalls, or tied them to tack up. I also high tied my younger mare using the tethering posts when I rode off on her buddy and left her behind. This was the safest way to contain her, as she most likely would have reared up on the stall panels and possibly caught a hoof in between the panels. She does not like being left behind. The stall would not have been safe for her while in a state of emotional abandonment. My husband stayed behind and kept a close watch on her as well.
The primitive sites vary with some (not all) having one larger paneled horse pen and/or three tethering posts, covered picnic tables, grill and/or fire ring, and some had paved parking pads while others are only dirt. There are no mounting blocks.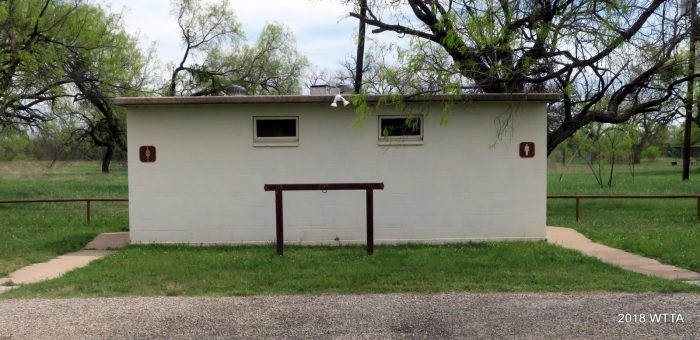 There is an enclosed men's/women's restroom (chemical toilets) but no showers. There are showers in the Bald Eagle Camping Area which is located by way of the North Shore Gatehouse entrance.
Firewood: is provided and located by the restroom area; donations are encouraged.
A dumpster for trash is also located near the restroom area.
An RV dump station is located on the way out of the North Concho Camping Area.
Bald Eagle Camping Area – This area has water/electric sites as well as primitive sites. Horses are sometimes allowed here, with permission from park staff, but there are no pens or tying posts. You are allowed to bring your own portable pens to the park. There is a shower house and restroom located in this area. This area can be reached by going through the North Shore Gatehouse.
Other non-equestrian camping areas are located throughout the park and on the south side of the park. There are also primitive camping areas within the park that you can ride, hike, or bike to.
Pets: Pets are allowed but must be contained or remain on a leash. In addition to our two horses we brought along our two dogs and one cat. Yes, one cat! This was my first time to camp with a cat and it actually went well and saved us $$ on boarding fees!. Itsy Bitsy had her own little pop up cat playpen, harness & leash, and she stayed in the trailer with us at night.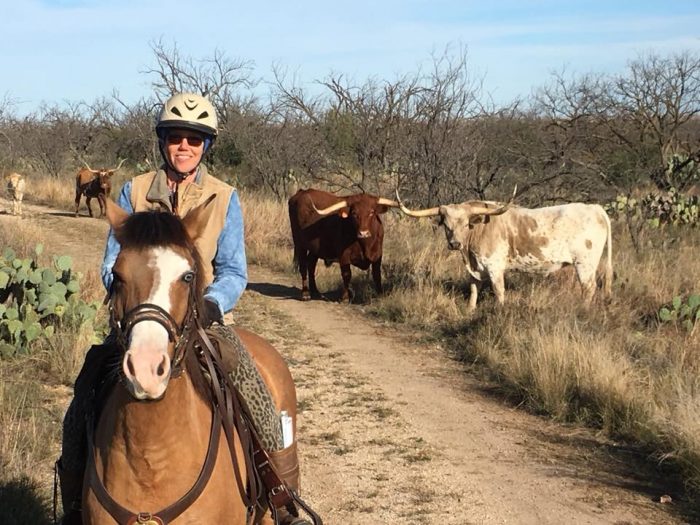 Park residents: When entering SASP we saw a rafter of turkeys taking flight. At our campsite we also saw owls and hawks. Our shady site seemed to also be the social hang out for all the park owls who were enjoying teasing our dog all night long. We received several warnings about rattle snakes but luckily I saw none on our trips there so far. We did see deer, javelina, and a wide variety of birds. Longhorns roam throughout the park. San Angelo State park is the home of the Official Texas State Longhorn Herd. I frequently came across these beautiful residents while on trail and learned that you go around them, not the other way around. It was really exciting when we were on a trail leading to a large water trough and the Longhorns were running from behind us, evidently to get to the water. They were thirsty and we had to get our spooked horses out of their way fast. Quick note on trail etiquette for San Angelo State Park; everyone yields to the Longhorns! After we all settled down one of my riding friends, Kathy, took this great picture (above) of me on Angel with the Longhorns. On the south side of the park there is a herd of buffalo (they have their own section in the park and do not roam on the park multiuse trails). Check with the Park for Buffalo or Longhorn educational tours/events.
Cell Phone Service: My service with AT&T was good at this park.
Trails Users: The trail is shared and divided between equestrians, hikers, and bicyclist. Everyone is to yield for the horse (except for the Longhorns and wildlife of course). No motorized vehicles allowed on trails. I saw several bicyclists on trail during both my visits to SASP in 2017. They were very courteous and careful around the horses.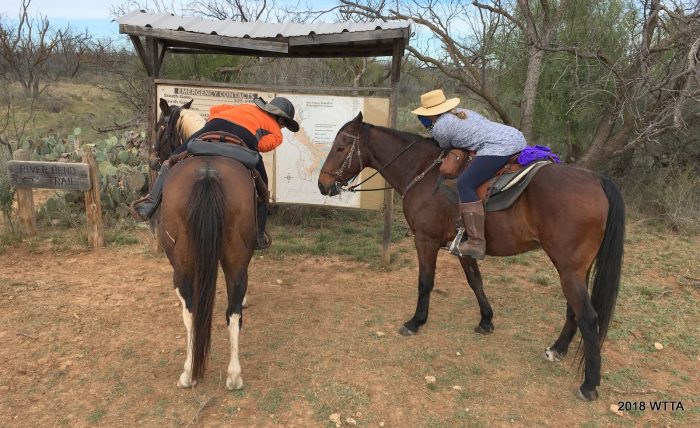 Mileage: SASP has approximately 50 miles of multiuse trails. Now that's a lot of riding!
Maps:
The park has two official trail maps (North and South Unit maps) and a facility park map which you can ask for at the gate and which is also listed on their website; see links below: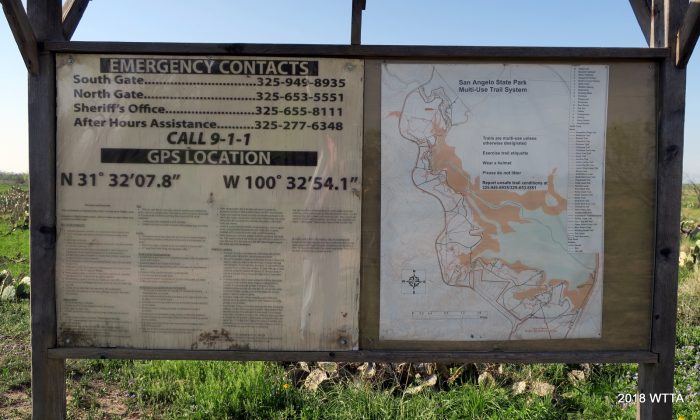 The trail maps are not as detailed as the maps posted along the trail. I suggest you take a good look at the map signs on trail as they are much more thorough and often have a "YOU ARE HERE" bullet on the map. I took a picture of one of the maps which is posted above.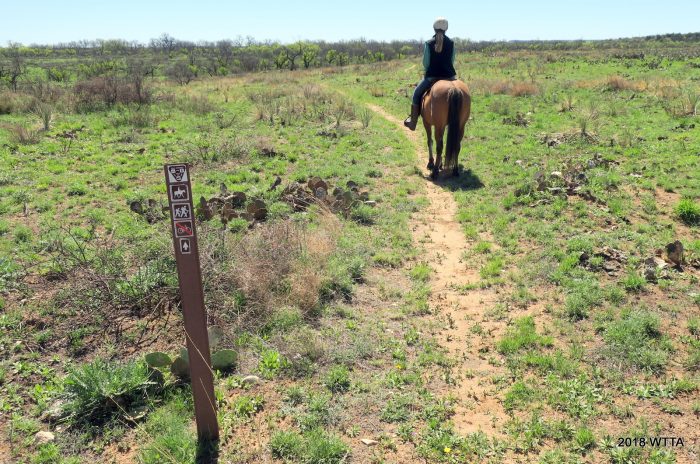 Trail Markers: Overall, I found the trail markers (mix of wood and metal markers) to be pretty good. On a few spots there were trail intersections that had no marking but I just stayed on what appeared to be the main trail and had no trouble. It is fairly easy to navigate this park because the trails are all in between the river and FM 2288. If the road is on your right and the river on your left, then you are heading south and away from the North trailhead… and vise versa.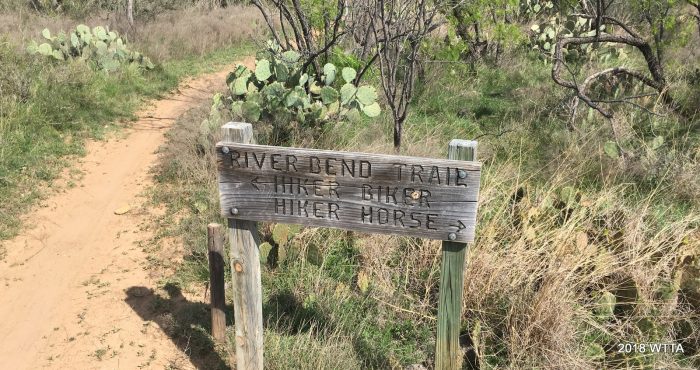 What is awesome about a lot of the trails is that they have separated the bike trails from most of the horse trails with hikers being able to go on either the bike or horse trail. The bike trail often runs alongside parallel to the horse trail. However, there are still some sections of trail that are shared by all users.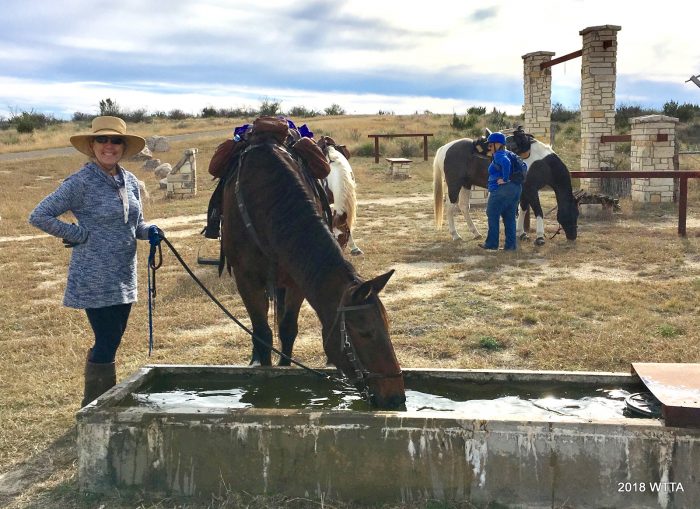 Water On Trail: Above is a water trough located at Burkett Trailhead which is marked at point number 2 on the maps. There are a few water troughs located on the trails. A water trough is also located on point 4 on the maps which is called Five Points (not sure why they did not assign it as point five on the map, lol). Another one of the water troughs is off of Dinosaur Trail closer to the equestrian campgrounds. There are also a few streams on some of the trails that are most likely dry during the summer or dry seasons.
Gates: I will say there are several gates to open and close along the trails but most are fairly easy to open/close off the back of your horse while a few are sticky and tricky (being too close to the cattle guard making your horse nervous). So if your horse is not gate trained, ride with someone who can easily open/close gates or be prepared to dismount/mount as needed to get through them.
Terrain: San Angelo State Park offers diversity in it's terrain with four regions converging, Edwards Plateau, Hill Country, Rolling Plains, and the Trans-Pecos desert. Most of the trails are fairly flat and level but there is a little Hill Country in Concho Land. Be ready for a few ups and downs in some areas. You can tell by the name of some of the trails if they will be challenging or not, such as Roller Coaster Trail versus Tasajilla Flats Trail.The ground varies from black dirt, sandy clay type soil, and hilly rock surfaces. My horse got by fine barefoot but there are some rocky and hilly areas in which you may want boots or shoes on your horse. Some of the trails are wide open with miles and miles of catus but no tree coverage, while other trails have short brushy trees, lots of mesquite, and oak groves closer to the North Concho River.
A Short Description:
San Angelo State park is off the banks of the O.C. Fischer Reservoir and the Concho River. Opened in May of 1995, it is approximately 7,500 acres. My first equestrian camping trip to the park was March of 2017 but I was eager to return, going back in Nov. of 2017. I'd love to time my next trip when all of the prickly pair cactus are blooming, because they are everywhere. The park is really interesting and diverse in it's landscape. The Reservoir water levels have greatly receded leaving behind several abandoned picnic and camping sites now far from the shores and over grown with cactus. While at the park be sure to check out the inviting town of San Angelo and it's Fort Concho a National Historic Landmark.
Lots of Pictures!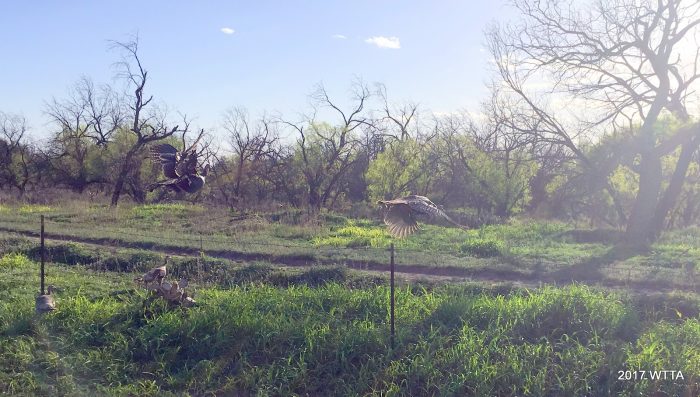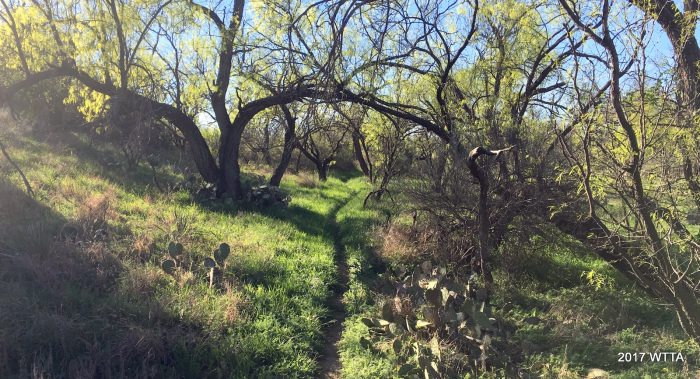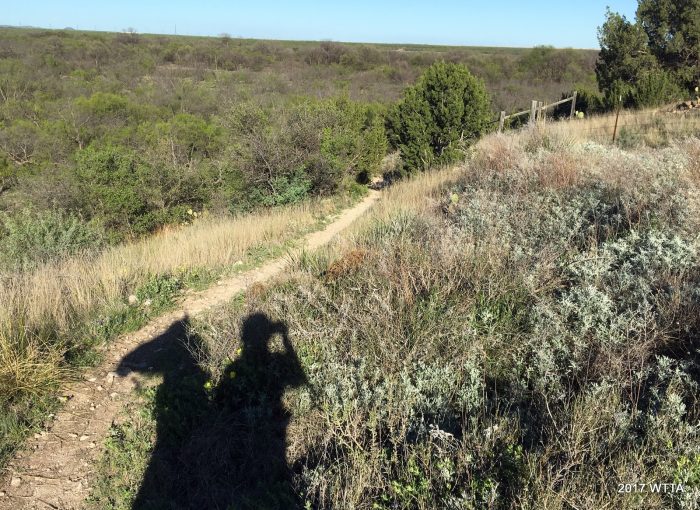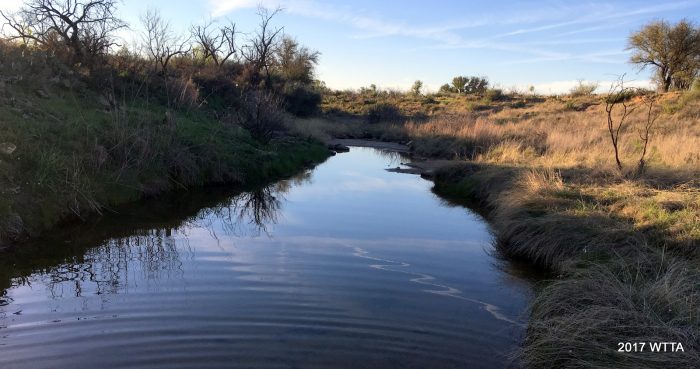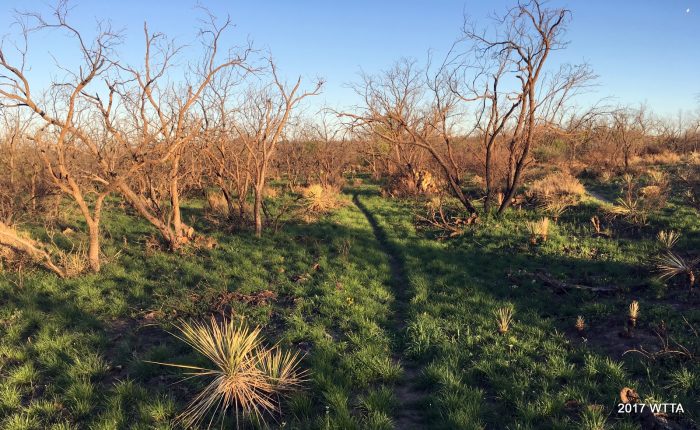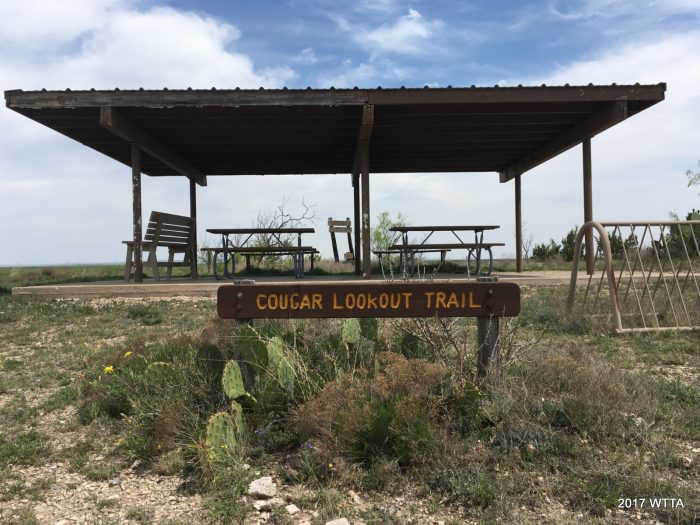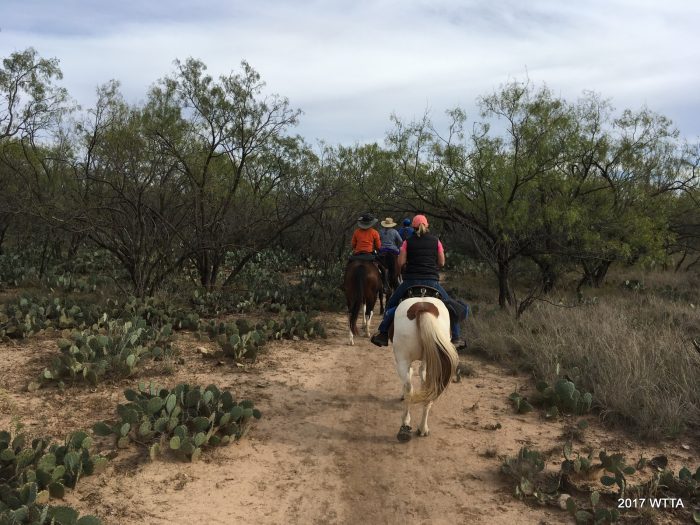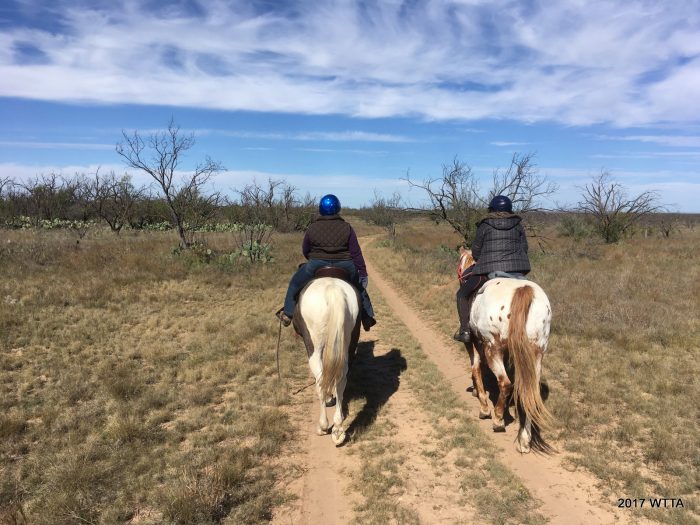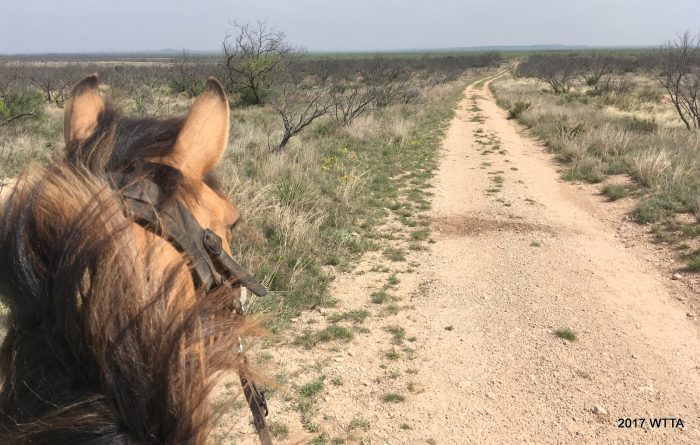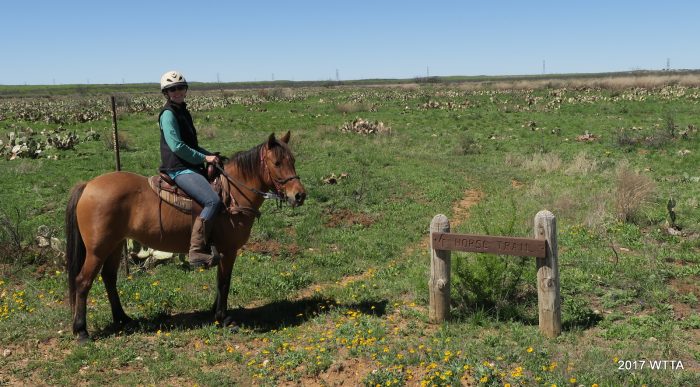 Cedar Lake Equestrian Camp, Ouachita Mountains, Hodgen, Oklahoma
Photographs and Trail Info Contributed by Carol Grosvenor. Thank you Carol!
Location:
Cedar Lake is an equestrian campground in the mountains of the Ouachita (pronounced "Wa-Chita") National Forest in southeast Oklahoma, off of Cedar Lake Road near Hodgen, Oklahoma.
Mailing Address:
Cedar Lake
51663 Cedar Lake Rd.
Hogden OK 24939
GPS Info: (Latitude, Longitude)
34.771800, -94.701047
34° 46′ 18.5″ N 94° 42′ 3.77″ W
Contact:
For campground questions and inquires you can call (918) 653-2991.
Cedar Lake is operated by USDA Forest Service Oklahoma Ranger District, (580) 494-6402.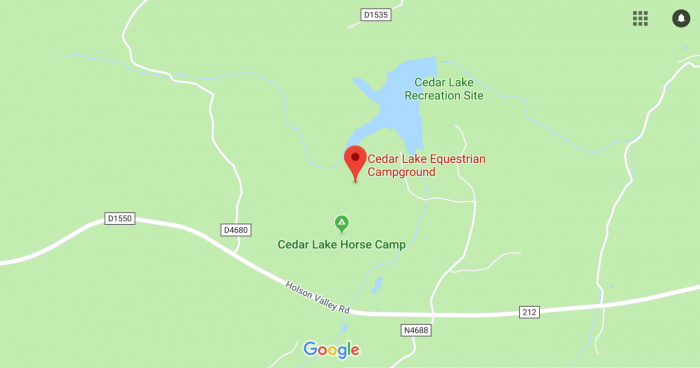 Directions:
From Poteau OK, take U.S. Highway 59 south approximately 22 miles to Holson Valley Road (ten miles south of Heavener). Turn right (west) onto Holson Valley Road and travel approximately 2.5 miles. Turn right (north) onto Cedar Lake Road and travel one mile to the camp boundary.
From Talihina OK, take U.S. Highway 271 east toward Poteau for 11 miles. Turn right (east) onto Holson Valley Road and travel 19 miles to Cedar Lake Road. Turn left onto Cedar Lake Road.
From Austin, the drive is approximately 450 miles, although we made a midway stop at Cooper Lake State Park to avoid arriving at night. I would advise trying to arrive in daylight, as this area is heavily wooded and dark. Upon driving across the Oklahoma border, we hit ten miles of very bad road, but that ended when we reached a former toll road. After that, the going was much better.
We came in from the west and the drive on the last road into camp — Hodgen Valley Road — was 16 miles. There are two roads into the camp that you can take from Hodgen Valley Road. Top off your gas tank in Talihina or Clayton, as there isn't any gas available on the way into camp from the west. If you're coming from the east, the last gas station, which is also the closest place to buy ice, is the Tote-N-Poke, west of Heavener (pronounced "Heave – ner") about five miles east on Hodgen Valley Road. Heavener is the closest town with any amenities and has a medical clinic, feed store and restaurant. There will be a sign for Cedar Valley Road. Follow it and the signage to the horse camp. There are other campgrounds as well.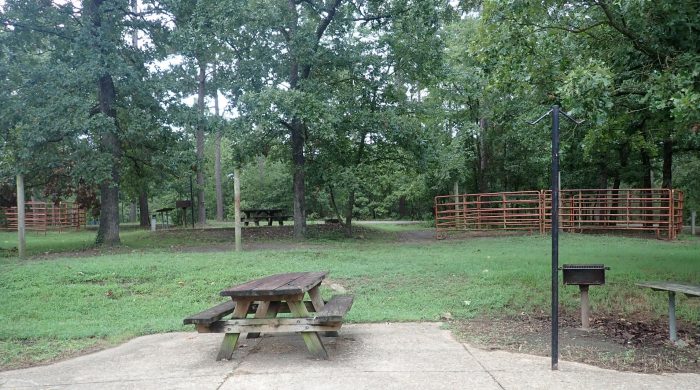 Facilities:
All the equestrian sites have water and 20/30 amp electric hookups. There are no 50-amp hookups. Some of the sites are available online, while others are kept open for drive-in use. When we were there, the camp wasn't full, although it had seemed to be online. Each site has two metal pipe pens, a picnic table, a concrete pad, a pole for a lantern and a grill. The pull-through sites, like we had, are semi-circles. This campground was built years ago, so the pull-throughs are a bit short for some of the very long modern trailers. There are also some back-in sites. There's a bathhouse with two showers; a pavilion, which can be used by groups; and a group shelter with another bathhouse down the hill from the main horse camping area. You will pass it when you drive in. There is very little flat land for lunging your horse inside the campground, or other horse amenities such as wash racks, round pens, or arenas. Getting your manure picked up was easy. You simply pile it up beside the road, and once a week, someone comes by and collects it. Outside the horse camp there is an RV dump station which also serves other camping areas.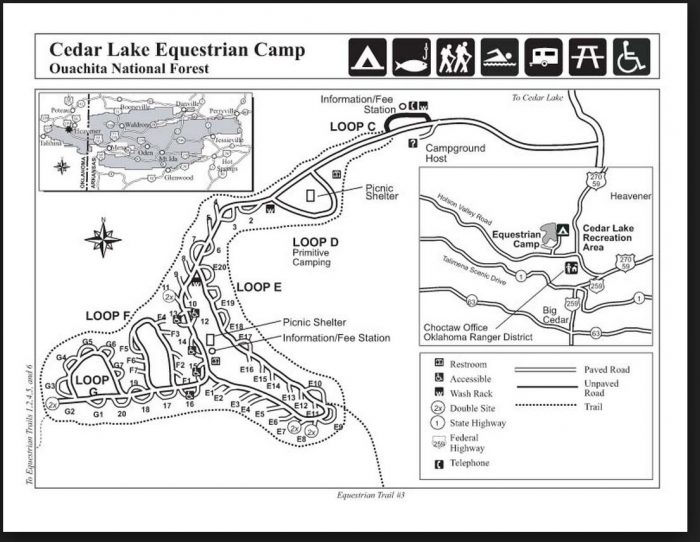 Trail Heads: See above map for trail head entrance markings. There are 3 places from the campground to enter the trails.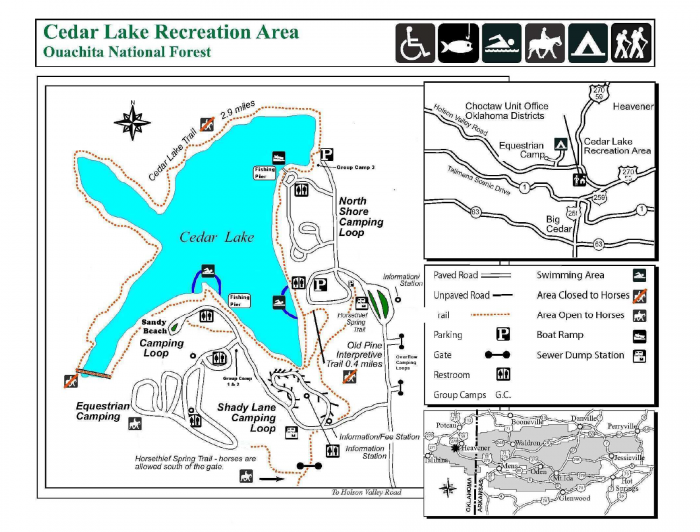 Maps and Trails:
You will find a black and white Xeroxed trail map at the kiosk. I wish the map had been bigger, but it was still quite helpful. We had an experienced "mule guy" give us information on the trails before we started riding. The trails are all numbered with yellow and black signs nailed to trees, and the signage was clear most of the time. Most of the trails are about ten miles long, but you can put multiple loops together for longer rides. There is one trail that can take you out to a restaurant, but it would be a long ride (25 to 30 miles) out on Trail 1. We rode Trails 1, 2, 3 and 4. We didn't ride all of any of them, though. There are also some short cut trails numbered A, B, C and D, as well as a few cut-through service roads. We rode Trail D several times.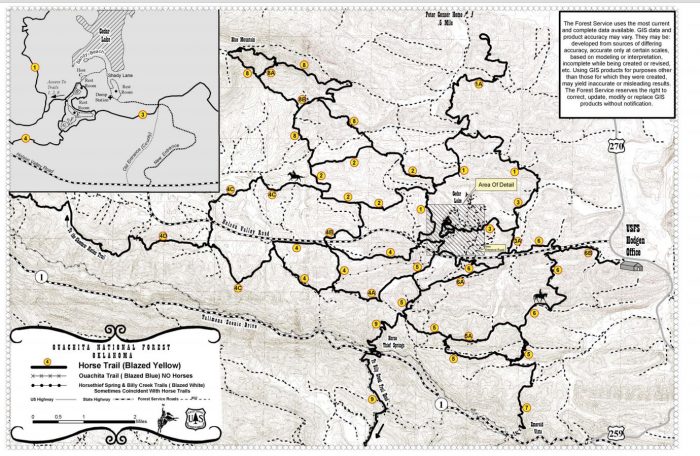 Terrain, Flora and Fauna:
The footing was mainly sandy loam and rocks. It wasn't slippery, though. The rocks appear to be flint, as many were sharp and broke into rectangles. Horses should be shod to avoid stone bruising. We rode mostly at the walk. There were a few places where one could move out, but mainly it is slow, careful riding. I would recommend this place for experienced horses and riders, due to the terrain and length of trails. In some places the trails were double-track, but most were single track, and there were many switchbacks. With at least 70 miles of trails, we never saw anyone else riding. It was quiet and peaceful. We were told we might see bears at high altitude, but we saw no bears… only butterflies, deer, and one snake.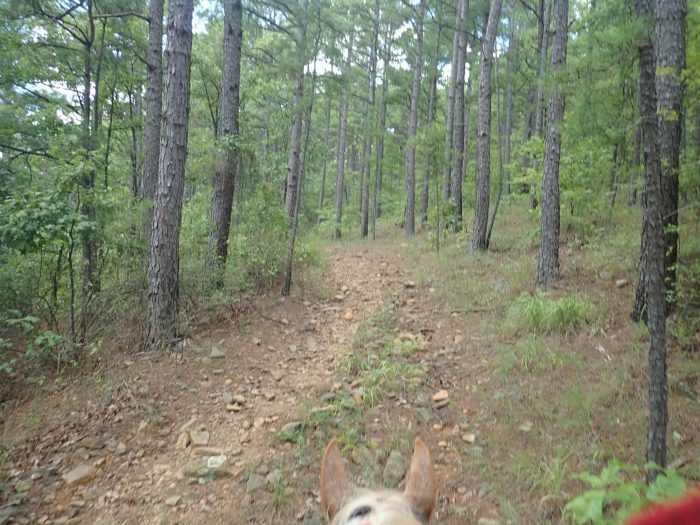 The elevation of the camp is 900 feet, but there is quite a bit of elevation change out on the trails, which is evident by looking at the topographical maps. The highest trail we rode was Trail 4, and it has a nice lookout point on it. The lowest trail is 2. We were told Trail 2 was flat, but I wouldn't call it that. It was flatter, but it still had some elevation changes. Some of the forests on Trail 2 were oak, but on most of the other trails at higher altitudes, it was pine. Almost all the riding is shade, so although it was humid, it was cooler than riding in direct sun. We arrived after several days of rain and the high temperatures were high 70s and low 80s. The camp host said the best time to come is the spring while others said October.
Some ideas on what to bring:
If you come camping here, bring more fly spray than you think you will need. I had to apply more spray along the way on the rides. They bothered my horse, but not the other horses, for some reason. My horse wore a flysheet in camp as well as a fly mask, and that seemed to help. She hated the flysheet rump rug I bought her, but if your horse can wear one, that would be a good idea.
Also, there is no way to buy ice at camp. You have to drive into the Tote-N-Poke, about seven miles away. Some people bring ice makers with them, and thought they paid for themselves quickly.
We carried food and drink with us on the trail, and came upon a picnic table off of Trail 2. This was close to a lake, although I couldn't tell where it was on the map. That was the only picnic table we found on the four trails, but there is a lookout point on Trail 4 where someone has placed a bench, and that is another nice place to stop.
On Trail Water:
While we were there, the lake was experiencing a blue-green algae bloom, and the water in creeks looked murky. There were a few creek crossings, but we were instructed not to let the horses drink from the lake or streams because of the algae. Plan accordingly, because there may be no water available on trail.
Cell Phone Service:
Cell phone access on AT&T was not good unless we were at high points or at the Tote-N-Poke, but others said they had cell phone access with Verizon.
Websites:
For reservations:
https://www.recreation.gov/camping/campgrounds/232303
United State Department of Agriculture link:
https://www.fs.usda.gov/recarea/ouachita/recarea/?recid=10747
Facebook page for Cedar Lake
https://www.facebook.com/groups/446196562062672/
Facebook page for Oklahoma Trail Riders Association
https://www.facebook.com/groups/oetra/
Trail Tale:
Rosalie Faye Lorenzen, a friend of mine from Brenham made this trip with me the second week of September 2018. It was my first ride in Oklahoma, but she had been there about twenty years ago. The two of us drove up in our own rigs, with Bug and Smokey in tow. This park is about 500 miles from Austin. We had nice sites across from the shelter and the bathhouse, in the middle of the camp. As you can see from the pictures, there was no flat place to lunge a horse, but I did find a place for the screened shelter, which was really comfortable in the evenings. All sites have electric and water, and the bathhouse is convenient. The visitors seemed to be mainly retired people in their 50's through 70's, very serious riders, and many came from very far away and were staying about a week.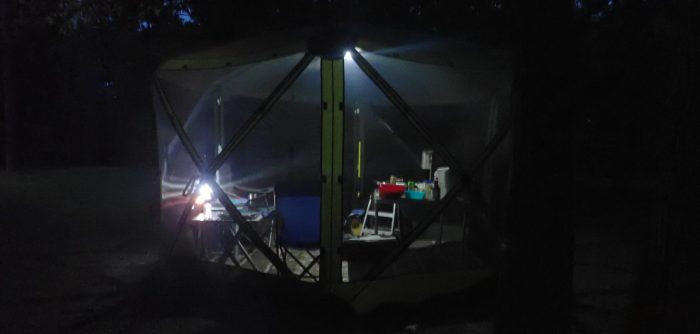 This is not a place I would recommend for really green horses or green riders. It is pretty remote. There is no cell phone access there on AT&T and only a little on Verizon, and no night life or ice without a drive, so if you go, you mainly go to ride. We'd find a high place to check our phone messages every day. Having no knowledge of the outside world was pretty weird in this plugged-in age. I still don't know what happened last week!
This was Smokey's first ever trail riding experience, and he did real well, mainly following Bug after she got over being assaulted by bugs on the first day. Oddly, they didn't bother Smokey, even as they stood in their pens. Bug had them all over her feet, while Smoky had none at all. Bug had a meltdown the first day because of the flies, but they got a bit better as it got drier, and I guess she got used to them. These flies were the size of June bugs, and they hurt if they bite you. Ask me, how do I know that? Because I didn't bring enough fly spray! If you go, bring twice as much as you think you will need. I tried some special clothing on Bug for the flies, but she didn't like it, except for the fly sheet she wore at night. We heard there might be bears, but we saw no bears or pigs or any critter particularly alarming or exciting. We did see one snake and some deer, though, and many beautiful butterflies, as well as lightning bugs in the evening. This place is so big, we also never saw another rider or hiker on trail.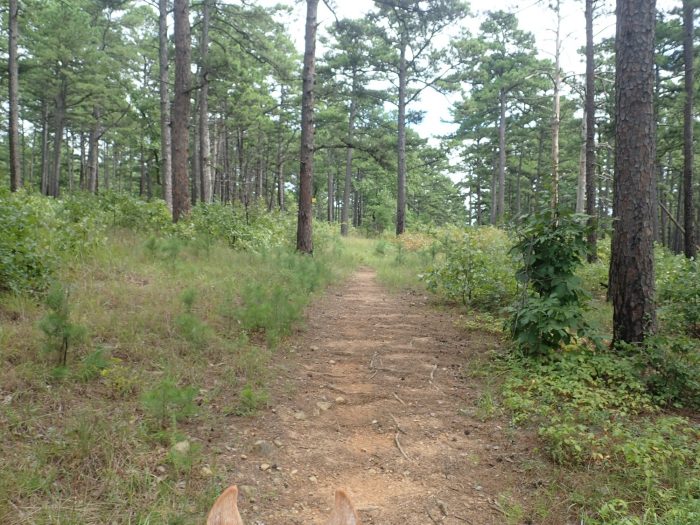 We were able to ride for three days, about ten miles a day. That doesn't sound like a lot, but they were hard miles… lots of elevation changes, and many sharp rocks. Bug was too sore on the fourth day, so we started heading back. The weather was very nice. There was very little rain (only once in the afternoon), high 70s during the day, and mostly cloudy. The trails are almost all under the cover of shade trees, so it stayed quite cool.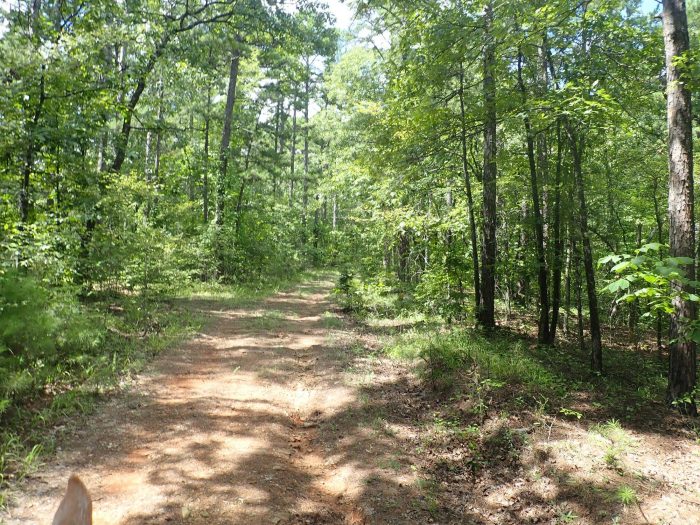 If you look at the maps, you'll see trails grouped by numbers. Most of the trails are about ten miles long, so if you put two of them together, you can get a 20 mile ride. It takes awhile to do them, as very little of it is fast terrain. It was much steeper than it looks like in the pictures, due to the fact that I am only coordinated enough to take pictures on the flatter areas. Trail 2 was the lowest, flattest trail, and on that trail, we were sometimes in pine, and sometimes in oak forests. Most of the other trails are in pine. The high point pictures were taken on Trail 4. Of course, there was a Mule Guy (there's always a Mule Guy at these places). Mule Guy gave us the info on which trails to ride, the short cuts, what not to ride, etc. One lucky group got to ride out with the Mule Guy, but unfortunately, we never did. He was off trail the whole time, though. The trails were pretty easy to follow, although we did get lost the first day on Trail 1. We were not able to get near the lake, except for once, on Trail 2, where we were able to see a lake. But I'm not sure it was Cedar Lake.
We found only one picnic table on the trails, and that was on Trail 2. I'm a big fan of picnic tables, so I always look for them. Most of the trails were way too narrow to have one, as many are on switchbacks. We ate lunch there.
I would go back again. The camp host said the best time of year was spring, but this was pretty good. We escaped last week's rain and the heat. It reminded me of both Ebenezer Park (except for the rocks) in Texas and Gillespie Ranch in New Mexico.