Website: Davis Mountains State Park
Contact: Park phone number #432/426-3337  Reservation phone #512/389-8900 or Texas Reserve World
Location: Fort Davis, TX – southwest of Fort Stockton
Mailing Address: P.O. Box 1707, Fort Davis, TX 79734
Directions: The Davis Mountains Park Headquarters directions: Coming from Fort Davis on State Highway 17 take State Highway 118N, and then west on State Highway 118N for three miles to the Park Road entrance on the left. Latitude (degrees, minutes, seconds) N: 30° 35′ 56.83″ Longitude (degrees, minutes, seconds) W: 103° 55′ 46.09″
Equestrian Day Use and Camping area is called, Limpia Canyon Primitive Area , and is located on north side of Texas 118 about two miles outside of Fort Davis.  The entrance has a brown metal gate locked with a chain and combination lock.  You can get the combination from headquarters or call before 5pm if you will be getting there after 5pm to get the code.  The entrance is short, so if  you have a long rig, more than 30 feet and the gate is closed the backend of your rig will be sticking out in the road while you are opening the gate. Park headquarters is located on the opposite side of TX 118 from the equestrian use area.  If you are coming from Fort Davis, the entrance is on the right just before you get to the park headquarters entrance.  If you are coming from IH 10 going south and then east on TX 118, then you will pass the park headquarters on your right and the equestrian area will be the next entrance on the left.
Camping: Horse camping is allowed at Limpia Canyon Primitive Area.
Fees: (Fees are subject to change – check directly with the park for the most up to date information) Primitive Equestrian Camping at Limpia Canyon $10.00 a day -8 people are allowed per site  and total number of sites is 6.  The sites are not numbered or marked. Day Use $6.00 daily per person / ages 12 and under free
Facilities: Horse day use and camping is allowed in a cabled off section at Limpia Canyon Primitive area.  This is an open field with one water trough.  Nothing else is located in this field.  There are no horse pens, no shade trees, no mounting blocks, no picnic tables, no electricity,  and no porta potty. There are two large rocks which could be used as mounting blocks. The area is cabled off on 0ne side with three foot wood posts and a wire cable running through them. On the back side is a brush tree line and decline leading to Limpia Creek. I was able to lead and ride my horse to the creek to drink.   The surface of the equestrian area is fairly flat/level terrain, but bumpy due to mole's digging up the ground.  The area is slightly narrow but long, sort of like a rectangel.  This area would be easy for a truck and averaged sized two horse trailer to maneuver but a little more difficult for a larger rig or living quarter trailer.  The entrance is fairly narrow but manageable if not crowded.
You can tie your horses to the trailer, high tie between trailers, bring panels, or use an electric fence.  There are really no suitable trees to tie to.  For this trip my husband, Chris, put together an electric pen.  This was the first time I've used an electric pen for camping.  We do have electro braid fences at home so my horse is used to it.  The ground was cooperative in some areas and uncooperative in other areas in accepting the step in posts and grounding rod.  In the end it all worked out great and Angel respected the fence.  Thanks Chris! Davis Mountains SP also offers RV camping with water/electric hook ups, a hotel (Indian Lodge) with swimming pool, and restaurant on the south side of TX 118. However, horses are not allowed on that side of the park.  There are also restrooms and shower facilities on the south side of the park.
Cell Phone Service:  poor to no cell service in most areas.
Pets/Dogs: Pets/dogs are allowed but must be on leash and not left unattended.
Trail Users: Equestrians, hikers, and mountain cyclists. No motorized vehicles are allowed on the trail.
Trail Markers:  I only saw two or three trail markers at most, the trails are very poorly marked.   However, the park does have new trail signs they plan on installing soon. On the upper loop the location of the water well and primitive dry tent campsites numbered 94 – 100 are also marked on the map below and can be used as well as the views of the MacDonald Observatory center, Indian Lodge, Limpia Canyon campsite, and park headquarters to help navigate.
Mileage:  North of state highway TX 118 Davis Mountains SP has approximately 11-12 miles of multiuse trails to include equestrians.  Horses are not allowed on the other side of the park, south of TX 118. The trail from Limpia Canyon Primitive Area up to the loop is about 2.5 miles one way and the outer loop on top of the mountain is about 6 miles. There are also some jeep trails on the top which are not included in this mileage.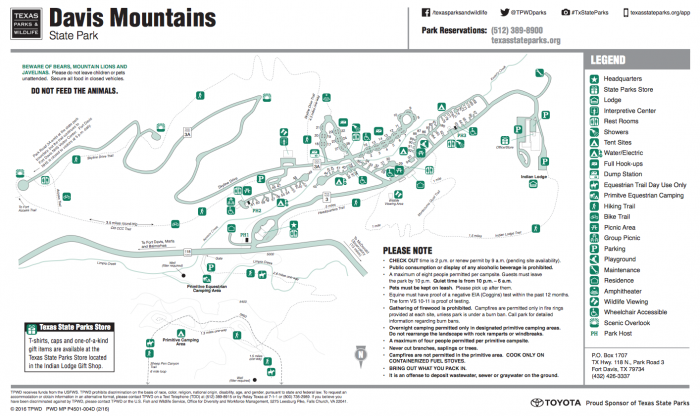 Map: A map of the facility (posted above) can be found on line but does not show much detail regarding the equestrian trail.  You can ask for a slightly more detailed map at park headquarters showing the multiuse equestrian trail and it is also posted here below.  According to park staff they are in the process of creating a new trail map.  So be sure to ask at headquarters for their most up to date map.
Terrain: The terrain is rugged, hilly, and of course rocky.  Shoes/boots for your horse are a must.  To get up to the loop, one section of the trail consist of switch backs to decrease the incline and another short section of the trail on the way up and back down has a drop off on one side.  The park states they plan to eventually widen this section of the trail.  There is no shade or cover on the trail so bring along your hat and sunblock.
Difficulty Level: The trail is challenging in areas and I'd recommend riders to be at least moderately experienced.
Water:
At Camp –
There is a non-potable water trough located in the horse camping area at Limpia Canyon Primitive campsite.  When we arrived this trough was empty but the park later turned it on.  Also at the back of the camp is Limpia Creek.  During our visit the creek was small but my horse was happy to drink from it.  There is no other water sources at the campsite.
On Trail-
On the lower part of the main trail (leaving Limpia Canyon) you cross Limpia Creek three times.  At the first crossing there was a great watering hole to the south but the other two crossings were dry.  However, I'm sure this varies depending on how much it has rained. From the looks of the old bank boundaries carved out by high waters, Limpia creek has been more than a creek in the past and is even prone to flooding in the right conditions.
Once on the upper part of the trail, Sheep Pen Canyon Loop, I only saw one water source, the well, which is marked on the map.
Solor powered well on Sheep Pen Loop coordinates:  30°37'16.0″N 103°56'09.4″W Well location on Google Maps
Description: Ride high in Davis Mountains State Park just a few miles west of the highest town in Texas.  At 5,050 feet, the mile high west Texas city of Fort Davis is the most elevated city in the state.   Davis Mountains SP encompasses approximately 2,700 acres.   The park opened in 1933 and was one of the Civilian Conservation Corps earliest projects. Texas Highway 118 runs right through the state park cutting it into north and south sections. The north section is on approximately 1,500 acres and has eleven miles of designated rugged multiuse trail for equestrians, hikers, and mountain bicyclists waiting to be explored. Six miles of this trail was most recently completed in 2015.  The new trail makes a loop at the top of the mountain and is named Sheep Pen Canyon Loop. Starting at 4,900 feet in Limpia Canyon Primitive Area the rocky trail winds up  800 feet to the top of the mountain reaching 5,700 feet in elevation.  Once on top, you can see for miles and miles!
I decided to visit Davis Mountains State Park for two reasons; to combine two delightful tasks in one.  Number one, to visit a life long high school friend, Karen, and her family who reside in Fort Davis. Number two, to ride my horse in a park which I've never visited before for a write up on Where The Trails Are.   Arriving in early March made for perfect weather.  Although due to the higher altitude, it was a bit cooler during the evenings than I had expected.  I've heard the Texas Summer heat is much milder here and there really is not much humidity in this location.  Since we were due to arrive after 5pm I called the park before 5 to determine the check in procedures for late arrivals.  We were given the go ahead to drive directly to our camp site, the combination lock for the gate was provided, and we were to check in and show proof of negative Coggins at the main office the following morning.  A few RV non-equestrian campers came over from the other side of the park.  Evidently they were all full on the South side due to spring break. We were the only equestrian overnight campers during our stay.  Our new non-horsey friends enjoyed petting Angel and taking a few pictures of her.  They were also curious about our living quarters horse trailer.  Chris made camp and set up the electric pen for Angel.  We enjoyed a tasty taco dinner made by Karen's husband Tim. The skies were clear and night fall brought on a whole new perspective.  Dense unpolluted darkness made for a spectacularly brilliant star studded night. Each time I woke up to check on Angel the skies capture my eyes and filled my heart with wonder. You can't visit Fort Davis without also making a trip to the MacDonald Observatory, as this is some of the best country for star gazing.  Karen had made reservations for us to visit the observatory the day before our departure!
The following day my good friend Karen joined me for a short ride to try out her new horse, Kitty.  It was like old times when we used to ride together as teenagers!  After our ride Karen enjoyed the peace and tranquil views of Limpia Canyon while visitng with Chris.  Before riding back out on Angel to explore the mountaim trails a day rider arrived from Alpine. I was excited to make some new friends and have someone to share the trail with. Pilar with her BLM Mustang, Ute, and her friend Travis with his rescued Doberman Pinscher were happy to have me  join them on the trail.  This was also their first trip to the park.  Travis is a cross country runner and had no trouble keeping up with us on foot.
Setting out from Limpia Canyon Primitive area, the trail was initially flat and took us across Limpia creek three times.  At the first crossing there was a great watering hole to the south but the other two crossings were dry.  From the looks of the old bank boundaries carved out by high waters, Limpia creek has been more than a creek in the past and is even prone to flooding in the right conditions. The creek was mostly dry on this day exposing tons of rocks made smooth from years of  water streaming over them.  The first trail sign steered us to the right and gradually zig zigged north up the mountain.  The trail straightened out following the side of a hill before starting up again. We passed over the base through a two trunked tree growing up out of the ground in a V shape. On our return Angel felt she had to snort at this odd tree before stepping through it again. The trail did narrow some with a short section having a drop off on one side.  Once on top we took Sheep Pen Canyon Loop to the left. Views of the mountain range, ranches, MacDonald Observatory, Indian Lodge, and Fort Davis stretched out for miles before our eyes.  Angel seemed to enjoy looking out at the horizon as much as I did.  However, she did grow impatient with my constant picture taking.
Along the trail we came upon an unusual looking stone well with a water trough at it's base.  "Abirel 8 1948" was etched in cement at the base of the well.  I could not help but wonder if that was the Spanish word for April (Abril) misspelled or if it is someone's name?  An old rusty windmill base rested on the ground with it's twisted wheel a few feet away. At one point I'm sure this old windmill ran the well, but now it was laid to rest on top of the mountain.  Sunrays soaked up by solar panels now keep this well running strong.  Angel was a little hesitant to drink from the well but soon realized there was no harm.  Take time here to really encourage your horse to drink, as I saw no other water sources at the top on Sheep Pen Canyon Loop.
From the well, we followed a two track jeep trail going north.  Pilar saw a more interesting one track trail to the left just to the outside of the jeep trail.  She followed that trail and I stayed on the jeep path for a while. We were able to keep each other in sight most of the time.  Angel called out to Ute a few times.   The Jeep trail ended up going down into a shallow ravine and disappeared.  Pilar rode over and we went back to the one track trail which was most likely the Sheep Pen Canyon loop.   The jeep trail seems to run north and south of the well to the primitive mountain campsites and is the only path on top of the mountain which has a fairly level surface with less rocks.  We continued on Sheep Pen Canyon Loop and eventually came to the primitive tent campsites numbered 94 – 100.   This gave us a good idea where we where when looking at the map, as this is also marked on the map.  Currently there are hardly no trail markers. Instead of circling around to the right which would eventually take us back down the mountain and back out the way we came in, we headed to the left / southwest and were going up an incline.  There is a section of trail that heads that way and just dead ends, according to the map.  I think that is what we were on.  Since we were ready to head back, Pilar scouted out a bit to pick up our return trail and we ended up back tracking to the primitive campsite area to pick up the correct trail and head back.  On our way back we had a great view into Limpia Canyon Primitive Area campsite.  I wanted to yell out hello to Chris who was down below, but decided against it as I did not want him to think I was yelling for help.   On our way out of the loop the sweet fragrance of Mountain Laurels were strong as we passed a few of them on the verge of blooming.  The treck back down the mountain went smoothly and we were back to camp in no time.  Although we had only covered about 11-12 miles of trail we were out for about four hours as we stopped often to admire the views and for me to get a few pictures.  Due to the rocky terrain a walk was the gate we maintained most of the time.
The following day before leaving I took Angel on a short last ride in the park.  Because I saw a serious looking mountain cyclist heading up the mountain I stuck to the lower trails.  I did not want to be heading up some of the narrow sections of trail while the cyclist was coming down.  Chris walked LB (our sweet little brindle Pit Bull mix) along with me part of the time and we got some good pictures by the first watering whole.  I also explored a very short spur of trail which leads out of camp and curves back around to the main trail.   This trail was a little hard to follow near the creek but we were able to pick it back up. Angel did a great job crossing the creek where it deepened and narrowed with thick sand on both sides.
For the rest of our time in Fort Davis we camped out at my friend, Karen's place and had a blast with them visiting the fort and observatory.  We also were invited to get a quick look at the Davis Mountains Preserve (DMP), part of The Nature Conservancy.   The DMP is opened a handful of times a year to equestrians, campers, hikers, and cyclist.  The horse pens were in great shape and this looks like another great place to ride in the Fort Davis area.  I'll definitely be back to explore these trails.
Nearby Places to Visit:   There is so much to do in Fort Davis making the drive well worth the trip.  Here is a small list of places to visit in the area:
Fort Davis Historical Site, a very well restored frontier period military fort which often has reenactments and educational activities.
McDonald Observatory , an astronomical research center that also has many public education programs and activities.
>Overland Trail Museum, displaying exhibits of local history, culture, and records. #432/426-3404
Balmorhea State Park, the world's largest spring fed swimming pool.
Fort Davis is also not far too far from Big Bend State and National Parks.
Additional Trail Photos: View the Davis Mountains SP album on our Facebook page for more photos.