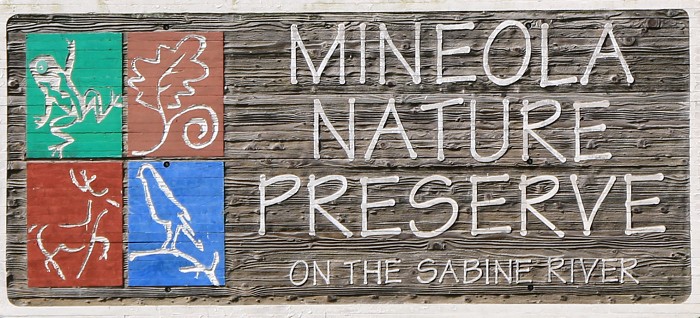 Website: Mineola Nature Preserve
Facebook Page: Mineola Nature Preserve Facebook Page
Location: East Texas just on the southern outskirts of Mineola, TX
Directions: From U.S. 69, turn east on Loop 564. To go to the Equestrian Trailhead/Campsite also known as The Derby, take your first right (this is not the main entrance to the park). Look for a sign that says Wastewater Treatment Plant. This road goes up a hill and you will see a small building where the fees are paid on the left and the pens and electric hook ups to the right of the road.
Reservations:
To reserve a campsite please call Lori at 903.569.6183
Contacts:
For information about the trails, trail condition, facilities, etc… call the trail boss, George "Buster" Green at 903.780.1942
Equestrian Camping: Allowed!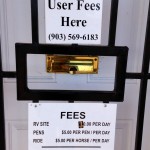 Fees: Use the door slot to the small building at the entrance of the Equestrian Campsite to deposit  your fees.  Fees are subject to change so please get confirmation on the most current fee requirements from the park.
$5.00 for day riders
$5.00 for primitive camping
$5.00 for use of a pen
$30.00 for a water/electric campsite (the $5.00 day use riding fee is included in this)
$75.00 for daily rental of the Derby Pavillion ($50.00 deposit required)
Facilities: 14 electric & water hook up sites with fire rings, picnic tables, and two side by side 12 x 12 metal panel pens per each site are provided at the Equestrian Trailhead/campsite.  There is no shade in the electric/water campsites. These sites are separated by wooden posts and ropes. The parking pads are gravel.  At this time none of the pens are covered, but the park is hoping to raise funds through ACTHA and TETRA rides to eventually get the pens covered.  A water trough and two horse stocks, handy for bathing your horse, are also provided.  The horse stocks were funded by TETRA. There is a large covered pavilion (The Derby Pavilion) with picnic tables, a bar, gas grill (bring your own propane tank), and a men's and women's bathroom which includes one toilet and shower each.  The Derby Pavilion can be used at any time free of charge, or for a fee it can be reserved for a special occasion or event.  The men's & women's restroom/shower can be used by day riders or campers.  On the side of the pavilion is a large and sturdy wheelchair ramp to be used for mounting. Mineola Nature Preserve is one of the very few places we've visited that has a wheelchair ramp for physically challenged riders. Bravo!
Between the primitive camping area and the electric/water hook up sites is a large open gravel open parking space.  The primitive side of this area has several trees and is more scenic.  There is a round pen in this area made of metal panels.  There are a few pens which are constructed differently than the pens in the LQ/RV campsites.  The  couple of pens in the primitive campsites are made of wooden posts, guard rails, and rope.
Pets/Dogs: Allowed, just keep them on a leash.
Cell Phone Service: Fair to good.
Hunting: The Mineola Nature Preserve trails close a few times a year for organized youth hunts. Outside of that hunting is not allowed.
Trail Users: Trails are shared by equestrians, hikers, Boy Scouts, bicycles, and of course wildlife.  No motorized vehicles are allowed on the trails, however, the trail boss does check and work on the trails via an ATV. Equestrians are instructed to stay off of the railroad bed path (gravel walkway).Tthey may cross over it, but not ride along on top of it.
Mileage: Approximately 24 miles of equestrian/multiuse trails.
Map: Available on the parks' website: Mineola Nature Preserve Maps Link
Be sure to print out the map before leaving for your trip, as they may not be available at the park.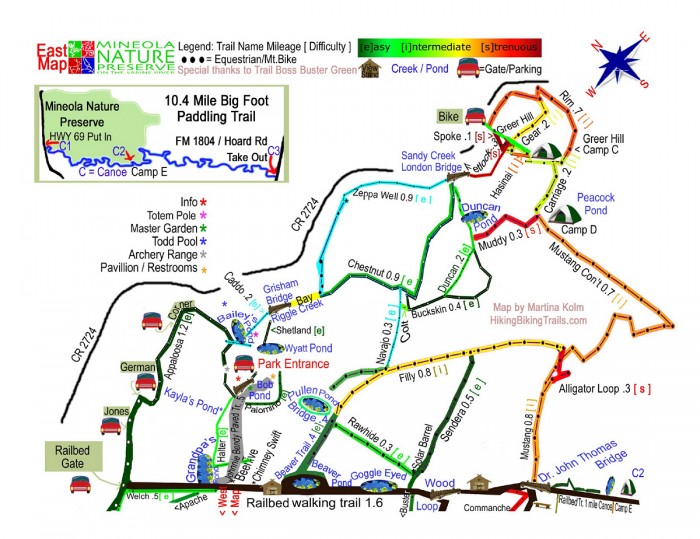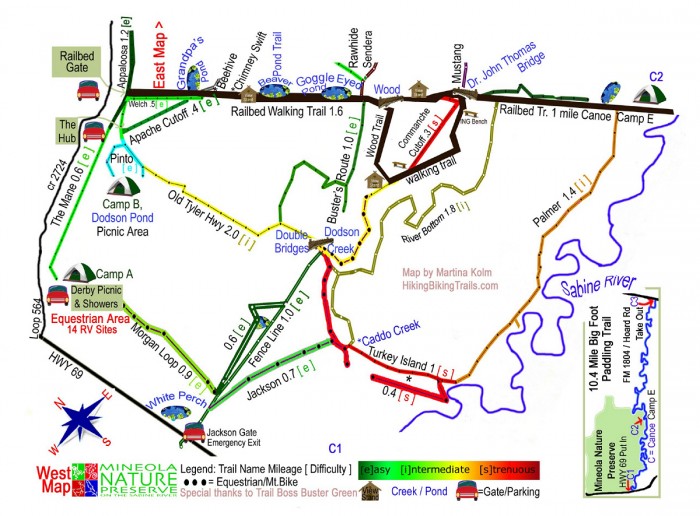 Terrain: Mostly sandy with only a few rocky areas; most horses will not require shoes/boots. Most of the trails are flat with some hills on the northeast side of the park.
Water on Trail: Several creek crossings allow for multiple opportunities to water your horse while on the trail.
Description:
Consisting of 2,911 acres in Wood County and along the Sabine River, Mineola Nature Preserve (owned and managed by the City of Mineola, TX) has over 20 miles of riding trails and is a great place for overnight equine camping.  When arriving to the equestrian campsite at The Derby we were greeted by the park's trail boss, Buster and his wife Ginny Green. They kindly introduced us to the preserve by taking us for a ride on their mule.  When they asked if we wanted to ride on their mule my equine mind was thinking the four legged kind of course, but it was the four wheeled kind.  Thanks to the Greens I was able to see some parts of the park where equestrians can't go, like along the Railbed walking trail and the really muddy lower south trails that we opted not to ride on for this trip.  Buster and Ginny shared a wealth of history and tales about the area, unfortunately I could not hear every word due to the loud purr of their mule's engine.  Remnants of the I&GN (International and Great Northern) and T&P (Texas and Pacific) railways which emerged in the 1870s are still evident today. Remaining metal and wood railway support beams spurred on my curiosity of what it must have been like to travel these railways in the late 19th century. The preserve has also installed educational signs detailing information about the land's history along the trails. The Greens were excited to show off the beauty of the Preserve and highlighted how important the equestrian users are to the park. One of my highlights on this mule ride was seeing a resident alligator just before sunset, not a sight this south Texas gal often sees.  Buster also took us up to Greer Hill which we later rode to on horseback as well.  This  area along with a few other spots in the Preserve have rest stops with a porta-potty, picnic table, and hitching post, which came in handy.
Our early April trip to the Preserve was perfect timing to see the dogwoods and pear trees just beginning to bud. We met up with one of our favorite trail riding groups, NETASA, to explore the park in the company of friends who especially enjoy riding Spanish Mustangs / Indian Horses. Due to lots of rain this year, the lower south trails were just too muddy to be safe.  We still ran into some pretty boggy areas but the north trails were usable.   The Preserve trails wind in and out of East Texas forests, over bridges, through creeks, beside beautiful ponds, and into wide open fields.  Part of the Appaloosa Trail travels beside a fenced pasture containing a few buffalo and longhorns. If you ride to the main park pavilion (not the Derby Pavilion) then you have a great view of the luscious grass filled senderos and beautiful ponds.  I was curious as to what is a sendero and why were they created.  So I just had to Google it.
Here is the best definition of sendero I found by Arturo Longoria, "A sendero is a cleared pathway (always a straight line) through the woods or brushlands of south Texas and Mexico, often several miles long. Not until bulldozers were used for oil and gas exploration did senderos become common place.  Most senderos are from twenty to fifty feet wide, though some are as much as fifty yards across.  Hunters often set up blinds along senderos to harvest deer as the animals cross."  Then Arturo goes on to note a quote from A Vaquero of the Brush Country by John D. Young and Frank Dobie, who said a sendero is "a clearing that will allow people to behold some of the secrets that the brush has hidden."  Oh how I love Google, now I know what a sendero is!  Even if you don't ride, be sure to visit the park just to look down on the beautiful ponds and senderos from the backside of the main pavilion.
There are several bridges along the trails which are sturdy for crossing on horseback. Trails in the thick forest provide lots of shade, a welcomed respite from the hot Texas sun.  Most of the trails are flat and sandy with some hills towards the northeast side of the park. Along the trails are great spots to stop and rest that have picnic tables and a port-a-potty. One of these spots is at the top of Greer Hill which is a lovely well-shaded area with picnic tables, hitching posts, and a portable restroom on the north side of the park.
The trails are shared by equestrians, hikers, bicyclists, and wildlife of course.  We did run into a pack of feral hogs on trail, which was interesting.  They sounded like gorillas. Our horses did not think highly of the situation but we managed well.   The only motorized vehicle allowed is Buster's mule as he uses it along with his horses to check and maintain the trials. Equestrians can ride just about everywhere except on the gravel Railbed Walking trail. You can ride next to this trail when it is dry enough and you can cross it if you need to.
The facilities are really nice and the pavilion at the Derby (equestrian campsite) is perfect for gatherings.  We enjoyed several tasty meals and a few games of Chicken Foot under the covered pavilion.  The large men's and women's bathroom/showers are amenites not often found when camping.  The only down side for me is the lack of trees and shade for the electric/water campsites.  However, there are plans to put shelters over the pens to give the horses some shade.  I also was not crazy about the water treatment plant being just down the road from the campsite.  Currently there is some construction going on near the camping area as well, but this is temporary.  These are minor issues when looking at the whole picture.  All and all, the Mineola Nature Preserve is a great place to enjoy and camp at with your horses and friends.  I am thankful to have such a resource available for trail-riding equestrians.
Mineola Nature Preserve visitor, Dorene Scanlon-Gable wrote, "We've been to Mineola Nature Preserve many times in the past two years. We belong to N.E.T.A.S.A., a horseback riding club and find it to be a great place to bring our horses for a 3 or 4 hour ride, even on Texas summer days. After rains it can be less fun because of the mud! They have many trails which are very well marked and are well maintained. The facilities include corrals, clean rest rooms with showers, hoses for washing the sweat off the horses, water spigots for drinking water, a handicap mounting area, picnic tables and all for $5/horse! We heartily recommend the Preserve for riding."
Additional Pictures:
Facilities:
Along the Trail: