Cedar Lake Equestrian Camp, Ouachita Mountains, Hodgen, Oklahoma
Photographs and Trail Info Contributed by Carol Grosvenor. Thank you Carol!
Location:
Cedar Lake is an equestrian campground in the mountains of the Ouachita (pronounced "Wa-Chita") National Forest in southeast Oklahoma, off of Cedar Lake Road near Hodgen, Oklahoma.
Mailing Address:
Cedar Lake
51663 Cedar Lake Rd.
Hogden OK 24939
GPS Info: (Latitude, Longitude)
34.771800, -94.701047
34° 46′ 18.5″ N 94° 42′ 3.77″ W
Contact:
For campground questions and inquires you can call (918) 653-2991.
Cedar Lake is operated by USDA Forest Service Oklahoma Ranger District, (580) 494-6402.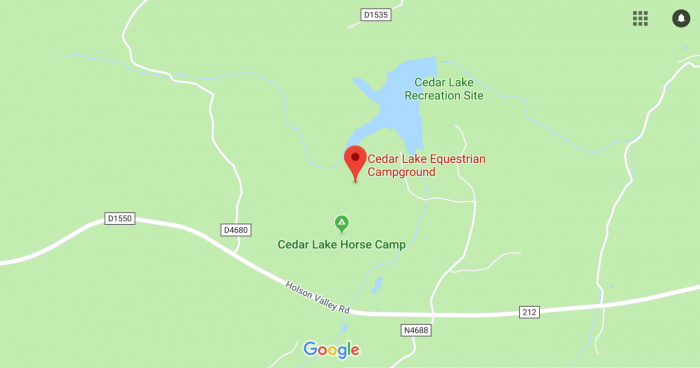 Directions:
From Poteau OK, take U.S. Highway 59 south approximately 22 miles to Holson Valley Road (ten miles south of Heavener). Turn right (west) onto Holson Valley Road and travel approximately 2.5 miles. Turn right (north) onto Cedar Lake Road and travel one mile to the camp boundary.
From Talihina OK, take U.S. Highway 271 east toward Poteau for 11 miles. Turn right (east) onto Holson Valley Road and travel 19 miles to Cedar Lake Road. Turn left onto Cedar Lake Road.
From Austin, the drive is approximately 450 miles, although we made a midway stop at Cooper Lake State Park to avoid arriving at night. I would advise trying to arrive in daylight, as this area is heavily wooded and dark. Upon driving across the Oklahoma border, we hit ten miles of very bad road, but that ended when we reached a former toll road. After that, the going was much better.
We came in from the west and the drive on the last road into camp — Hodgen Valley Road — was 16 miles. There are two roads into the camp that you can take from Hodgen Valley Road. Top off your gas tank in Talihina or Clayton, as there isn't any gas available on the way into camp from the west. If you're coming from the east, the last gas station, which is also the closest place to buy ice, is the Tote-N-Poke, west of Heavener (pronounced "Heave – ner") about five miles east on Hodgen Valley Road. Heavener is the closest town with any amenities and has a medical clinic, feed store and restaurant. There will be a sign for Cedar Valley Road. Follow it and the signage to the horse camp. There are other campgrounds as well.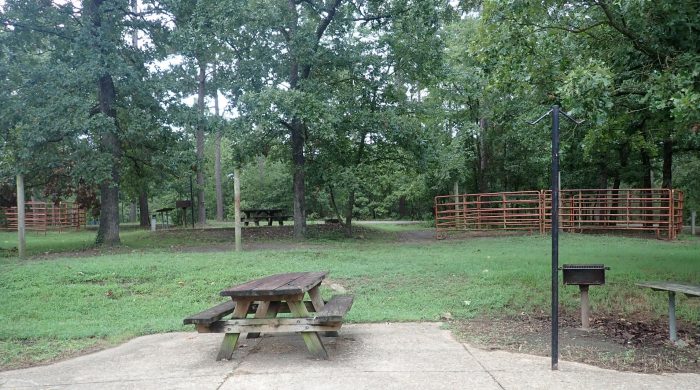 Facilities:
All the equestrian sites have water and 20/30 amp electric hookups. There are no 50-amp hookups. Some of the sites are available online, while others are kept open for drive-in use. When we were there, the camp wasn't full, although it had seemed to be online. Each site has two metal pipe pens, a picnic table, a concrete pad, a pole for a lantern and a grill. The pull-through sites, like we had, are semi-circles. This campground was built years ago, so the pull-throughs are a bit short for some of the very long modern trailers. There are also some back-in sites. There's a bathhouse with two showers; a pavilion, which can be used by groups; and a group shelter with another bathhouse down the hill from the main horse camping area. You will pass it when you drive in. There is very little flat land for lunging your horse inside the campground, or other horse amenities such as wash racks, round pens, or arenas. Getting your manure picked up was easy. You simply pile it up beside the road, and once a week, someone comes by and collects it. Outside the horse camp there is an RV dump station which also serves other camping areas.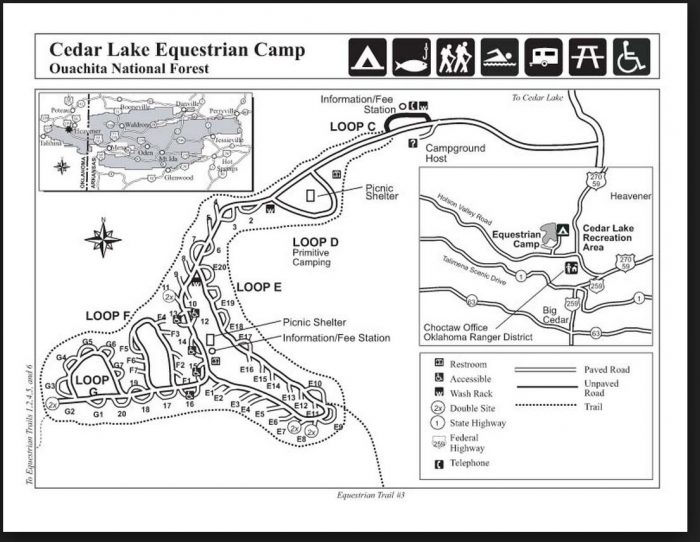 Trail Heads: See above map for trail head entrance markings. There are 3 places from the campground to enter the trails.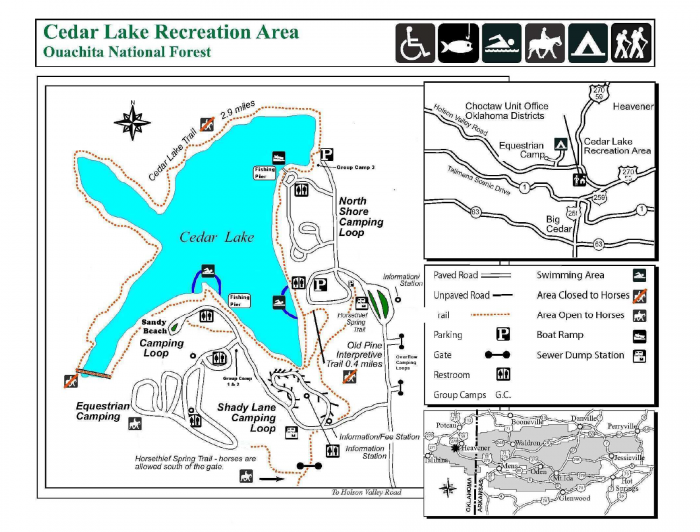 Maps and Trails:
You will find a black and white Xeroxed trail map at the kiosk. I wish the map had been bigger, but it was still quite helpful. We had an experienced "mule guy" give us information on the trails before we started riding. The trails are all numbered with yellow and black signs nailed to trees, and the signage was clear most of the time. Most of the trails are about ten miles long, but you can put multiple loops together for longer rides. There is one trail that can take you out to a restaurant, but it would be a long ride (25 to 30 miles) out on Trail 1. We rode Trails 1, 2, 3 and 4. We didn't ride all of any of them, though. There are also some short cut trails numbered A, B, C and D, as well as a few cut-through service roads. We rode Trail D several times.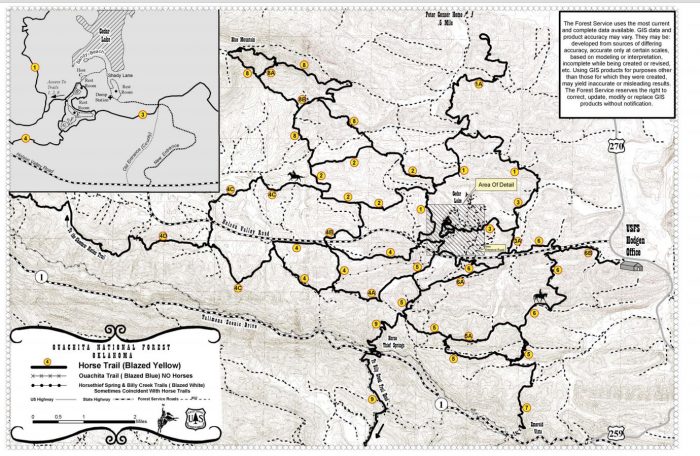 Terrain, Flora and Fauna:
The footing was mainly sandy loam and rocks. It wasn't slippery, though. The rocks appear to be flint, as many were sharp and broke into rectangles. Horses should be shod to avoid stone bruising. We rode mostly at the walk. There were a few places where one could move out, but mainly it is slow, careful riding. I would recommend this place for experienced horses and riders, due to the terrain and length of trails. In some places the trails were double-track, but most were single track, and there were many switchbacks. With at least 70 miles of trails, we never saw anyone else riding. It was quiet and peaceful. We were told we might see bears at high altitude, but we saw no bears… only butterflies, deer, and one snake.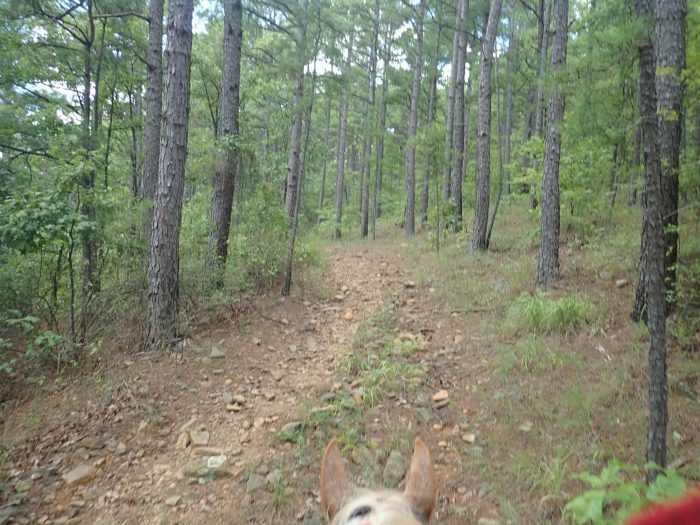 The elevation of the camp is 900 feet, but there is quite a bit of elevation change out on the trails, which is evident by looking at the topographical maps. The highest trail we rode was Trail 4, and it has a nice lookout point on it. The lowest trail is 2. We were told Trail 2 was flat, but I wouldn't call it that. It was flatter, but it still had some elevation changes. Some of the forests on Trail 2 were oak, but on most of the other trails at higher altitudes, it was pine. Almost all the riding is shade, so although it was humid, it was cooler than riding in direct sun. We arrived after several days of rain and the high temperatures were high 70s and low 80s. The camp host said the best time to come is the spring while others said October.
Some ideas on what to bring:
If you come camping here, bring more fly spray than you think you will need. I had to apply more spray along the way on the rides. They bothered my horse, but not the other horses, for some reason. My horse wore a flysheet in camp as well as a fly mask, and that seemed to help. She hated the flysheet rump rug I bought her, but if your horse can wear one, that would be a good idea.
Also, there is no way to buy ice at camp. You have to drive into the Tote-N-Poke, about seven miles away. Some people bring ice makers with them, and thought they paid for themselves quickly.
We carried food and drink with us on the trail, and came upon a picnic table off of Trail 2. This was close to a lake, although I couldn't tell where it was on the map. That was the only picnic table we found on the four trails, but there is a lookout point on Trail 4 where someone has placed a bench, and that is another nice place to stop.
On Trail Water:
While we were there, the lake was experiencing a blue-green algae bloom, and the water in creeks looked murky. There were a few creek crossings, but we were instructed not to let the horses drink from the lake or streams because of the algae. Plan accordingly, because there may be no water available on trail.
Cell Phone Service:
Cell phone access on AT&T was not good unless we were at high points or at the Tote-N-Poke, but others said they had cell phone access with Verizon.
Websites:
For reservations:
https://www.recreation.gov/camping/campgrounds/232303
United State Department of Agriculture link:
https://www.fs.usda.gov/recarea/ouachita/recarea/?recid=10747
Facebook page for Cedar Lake
https://www.facebook.com/groups/446196562062672/
Facebook page for Oklahoma Trail Riders Association
https://www.facebook.com/groups/oetra/
Trail Tale:
Rosalie Faye Lorenzen, a friend of mine from Brenham made this trip with me the second week of September 2018. It was my first ride in Oklahoma, but she had been there about twenty years ago. The two of us drove up in our own rigs, with Bug and Smokey in tow. This park is about 500 miles from Austin. We had nice sites across from the shelter and the bathhouse, in the middle of the camp. As you can see from the pictures, there was no flat place to lunge a horse, but I did find a place for the screened shelter, which was really comfortable in the evenings. All sites have electric and water, and the bathhouse is convenient. The visitors seemed to be mainly retired people in their 50's through 70's, very serious riders, and many came from very far away and were staying about a week.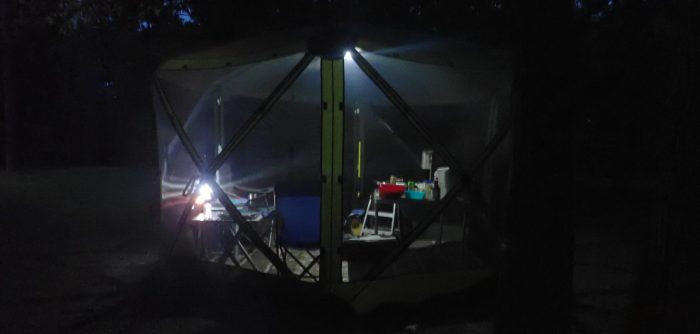 This is not a place I would recommend for really green horses or green riders. It is pretty remote. There is no cell phone access there on AT&T and only a little on Verizon, and no night life or ice without a drive, so if you go, you mainly go to ride. We'd find a high place to check our phone messages every day. Having no knowledge of the outside world was pretty weird in this plugged-in age. I still don't know what happened last week!
This was Smokey's first ever trail riding experience, and he did real well, mainly following Bug after she got over being assaulted by bugs on the first day. Oddly, they didn't bother Smokey, even as they stood in their pens. Bug had them all over her feet, while Smoky had none at all. Bug had a meltdown the first day because of the flies, but they got a bit better as it got drier, and I guess she got used to them. These flies were the size of June bugs, and they hurt if they bite you. Ask me, how do I know that? Because I didn't bring enough fly spray! If you go, bring twice as much as you think you will need. I tried some special clothing on Bug for the flies, but she didn't like it, except for the fly sheet she wore at night. We heard there might be bears, but we saw no bears or pigs or any critter particularly alarming or exciting. We did see one snake and some deer, though, and many beautiful butterflies, as well as lightning bugs in the evening. This place is so big, we also never saw another rider or hiker on trail.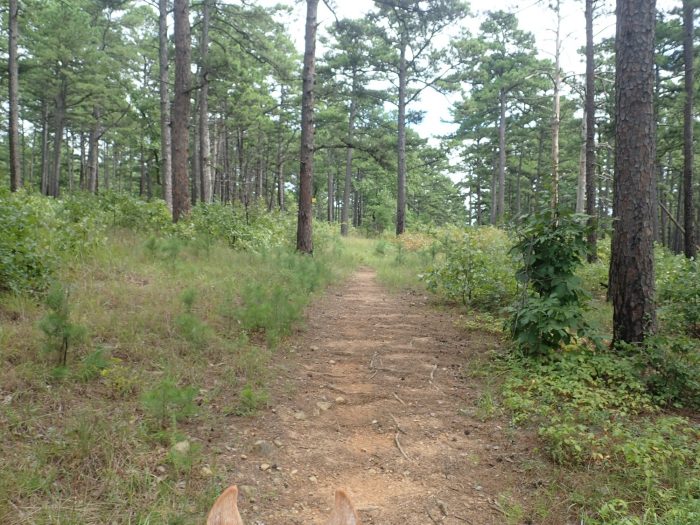 We were able to ride for three days, about ten miles a day. That doesn't sound like a lot, but they were hard miles… lots of elevation changes, and many sharp rocks. Bug was too sore on the fourth day, so we started heading back. The weather was very nice. There was very little rain (only once in the afternoon), high 70s during the day, and mostly cloudy. The trails are almost all under the cover of shade trees, so it stayed quite cool.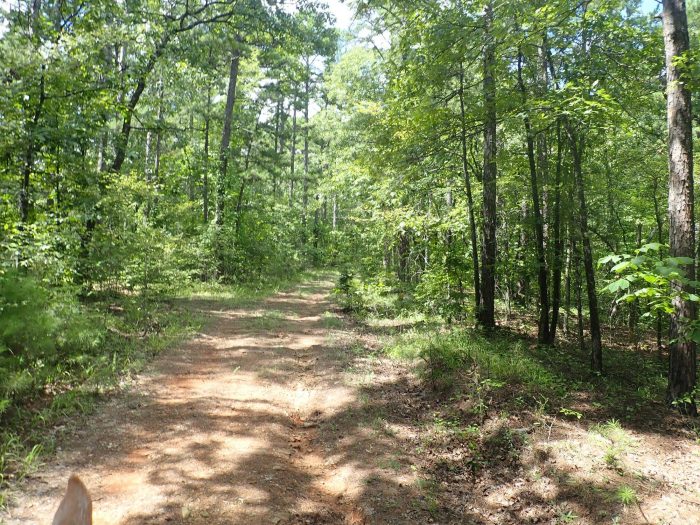 If you look at the maps, you'll see trails grouped by numbers. Most of the trails are about ten miles long, so if you put two of them together, you can get a 20 mile ride. It takes awhile to do them, as very little of it is fast terrain. It was much steeper than it looks like in the pictures, due to the fact that I am only coordinated enough to take pictures on the flatter areas. Trail 2 was the lowest, flattest trail, and on that trail, we were sometimes in pine, and sometimes in oak forests. Most of the other trails are in pine. The high point pictures were taken on Trail 4. Of course, there was a Mule Guy (there's always a Mule Guy at these places). Mule Guy gave us the info on which trails to ride, the short cuts, what not to ride, etc. One lucky group got to ride out with the Mule Guy, but unfortunately, we never did. He was off trail the whole time, though. The trails were pretty easy to follow, although we did get lost the first day on Trail 1. We were not able to get near the lake, except for once, on Trail 2, where we were able to see a lake. But I'm not sure it was Cedar Lake.
We found only one picnic table on the trails, and that was on Trail 2. I'm a big fan of picnic tables, so I always look for them. Most of the trails were way too narrow to have one, as many are on switchbacks. We ate lunch there.
I would go back again. The camp host said the best time of year was spring, but this was pretty good. We escaped last week's rain and the heat. It reminded me of both Ebenezer Park (except for the rocks) in Texas and Gillespie Ranch in New Mexico.