This trail post is courtesy of WTTA contributor
Ann Sides – Thank you Ann!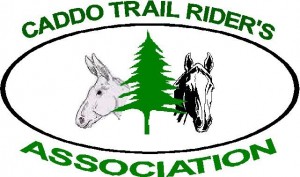 Websites:
Texas Parks and Wildlife Caddo National Grasslands website link
Caddo Trail Riders Association link
Caddo Trail Riders Association Facebook page link
Location:  Caddo Grasslands is about an hour and a half northeast of Dallas. When you come to Caddo Grasslands, plan on getting away from it all and enjoying some of nature's beautiful scenery and great horseback riding.
Just FYI, in case of emergency Paris, TX is the nearest large city with emergency facilities.
Latitude:  33.7372   Longitude 95.9738   If you are using Mapquest etc. type in Telephone, TX (closest town)
Contacts:
Ranger station at Caddo:  903-378-2103 (is NOT answered 24 hours)
Ranger headquarters of Caddo & LBJ Grasslands:  940-627-5475
Caddo Trail Riders Association: President Phil Haley 903-583-3902 and Mike Durbin 903-664-2618 CTRA@K5MJD.US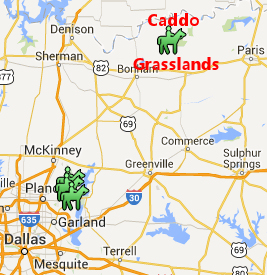 Directions:
Through Bonham:   (Ann's favorite route)
Go out North Hwy 69 to Leonard.
Turn right at Hwy 78.  Stay on 78 through Bonham to FM 1396.
Turn right on FM 1396 and go 9.6 miles
Turn left on FM 2029 approx 3-4 miles.
Turn right on FM 409 and go approx 2 miles.  You'll see a brown sign that says Bois d'Arc Trailhead.  Entrance is on the right side of the road, with a cattle guard crossing.
Note: 
Mapquest will show some little FM roads that skirt around Ladonia and one after Bonham, especially on the FM around Ladonia (twisty and narrow). It is a much better drive pulling horses to stay on the bigger roads.
Equestrian Camping: 
Overnight equestrian camping is allowed.
Fees: 
$2.00 for day riders or day visitors
$6.00 for overnight camping
*There is free day use area which has no water or bathroom
Coggins: 
Current Coggins is required but is not usually checked.  There is no ranger station at front gate.
Facilities: 
The road in the camp is gravel and all campsites are shaded. There are approximately 20 pull through sites and 10 pull in sites. Each campsite on the outer side of the loop has a large picnic table, and either a single pole to tie horses to or a steel highline with a cross piece. The single poles are being replaced with highlines. Other amenities at the campsite include a large covered pavilion with picnic tables, a composting pit toilet, a large water trough, a horse wash rack and a mounting block for handicap riders. All campsites have frost free faucets with water available year round; however there are no showers or electrical hookups. You can tell this camp was designed by horse people, for horse people, as all facets of the campsite are horse friendly. There is day use parking down the road from the main trailhead. It is primarily used when there are large group meetings. The work on the campsite began in 2000 by a volunteer riding club, Caddo Trail Riders Association, who still maintain and improve the trails and campsites today. Their website (Caddo Trail Riders Association link) contains up-to-date maps and phone numbers of members you can check with about weather and controlled burns (more on this later).
Dogs:
Dogs are allowed but must remain on a leash. 
Cell Phone Service: 
Cell phone service is fair.
Trail Users:
This is a multi-use trail for Equestrians, hikers, hunters, and bicycles.  However, due to the sandy trails there are rarely if ever bicycles on trail. Hunters typically hunt. in areas away from the trails.  Trail users are required to wear orange during dear season. No motorized vehicles are allowed on the trails..
Mileage: 
There is approximately 30 miles of trails.
Trail Map:
Click the map to enlarge it.  According to Caddo Trail Riders Association, trail maps are available at the campgrounds.  CTRA also reports that the trails are well marked.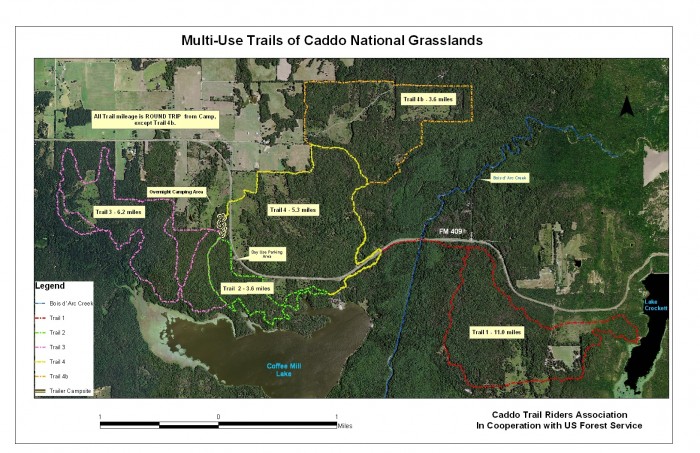 Terrain: 
The terrain is sandy, heavily wooded, and hilly to flat. These are barefoot friendly trails.
Description:
When most equestrian folks hear "grasslands" in Texas they think of the Grasslands in Decatur. However, there is another grasslands area that together with the Decatur area comprises the Caddo-Lyndon B. Johnson National Grasslands. It is located near Honey Grove and called Caddo Grasslands. Caddo Grasslands has nearly 18,000 heavily wooded acres and three pristine lakes. It is open for hunting and fishing (following TX Parks & Wildlife seasons), camping, hiking, picnicking and horseback riding. Equestrian riders will find 30 miles of shady, sandy trails and a comfortable campsite at Bois D' Arc Trailhead. There is additional acreage near Ladonia but it has not been developed for recreational use.
Trails:
Trail 1 is 11.0 miles and for years I was warned this trail was very rough. I finally rode it with some friends who had ridden it before and found it's a wonderful trail!! It had lots of up and downs which I really like. To access Trail 1, go out Trail 2 and take Trail 4. You'll cross a small road into a camping area with horse gates on both sides of the road. After about a quarter mile you'll come to another horse gate that goes out toward the road. Go out this gate and ride by the fence to the right. You'll need to cross the bridge on the highway and go a short distance to another horse gate on your right. This is not a busy highway and has good visibility. This is a long trail and it is ideal to bring along a lunch and stop at the lake overview to eat, where there is a picnic table. The 11.0 miles includes the portion of Trail 2 and Trail 4. If you desire to shorten your ride back a little, you can ride along the highway all the way back. It's pretty boring and is not maintained for horses, so be wary of holes or other hazards.
Trail 2 is the shortest trail at 3.6 miles.  However, it is very scenic with a stop by the lake and a trek through a large stand of pine trees.  This is a very nice trail and is relatively flat.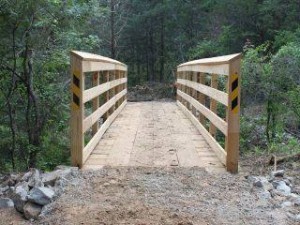 Trail 3 is the next longest at 6.2 miles. It is similar to Trail 1 but has more up and downs. There is a cut through on the trail to use if there's been a lot of rain and is shown on the map. There is a very sturdily made bridge on this trail that is good training for your horses.
Trail 4 is 8.9 miles. This trail is located across the highway from camp but there is good visibility at the crossings. The west side of the trail has some areas that are not shaded. On the north end of the trail is a new trail that's been recently opened, called 4b. I've been told it's the best trail there.  With the weather bumping the 70s a group of us went up to Caddo Grasslands and decided to ride Trail 4 and 4b.  We didn't have any trouble closing gates as we had a pro side passer ride with us, who not only side passed with ease but did so while ponying another horse!!!   The road crossing went well with gates on both sides of the road.  The terrain is gently rolling hills, with moderate ups and downs and most of it was through lovely forests with sandy trails.  One of the really nice things about Trail 4 is if you have a group that some riders want to do a short ride and some want to do a longer ride, it's easy to split up and one group do the inner circle and the other group do the outer circle.  Our group stayed together but we found some of us getting a little tired so we cut off part of Trail 4b by riding a gravel driveway, shown by the red arrows.  From there it was an easy 1 mile back to camp.  The trails were VERY well marked and maintained.   The area shown in the red circle is across an open field and if there had been a recent rain it would have been very boggy.  The trail itself was dry but one horse got off the trail and it was boggy even though there has not been rain in several weeks.
Note on controlled burns. Occasionally the National Forrest Service determines the forest is getting too dense with underbrush and they'll do a controlled burn. In a controlled burn the flames are only about a foot tall and they basically cut through small trees and bushes and clear out the undergrowth. Sometimes the trees are supported by other trees' branches and do not fall. This can be a hazard immediately after a burn; especially if it's windy. Also, as you can imagine its not real pretty after the burn. If you're planning a long stay and/or a long drive, be sure and check dates for controlled burns with the Forrest Service at Decatur (940-627-5475) or with the Caddo Riders Association.
About the contributor: 
Ann Sides, WTTA's newest contributor, lives near Greenville, TX with husband, J.Paul, who is head of security and composting, 5 horses, and 3 dogs.  Ann works at L-3 in Greenville and hopes to retire in a couple of years.  But until then she'll keep riding and camping every weekend she gets the chance.  She and J.Paul have one daughter, Lauren, son-in-law Clint, and one adorable grandchild, Ryan Moore, who live close by in Royse City.  It doesn't get any better than this!!!