TRAIL INFORMATION AND PHOTOS PROVIDED BY CONTRIBUTOR, STEPHANIE HANSLIK
WEBSITE
http://indianspiritsprings.com
http://www.facebook.com/IndianSpiritSprings
LOCATION / CONTACT
A&F Farms
4342 Dobrovolny Rd
Bryan TX 77807
979-318-2411
info@IndianSpiritSprings.com
DIRECTIONS
Indian Spirit Springs Trails is located in Bryan, TX, at A&F Farms, just 15 minutes north of the new TAMU Health Science Center. From Bryan take Hwy 6, then take Hwy 21 West approx 5 miles. Turn right on Pleasant Hill Road, which is just before a railroad overpass. Travel just over 1 mile and take a left into the ranch entrance on Dobrovolny Rd. This is a gravel road. The ranch entrance has a bright red gate and cattle guard.  There are directional signs once on the property.
OVERNIGHT CAMPING
Equestrian overnight camping is allowed.
FACILITIES
Facilities include, 3 electric hookups, water, picnic table, and two pens. They also have a port-a-john.  There is plenty of parking space.
The camping area is lovely, next to a large lake and groves of beautiful mature trees.
RULES, listed on their website
Everyone who enters the property must sign a waiver at check-in
Please check out when leaving for the day
The ranch is not responsible for accidents to people, horses, or damage to trailers or vehicles
Must have negative coggins
No studs
No riding at night
Children under 18 years of age must wear riding helmet. We encourage that everyone wears a helmet
An adult must accompany anyone under 18 years of age
No glass containers
No guns
No hunting
No dogs. Not all horses are used to dogs
No boats with motors
Life jackets required by anyone in boat
No swimming or wading
Fishing is catch and release
Clean up after yourself; use trash cans that are available
Observe all hazard signs and markings
Stay away from all out buildings and equipment
Respect others and their property
HOURS – They are open 7 days a week 8a to 8p.
FEES
Half day ride $10 per horse
Full Day $20, per horse
Overnight tent/trailer camping is $10 but am (unsure if that includes a electric hook up)
*Prices maybe subject to change, please call before you haul
METHOD OF PAYMENT
They accept cash or checks with appropriate identification.
At this time credit/debit cards are not accepted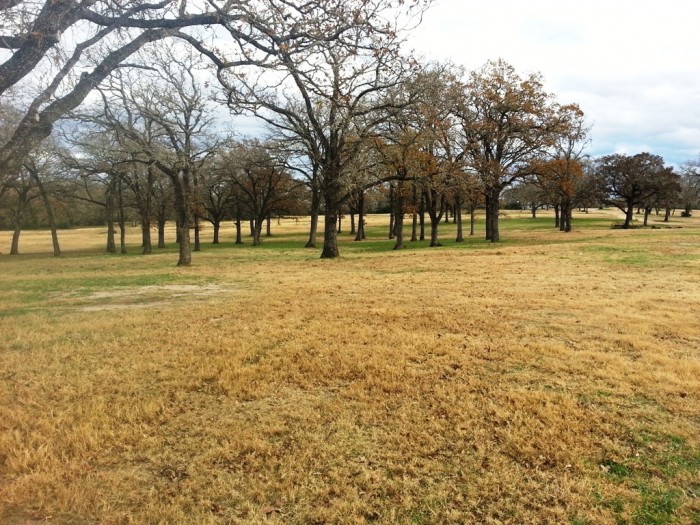 DESCRIPTION
The trails are mapped, and they are in the process of marking the trails on the 800 acre ranch.  The terrain is grassy/sandy so no boots or shoes are required.  Trails are a mix of wide open hay fields, pecan orchards, to narrower single file trails through the woods.  There are lots of lakes/ponds, a few water crossings (though the crossings were dry when we visited in December), and gentle rolling hills.
We explored the Northwest section of the ranch and covered about five miles.  After lunch we then rode the only trail marked so far, the Red Trail.  On this trail we covered about three miles, but did not complete the whole trail.
Indian Spirit Springs is a beautiful place to ride.  The owners are very nice and friendly with a lot of knowledge regarding the history of the ranch.


TRAIL REVIEW PROVIDED BY TRACY & LARRY BLACK ON 10/30/14:
A group of us who like to drive went out to check out Indian Spirit Springs based on your recommendation off  WhereTheTrailsAre.com.  We had a fabulous time.   Jackie and her brother were absolutely  the best ranch owners and greeted us as we came in.  We are  a big rig, 66ft long and we had no trouble finding the place or getting in and setting up.   We did call ahead and gave Jackie a heads-up on our size.    Jackie had pens ready for us when we arrived.      The trails are perfect for HyperBikes (what I am driving) and the bigger carriages.      Thank you Tracy & Larry Black!