Location: Guadalupe Mountains National Park is located in far West Texas on the north side of U.S. Highway 62/180. The driving distance is 110 miles east of El Paso, Texas, 56 miles southwest of Carlsbad, New Mexico or 62 miles north of Van Horn on Hwy 54.  Follow signs to the park.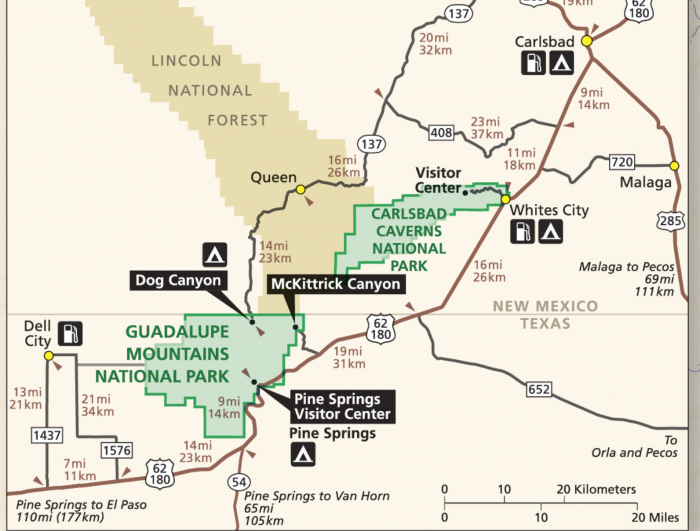 Phone: 915-828-3251
Address: Pine Springs Visitor Center, 400 Pine Canyon, Salt Flat, TX 79847
Website: https://www.nps.gov/gumo/planyourvisit/horse.htm
Trail Mileage and Difficulty: Guadalupe Mountains National Park has about 80 miles of trails, just over half of these trails are open to equestrians.  However, Destiny, at the park visitor center phone line reports the trails are extremely difficult. They mostly get mule traffic and very few horse campers.  She said on average they have about 3 equine campers a year.   Definitely plan ahead for this trip, be prepared if you decide to take on the challenging  Guadalupe Mountains of West Texas.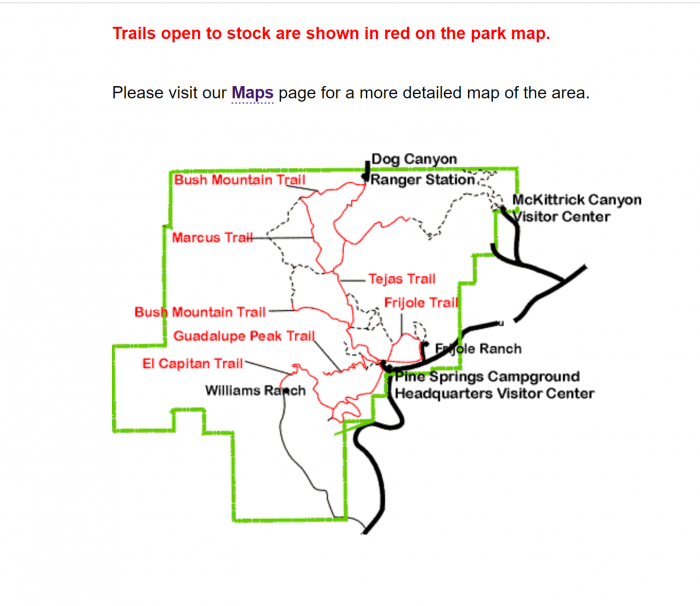 Equestrian Trails at Guadalupe Mountains National Park:
 Gentle grade, easy to follow.
Foothills Trail
Williams Ranch Road
Frijole Trail
Moderate steeper grades; rocky sections; generally easy to follow; may require dismounts; intermediate rider experience; stock conditioned to mountain trails.
Bush Mountain Trail – Dog Canyon to Marcus Trail
Marcus Trail
Tejas Trail – Dog Canyon to Pine Top
McKittrick Canyon Trail – Tejas Trail to McKittrick Ridge Campground
El Capitan Trail – Pine Springs to Salt Basin Overlook
Salt Basin Overlook Trail (lower loop)
Difficult steep grades; narrow sections; rocky; trail may be difficult to follow; requires specific knowledge of trail or experience with similar trail conditions; for experienced riders and stock conditioned for difficult mountain terrain.
Tejas Trail – Pine Springs to Pine Top
Bush Mountain Trail – Pine Top to Bush Mountain Campground
Guadalupe Peak Trail
El Capitan Trail – Salt Basin Overlook to Williams Ranch
Guadalupe Mountains National Park Maps Link
Day Use Equine Riding:  Allowed, check in at Pine Springs Visitor Center,  day use parking is at Frijole Ranch or Dog Canyon.
Equine Camping: Allowed at Dog Canyon and Frijole Ranch. No more than 10 equines allowed per group and on one specific trail on any one time.
Frijole Ranch  Corrals (near Pine Springs Visitor Center and Frijole Ranch) is primitive with 4 pens, 2 tent pads, 2 hitching posts, toilets, RV's  / LQs are allowed but there are no hook ups.
Dog Canyon (remote and on the north side of the park) is also primitive,  has four pens with  designated parking sites near the pens and toilets.
Reservations can be made for the corrals up to 60 days before arrival. Reservation Instructions Link
Water is available at the corrals by way of a faucet.  Water sources on trail are few and unreliable.
Riding is limited to day trips only. All equines must return to the corrals each night. All riding trips must start and end at the trailheads located at Frijole and Dog Canyon. Horses and/or mules may not be transported by trailer to any other trailheads.
Campfires: No open flame fires allowed.
Fees:
$10 Park entrance fee per person applies to all adults, 16 years of age or older, and is good for 7 days. Under 16 is free.
$15 a night for use of the corrals.  Reservations for the corrals can be made up to 60 days in advance.  Reservation Instructions Link
Free backcountry use permit is required for all equine use. These free permits are issued at the Pine Springs Visitor Center or at the Dog Canyon Ranger Station. Permits must be obtained in person, the day of or the day before a proposed trip.
Coggins: Required
Cell Phone Service: Park reports cell phone service is generally usable around Frijole Ranch and Pine Springs, and along some of the major roads.  Expect dead zones along several trails and areas in the park such as the longer trails, canyons, and Salt Basin Dunes.  Free WiFi is available at Pine Springs Visitor Center.
Time Zone: Note this area is right along the central and mountain time zone lines.  Visitor center is in Mountain Time Zone.  Your smart phone might get confused and switch back and forth between the two time zones. This is a great location to lose track of time!
Pets/Dogs: Allowed at campgrounds but not on park trails.  Must be on a leash no more than six feet long and can't be left unattended.
Trail tale and description  contributed by  Confessions of a Saddle Tramp, Shannon King.  Thank you Shannon and keep riding your dreams! 
Guadalupe Mountains National Park, Texas
There's something about west Texas. The vastness of the land, the roads which seem to go on forever in one direction (without gas stations) … it has always reminded me that there is something bigger in this life than me and my problems. Actually, I'd say the outdoors in general has always had that wonderful effect.
Out near the west Texas town of El Paso (channel Marty Robbins when you read that), there is a mountain range called the Guadalupe Mountains where what are today mountains used to be the sea – or more specifically a fossil reef. These mountains are one of the finest examples of an ancient fossil marine reef on earth. Geologists visit from around the world to study the Guadalupe Mountains and their perspective.
I visited Guadalupe Mountains National Park hoping to make it to Franklin Mountains State Park as well, but once landed it was hard to leave. There are over 80 miles of trails here and 60% of that is open to horses. To say this area is rocky is an understatement, sometimes there's nothing but rocks. The horse trails here are divided by difficulty rating and only 3 short trails are rated "easy"… this is not for the uninitiated horse or rider.
After checking in at the main office, Dex, Kona (my mini Aussie) and I camped at the Frijole Ranch site near Pine Springs. There are both water and corrals there, as well as at Dog Canyon. However, while regular camping is first come first serve these must be reserved in advance. You can find instructions to reserve horse camping using the links above.  Lots of Texas ranching history and beauty is preserved here: Frijole Ranch, built in the late 1800's, the Butterfield Stagecoach route, Pinery station ruins, McKittrick Canyon and Pratt cabin, plus some.
Guadalupe Mountains also boasts the four highest peaks in Texas, of which Guadalupe Peak tops them all at an elevation of 8,749 feet above sea level. For perspective, this makes Guadalupe Peak taller than Aspen Mountain in Colorado and about equivalent to Telluride. The park is also unique in its seclusion as there are no roads inside the 86,000 acre park – only trails, which makes it my kind of place. 
I was working during part of this trip, and it was Daylight Savings so we were limited to shorter rides. Hay, gas and groceries were an hour away in either direction.  Definitely good to stock up before arriving!
Our first trail was one of the "easy" ones and even there we had incredible views with paths so narrow in places you could not turn around. Dogs are not allowed on the trails so this time Kona had to stay at camp. Dex was booted on his front feet but still sore after our second time out. So much so that I gave him his head on our return and he walked us straight back into the corral without stopping (and I mean actually into the corral)! His message was clear.
After a day of recovery, we rode again and this time made it onto part of the El Capitan trail – one worth returning to as it overlooks the salt basin dunes towards trail end. Guadalupe peak trail (advanced trail for experienced riders and stock only) is also available to explore but we were not yet acclimated for the climb. The rolling hill country and one quick trip to Colorado were our only experiences riding real elevation prior to this – and I don't think the hill country really counts, do you?
So… we have more goals. There is much more to ride at Guadalupe Mountains, we haven't even touched Franklin Mountains and just a bit down the road (6 hours is a short drive across Texas) are of course Big Bend Ranch and Big Bend National Park.
I've heard it said that people either really like West Texas or they really don't. Well I'm a sucker for it, there's a beauty here that's hard to describe. The pace moves just a little slower than the rest of Texas, the perspective goes for miles and you can lose yourself for as long as you like. Just make sure you grab that gas when you can!