Originally published March 30, 2019 — recently updated September 07, 2021
Ride beneath East Texas Woodlands deep in the shade of Davy Crockett National Forest. Discover the Piney Creek Horse Trail system, over 50 miles of sandy, gently rolling, well developed horse trails between Crockett and Lufkin.   If you want to horse around in comfort, skip roughing it for a change and stay at T Bar S… for both you and your horse's pleasure.
Location:
T bar S Horse Camp in the Davy Crockett National Forest
6387 FM2781
Kennard, TX 75847

Directions: from Huntsville, travel on TX-19 approximately 20 miles to Trinity. In Trinity turn RIGHT on TX-94 (the 2nd traffic signal) towards Groveton. Travel 16 miles and TX-94 ends/merges with Hwy 287, turn LEFT towards Crockett. Go approximately 8 miles to Pennington and turn RIGHT on FM2781, there is a Spitfire Grill/Gas Station at the intersection. In Pennington make the RIGHT (just past the Church) and then a LEFT (just past Avery's Welding & Feed) to stay on FM2781 towards Kennard. T bar S is then 6 miles ahead, just past Baker Springs, on the RIGHT.
or
From Crockett or Nacogdoches, travel on TX-7 to Kennard, turn SOUTH at the flashing yellow light which is FM2781. Go approximately 6 miles and T bar S is on the LEFT.
If you accidentally pass T bar S, you can continue on to either Kennard or Pennington to get turned back around.
Contact:
Tom & Stephanie Hanslik (owners)
Tbarshorsecamp@yahoo.com
(936) 655-3328 office
(832) 928-9584 cell / text
T Bar S Horse Camp Website: https://tbarshorsecamp.com     This is a great website, user friendly and very informative with a facility map, pictures and details about each campsite, park/trail maps and lastly you can make reservations and a deposit via this website.
Hours: Open daily from 8am to 8pm
Overnight camping:
Equestrian overnight camping is allowed, with parking space available for day riders as well.
Facilities:
Enclosed air conditioned pavilion  with a front patio that has chairs, a barbeque grill and a freezer full of of ice bags for purchase
Restrooms and showers with AC and vents
16 sites with 30 amp and two 50 amp electric and water hookups – see T Bar S website, as details about each campsite are described well with pictures of each site.
Two horse pens per site; several of the pens are covered. Horse pens are 12×12' Priefert panels; most pens can be opened to 12×24 for those camping with one horse.
Rates:
Camp for $35/night with 2 pens included in that price, reservations required. Day Riders are welcome at $10 per trailer. Includes secured parking and access to potable water & facilities. Contact camp in advance. There is no fee to ride the trails.
Policies: listed on website.
Proof of Negative Coggins Required.
Check-in time is 1pm, check-out time is 12 noon. For later departure check with owners if site is reserved by anyone else. If so, can move to day rider spot or another site if want to ride before heading home.
No Stallions.
Dogs welcome but MUST be kept on a leash. It is a working farm with cats, chickens, and ducks.
Do not tie horses to pens or trees, tie to side of trailer only please.
Horse pens must be cleaned of all manure and hay upon departure.
Shavings are permitted.
Campfires allowed in above-ground rings or community fire ring only.
No discharging of any waste or gray water.
Quiet hours begin at 10pm.
Maximum 4 persons per site
Maximum 2 horses per site. If more than 2 horses please contact owners, additional pens (if available) are $10/horse per night.
Manure Management:
A few rakes and muck buckets with carts are provided.  Please put manure in the spreader. Manure is to be cleaned out of the pens and campsites and then deposited in the manure spreader, there are limited muck buckets so if camp is busy be sure to bring your own muck bucket and manure fork to make the job easier.   This is a very clean well maintained facility, thank you in advance for helping to keep it that way.
Dogs: Are allowed but must remain on leash.  Owners have two very friendly dogs who do roam the facility freely and like to greet the guests.
Phone Service:  AT&T is fairly good (mine did not work inside my trailer but did work outside of my trailer).  Straight Talk is said to work well also; while other phone services don't work as well in this area.
Hunting: Hunting is allowed in the forest, so it is best avoided starting on the first Saturday in November through the end of gun/deer season (approximately mid January).  The forest is commonly too wet to ride in these months anyway.  Riding the trails from T Bar S during hunting season will be closed, but the T Bar S facility will still remain open and is a great rest stop/lay over for any equine travelers.  October is bow season and you may still ride the trails during this time but be sure to wear orange.
Controlled Burns: The U.S. Forest Service conducts controlled burns in the National Forests and Grasslands in Texas from early spring to summer.  Check their website ( https://www.fs.usda.gov/detail/texas/home/?cid=STELPRDB5355005 ) and with T Bar S owners, Stephanie or Tom, for information about any possible burns/fires.
Logging: It is always possible there could be some harvesting/logging going on of the pine trees but I hear the loggers are very courteous to the trail users.
Trail Users: Horse/mule riders, hikers, and hunters.  No motorized vehicles allowed.
Mileage: Over 50 miles of trail.
Maps and trail markers: Maps are online, printed out, and cloth maps on a bandana can be bought at T Bar S for $5.  Trails are color coded and well marked.
T-S Piney Creek Horse Trails May2021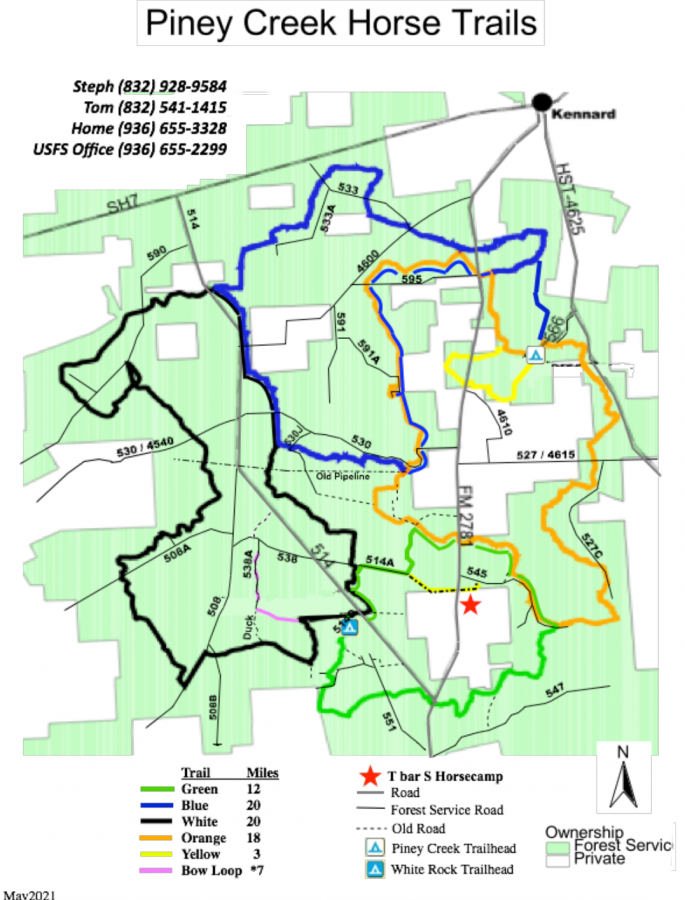 Description:
T Bar S opened in 2019  and has direct access to the 50+ miles of marked and mapped trails in the Davy Crockett National Forest.  Owners, Tom and Stephanie Hanslik, have worked hard adding many additions to this awesome facility to include many nice decorative touches.   Tom and Stephanie check in on their guests and make sure to keep an eye out for everyone's safety.  It is a good feeling knowing if you don't come back from trail riding, they will be looking for you and calling the ranger.  Tom and Stephanie are helpful and friendly.  I would feel very safe camping here solo.  Their  newest addition to T Bar S is an air conditioned pavilion named Cookies Corner with bathrooms & showers attached to the side.    Inside Cookies Corner is a large table and chairs, which was great for playing dominoes.  The horse pens are very nice with well secured Priefert panels, soft sand, and several are covered.  I really like if you have just one horse, most of the double pens can be opened up to make one large pen. There are two areas where multiple pens are grouped together, a water spigot and hose is supplied for those. But be sure and bring your own water hose for your campsite. Camp and horse pens are very shady, pens that would otherwise be in full sun are covered.  Some of the sites are pull-through. Camp is located right off a paved farm-to-market road, very easy to find and no rough dirt or gravel roads to negotiate with your trailer.   There is no septic service.  There is a dumpster for your trash.
Trail Access from T Bar S is practically right in the front yard of Tom and Stephanie's home.  Just head out the front entrance gate and turn right or head out the side corner gate to the north of the campsite, cross over the yard and you can head left across FM 2781 or through the trail entrance and to the right.  Trails from the camping area to Davy Crockett are yellow and black.
The Trails:
The Piney Creek Horse Trail system meanders approximately 53 miles through the East Texas piney woods in Davy Crockett National Forest.
The mostly barefoot friendly trails are primitive. Paths are cleared through the forest which follows Forest Service roads, tram roads, pipeline right-of-ways, game trails, and in some places it was established by clearing brush and trees through the forest. Primarily, it is on National Forest land, but there are crossings on private property and along public road right-of-ways. In general, the route is well cleared.
Trails are very well marked, and all road crossings are well signed. Different colored triangular markers indicate the route. Trails are easy with gently rolling terrain. It is also very shady, making it a great place for summer riding. There are no motorized vehicles allowed, to include,  atv, utv, and dirt bikes,  in the forest.
I have visited T Bar S twice now and was impressed both times.  I did most of my riding in 2019 as unfortunately my horse was lame during my recent visit in Sept. 2021. Regardless, I still enjoyed hiking the trails with my canine companion, Eva.  I also really enjoyed hanging out at the T Bar S campsite with my friends and critters.
This trail entry is a combination of information from my 2019 and 2021 visits, some information from friends, and information provided by the owners as well.