Hill Country State Natural Area
Websites-
For the park: http://www.tpwd.state.tx.us/spdest/findadest/parks/hill_country/
For Reservations: https://texasstateparks.reserveamerica.com
Contact:
Direct number to the park: 830/796-4413
Number to make reservations: 512/389-8900
Always call before you haul, trails may be subject to closure during wet conditions or hunting.
Location: Approximately 50 miles northwest of San Antonio
10600 Bandera Creek Road
Bandera, TX 78003
Directions:
From Bandera, travel south on State Highway 173, go across the Medina River and continue for approximately 1/4 mile to Ranch Road 1077, turn right on Ranch Road 1077  and go about 10 miles to where the black top ends. Continue on the caliche road and follow the park signs to the park headquarters. This will take you down a hill and you will see an old wood barn on your right.  Turn right at the cross roads and pass over a one lane low bridge.  You will see the park ranger residence on the right.  After that on your right is the park headquarters where you check in.  Be sure to have your Coggins ready and ask for a map.
Hours:
The park is open 7 days a week and overnight camping is allowed.  The park office normally closes around 5pm but there is an after hours self check in by the office to use when needed.
Hunting:
The park will be closed on the following dates in November, December, and January for wildlife management/hunting. Only drawn permitted hunters will be allowed in during these dates.
*From 10 p.m. on Sunday, Jan. 18 until noon on Thursday, Jan. 22, 2015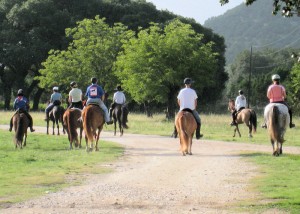 Facilities / Fees: Fees are subject to change so call the park to be sure of current rates.
Daily park use fees – $6.oo per person ages 13 and over, twelve and under is free for the day. When camping overnight it is $3.00 per person ages 13 and over, twelve and under is free.
Bar-O Equestrian Area  is $10 per combination of 6 (people & horses) per campsite and is also used as a day-use parking area (approximate capacity  is 25 rigs). Bar-O is located across from the park headquarters in a 6-acre somewhat shaded area. One water trough, fire rings, a few hitching posts, a few picnic tables, and a chemical toilet near the office is provided at Bar-O. This area is non-reservable and is first-come, first-served. You must pack out your own manure here, so bring something to put it in.
Trailhead Equestrian Camp Area (Primitive)  is $15.00 a night for a maximum of six people per site. This area has six designated and primitive reservable campsites #213 – #218 on a circular gravel driveway.  Each site has a gravel parking pad, two side by side pipe pens which are about 10 by 10, a picnic table, and a fire ring.  The center of this area has a round pen, one restroom (chemical toilet – no running water) and a black water tank to use for the horses.   There is no electricity or running water. There is a designated area to dump your manure and a park wheel barrel you can use.
Chapa's Group Camp Area is $150 per night – Chapa's Camp is a group camp area which has a capacity for a large number of people. There is a 10 acre open field which can accommodate primitive campers.  There are a few electrical hookups .  The hook ups are on grass/dirt. There is non-potable water, a water trough, and a wash area which is sometimes closed when in drought. There are a few outside picnic tables and fire rings.  There is an old stye 12 stall barn.  The stalls are about 10 by 10. A second much larger barn with a concrete floor, several picnic tables, lights, and electric outlets is great for gatherings. On one side of this barn is another covered area with about 2-3 larger pens.  Chapa has an old white house which also has a few picnic tables but is not meant to be slept in – it is basically gutted. There is one chemical toilet and a designated area to dump your horse manure.  If this group area is not rented out, then individuals can camp overnight there using the stalls and electric outlets. However, you cannot make an individual reservation at Chapa's unless you rent out the entire group camp area.  So if you are lucky and can stay at Chapa's because it has not been rented out by a group then be prepared to have to move if a someone comes along wanting to rent the entire camp area.
The Group Lodge is $300 per night – The Group Lodge is available for equestrian or non-equestrian use and can sleep up to 12 persons. It has 4 bedrooms, three with full size beds, and a dorm room with 4 twin beds, there is also a sleeper sofa in the lounge. The lodge has a bathroom, kitchen with a stove, refrigerator, and microwave, central heating and air-conditioning, porch, and a separate building with an additional refrigerator and a barbecue pit. Towels, bed linens and cooking utensils are not furnished. There is non potable water available for the horses. Be sure to pick up the key for the lodge and also notice there is a key for the outside water faucets as well. All water is non-potable so bring plenty of drinking water and water for cooking, tea, coffee, etc….There are 5 covered small stalls, 4 covered pens, and corrals/paddocks for your horses. Some of the corrals could be hazardous (especially the ones behind the barn) if your horse tends to get into things. You can also bring your own pen, tie to the trailer, or high tie with tree savers. Use of the equestrian arena is an extra $50.00 in addition to the lodge rental. The arena is located next to the lodge. They now also have 4 trailer hookups (Electric, no water) at the Group Lodge.  The hook ups are on grass/dirt. There is also plenty of space for primitive camping.  The more the merrier at no additional cost for these RV hookups and primitive campers, still $250 a night for the whole place!
Mileage: 40 miles of designated, multi-use trails open to backpacking, primitive camping, horseback riding, and mountain bicycling
Map: http://www.tpwd.state.tx.us/publications/pwdpubs/media/park_maps/pwd_mp_p4507_115.pdf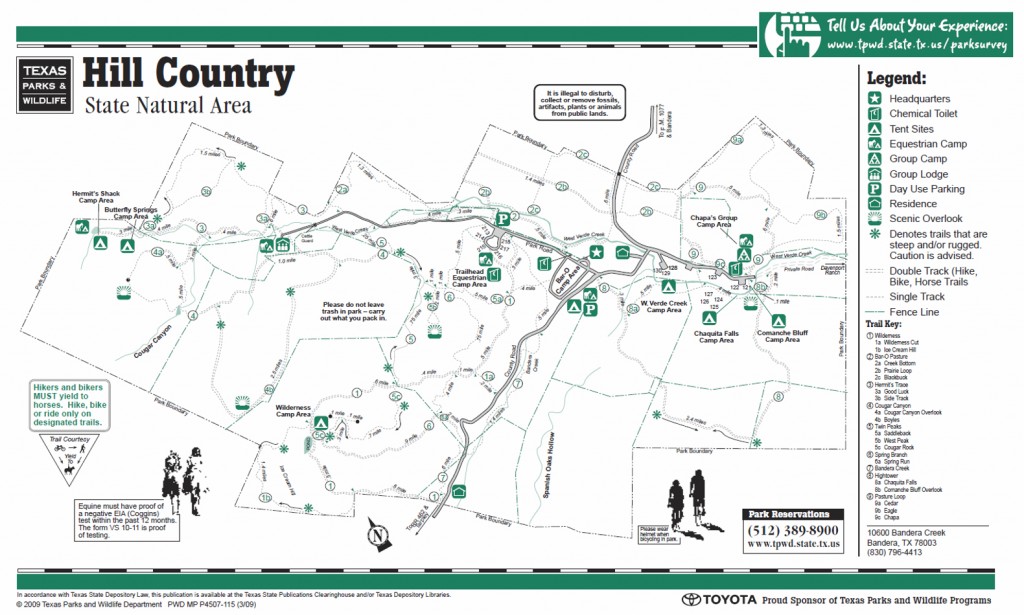 (click map to see larger version)
Terrain: mostly rocky, some flat trails with few rocks, some gentle grades, and some steep canyons up to 2000 feet in elevation. Shoes or boots are recommended.
 Description/Review by Deb Demers:
Thanks goes to WTTA contributor Deb Demers for providing this description section!  Deb has a very detailed site covering each trail with information, pictures, and even some video.  Here is the Link: http://www.andolscreek.com/trail_rides.htm
Hill Country park is a fantastic place to ride! I can never get tired of riding there. It has terrain ranging from level, grassy pasture type riding to trails that require your horse to be part mountain goat! All are marked with numbered signs and include indicators as to the level: Easy, Medium, Hard, Extreme. Some of the trails can be ridden barefoot, but most require shoes or boots. Most trails are very typical hill country trails — winding through trees, scrub, and glades, up and down gullies, washes, hills and always with fantastic views. The more extreme trails require horse and rider to scramble and leap up and down rocky ledges (1 – 2 feet high) and balancing on tiny rock steps and boulders. Often you will come around a corner and find yourself on a very narrow trail with a cliff on both sides. Other trails are broad, open areas of grass and sand. Great for nice canters and moving out. You can also ride on the park roads which are level caliche packed so they also make for nice cantering. You can easily plan a ride from camp to circle around and back so it takes 2-4 hours to do, come back, eat lunch, then head out in the other direction for more riding. You can spend a whole day there and never cross the same trail. When you check in, you can pick up a map which not only shows all the trails but also indicates the difficult ones. If you are orienteering challenged, there always other riders, hikers, and bikers out there that can help point the way to where you want to go. There is water there for the horses, but for yourself, you must bring your own drinking water whether you are there for the day or camping or have rented the lodge. The best times to ride are spring and fall. If you enjoy cold weather, then winter riding is just fine, too. Generally, I don't ride there in the summer because Texas heat is horrible.
Trail Tale by Kelly Hurd:
This is a short account of our first trip to the Hill Country State Natural Area in Bandera Texas in Sept. of 2008. Chris and I were invited to join some friends on this trip, we were staying at the Group Lodge. All together there were nine riders and horses. The lodge comfortably accommodated us all. The lodge can sleep a total of twelve people. I had been eagerly awaiting this trip. We brought my horse Angel and borrowed my parents' horse Ponch for Chris. They are both original American Indian Horses registered with AIHR, SMR, and HOA. There was quite a mix of horses (several Icelandic horses, a draft mix rescue horse, Hanoverian, and a Thoroughbred). Angel was just four when we went on this ride and I was starting her in a side pull.
Friday afternoon Chris and I both rode out with the group. We hit some rocky areas but they handled it well. They both had easy boots on their front hooves. Angel was a bit anxious on the first ride and obsessed with grazing, but soon calmed down and went down the trail. Ponch was doing great, especially since he had not been ridden much.
On our second excursion Angel was not as grabby for grass and she did great. The trail on this ride was mostly sandy with less rocks. However, towards the end of our ride we passed the headquarters and went up a steep rocky incline which she handled wonderfully. These trails will sure teach your horse to watch their step. I also enjoyed access to the arena behind the lodge, a luxury Angel and I do not have at home. I was able to canter her for the first time, she picked up the correct leads naturally. Our last ride before heading home on Sunday proved to be the most scenic and challenging. We worked our way up a rocky trail with some steep inclines to get to the look out points. It had rained the previous night so the ground was damp but not boggy. The horses were careful picking their path. Angel wasted no opportunity to hydrate herself and was even drinking water which had pooled in the rocks.  The hill country views were amazing. Once we returned to camp Ponch had a bouquet of little yellow flowers cutely arranged in his easy boot. This trip with Chris and our friends is a treasured memory. The Group Lodge was great and the trails provided endless adventure.