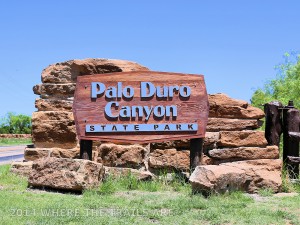 Website: 
http://www.tpwd.state.tx.us/state-parks/palo-duro-canyon
Contacts: 806/488-2227 or park information at 1-800/792-1112
Reservations: Made by phone 512/389-8900 or on line
at: https://texasstateparks.reserveamerica.com
Location: 11450 Park Road 5, Canyon, TX 79015
Latitude (degrees, minutes, seconds) N: 34° 59′ 04.84″
Longitude (degrees, minutes, seconds) W: 101° 42′ 06.51″
Directions to Park Headquarters:
South of Amarillo and 12 miles east of Canyon on State Highway 217
Link to location on Google Maps


Directions to Equestrian Trailhead: The Equestrian trailhead/campsite is located on the southwest side of the park, south of the circular turnaround. From the park entrance/headquarters, follow Park Road 5 down into the Canyon. Be cautious as there is a 10% grade for two miles as you descend to the canyon floor. At the split we kept left due to park road construction. It is about an eight mile drive from the park entrance to the equestrian site. There are a few low water crossings that will have water over the road after a heavy rain. The equestrian campsite is located behind the equestrian day use area. If hauling a larger rig you will need to be cautious when turning into the trailhead, by taking it wide or circling around in the day use area to come from the opposite direction and get a better angle for your turn from the day use area to the campsite area. Our visit in June of 2014 coincided with park road construction and bridge repairs which made for some very narrow bridge crossings when hauling a three horse living quarter trailer.
Camping: Overnight equestrian camping is allowed!
Fees (fees are subject to change, please call the park for most accurate and current fee rates):
Seniors, Texas resident age 65 and up – $3.00 a day
Adults or children ages 13 and up – $5.oo a day
Children under age 13 – free
Equestrian Campsite – $12.00 Nightly (up to eight persons per campsite)
Non Equestrian Campsites with water/electric – $24.00 Nightly
** parking fees are added on for sites with more than two vehicles, your trailer is counted as a vehicle
Horse Unloading Areas: Horses can be unloaded at the Equestrian campsite and day use area located at the south end of the park south of the circular turn around and at the Light House Trail parking area; you cannot park on the road.
Equestrian Trailhead – Campsite Facilities: There are 12 primitive and reserveable equestrian campsites. These sites are not marked. The area is open and you just pick a spot to park your trailer.
It is not an overly large campsite so maneuvering larger rigs is mildly difficult depending on how many other trailers are there. The ground is red dirt; there are no gravel or concrete pads. Some areas along the outside brush/mesquite tree line are not level and there are some washouts in spots. There is almost no shade.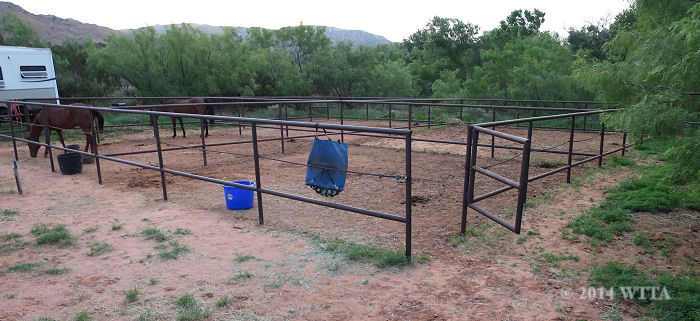 Pens: There are four large connected pipe pens about 24 by 24 feet in the shape of a square. These are nice sturdy pens. There are no chains or latches to secure the pen gate with, so be sure to bring something to tie or chain the gate closed. No more than two horses are allowed in each pen. The pens seem to be on a first come first serve basis. The pens are not covered and there is no shade. You may also bring portable panels or tie your horses to the trailer or tie to the outside of the pipe pens. The park asks that you do not tie your horse to trees and that you do not leave your horse unattended. You may spread manure.
Water: A water faucet is located directly in front of the horse pens and a second water pump is located in the center of the equestrian campsite area along with a water trough. A second water trough is also located in the day use equestrian parking area. I'd recommend you bring a water hose.
Picnic areas: Two picnic areas with tables and rustic wood awnings for shade are located at opposite sides of the equestrian campsite. Each area has a fire ring.
Bathrooms/Showers: The equestrian campsite is primitive so there is no bathroom or shower at the campsite. However a 1/3 mile walk or drive on a slight uphill to the Mesquite Camp Area will take you to the closest bathroom/shower location. You are not allowed to ride your horse to this area.
Park Store: This state park has a store which provides some supplies , ice, souvenirs, and it has a small restaurant which serves hamburgers and sandwiches.
Pets: Pets are allowed if kept on a leash no more than six feet in length. Pets are not allowed in the state park buildings. You are required to pick up your pet's waste.
Pests: When the weather is warm be prepared for large biting flies. My fly spray seemed two work for about ten to fifteen minutes against these terrible critters. Some horses had less of a reaction to the bites than others. I could actually see the fly dig its awful head deep into my horse's flesh. Angel was one of the horses that had a reaction to the bites. She had swollen welts which you can see in some of the pictures of her. I really regretted not having a fly sheet for her and I will not return to this location again during warm weather without one.
Cell Phone Coverage: There is no cell phone coverage on the canyon floor.  We had to drive back up out of the canyon to the park entrance for cell phone service.
Mileage: The park offers approximately 16-18 miles of designated equestrian trails. Trail riders are allowed only on the following trails – Equestrian Trail, Juniper Cliffside Trail, and the Lighthouse Trail.
Trail Users: The trails are shared by hikers, bikers, and equestrians. Equestrians are restricted to the Juniper Cliffside, Lighthouse, and Equestrian trails only.
Recommended Reading:
Trails & Tales of Palo Duro Canyon State Park
by Richard Lamaster
MAPS:
Trail Markers: The Juniper Cliffside and Lighthouse trail (north trails) are decently marked but the Equestrian Trail and its branches (south trails) are not marked.Finding the trailheads leading out of the campsite was a challenge as there were no signs in the equestrian campsite to direct us to where the trails begin.
Terrain: The ground consists of red gritty caliche, clay, and sandstone dirt that glitters in the sun. It is rough and rocky in many areas of the park. Shoes/boots are recommended. There is little to no shade along the trails.  The wind can kick up a lot of red dirt which manages to get everywhere. I was cleaning red dust out of my LQ trailer for a while after returning home from our trip.
The Trails:
North Trails
The north trails (Juniper Cliffside and Lighthouse Trails) are a little less challenging and decently marked with milder ups and downs.
From the equestrian campsite the Juniper Cliffside Trail runs north approximately three miles and then connects to Lighthouse Trail and is decently marked once you find it from the campsite. To get on this trail leaving from the equestrian campsite go north to the equestrian day use area so that you are facing the main park road, head left (northwest) from where the water trough is in the day use area and follow the unmarked trail. From there you will come to the creek and make a slight right following the creek.
The creek will be on your left. From there you turn left before hitting the main road and cross the creek near the main road, or if the bridge is completed on the main road you might be able to ride over the bridge. During our visit in June of 2014 the bridge and main road was under construction here. After crossing the creek stay to the left of the road and you will see the Juniper Cliffside trail sign which when coming from the equestrian campsite goes northwest and is parallel to the main park road. This route will eventually connect to Lighthouse Trail.
(See pictures below for an idea of how to get to the Juniper Cliffside trailhead from the equestrian campground and day use area).
Once you cross the creek (which has gentle sloping banks but can also be pretty boggy after a heavy rain) there will be no more watering opportunities unless a heavy rain recently poured down on the park. This trail is marked with wooden signs and blue metal steaks with "JC" and the mileage written on them.
Juniper Cliffside Trail starts out grassy with lots of cedar and mesquite trees. However, the grass soon disappears and there is very little to no shade for the remainder of the trail. Juniper Cliffside trail consists of red clay, sand, and rocky patches. This one track trail weaves through hills along normally dry creek beds and gullies. On Juniper Cliffside there are two wooden bridges which appear to be made for hikers and not horses. I would not recommend riding over these bridges. The first bridge has a very easy detour, just ride beside it and through the shallow dry creek. The second bridge is over a deep gully and requires a short detour to the main park road to skirt around it.
Once you get around this bridge you will ride by False Cave which is on the left. This is a high traffic area with lots of little trails from the road to the cave. To stay on the main trail and follow the wooden posts. You will pass the "Red's Rock" sign, and you will pass other trails to your left that says no horses allowed and you will pass the Capitol Peak Mountain Bike Trail sign on your left. In this area Juniper Cliffside runs very close to the road. Juniper Cliffside trail ends or runs into an open area. This is the parking area for Lighthouse Trail. Ride to your left on the edge of this parking area and you will see the sign for Lighthouse trail, which also has a white mailbox with red writing that says "Take One."
Lighthouse Trail is wider and provides no shade. This is a one way trail that is almost three miles, making about a six mile round trip. Along this trail there are some wooden benches with wood awnings for shade to rest if needed. Lighthouse trail is also more popular with hikers and bikers, most likely because of the amazing views. Because I rode this trail on a very early Monday morning I was fortunate not run into many other trail users.
My recommendation is not to miss this trail; it is too gorgeous not to see. To get to Lighthouse Trail you will either have to ride from the equestrian campsite up Juniper Cliffside Trail which is about three miles or you can trailer to the day use Lighthouse Trail parking area. You will see several trail junctions but stay on the main trail. Trail markers are wooden signs and bright green metal stakes marked with an "L" and the mileage.
Along this trail you will have amazing views of Capital Peak , Lighthouse, other rock formations, and the canyon. You can even ride right up to the base of Capital Peak and see your shadow on this monumental mass of exposed sedimentary rock.  The trail dead ends into a shady area which has a picnic table and bike rack. From here a narrow hiking only trail that has several rocks across where it starts winds up to the Lighthouse formation. Regulars informed me they have left their horses tied here so they could hike up to Lighthouse.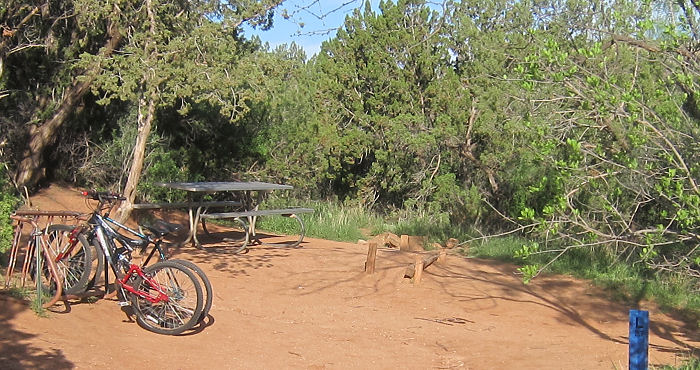 I'd recommend if you want to do this to have one volunteer with you to stay behind with the horses. I did not get to hike up this trail as I did not want to leave my horse tied up unattended. Park regulations also request that you do not leave your horse unattended. So plan ahead and bring someone to look after the horses if you want to explore this hiking trail and see Lighthouse up close.
Link to state park handout about the Light House Trail
South Trails
The terrain is fairly challenging along the Equestrian Trail south of the campsite. This trail opens up to lots of additional unmarked branches and loops. You will have a few creek crossing to gain access to additional trails. The creek in this part of the park is narrow and has steep banks for several of the crossings, so it can be a challenge. During our visit it had just rained so it was also boggy. Be prepared for some steep grades and rocky areas here. However, once you cross the creek and go through the hills it opens up into a lovely flat meadow quite different from the rest of the park terrain.
To get to these trails from the equestrian use area once you come to the creek go left/southeast with the creek on your right. This will take you behind the horse pens and into a large area of unmarked trails to explore, labeled as the Equestrian Trail on the maps, but there are no trail signs. You can also get to these south trails by riding out of the campsite between the picnic area and the horse pens. This area starts out very hilly. There are no trail markers in this area either. You will eventually also have to find a safe place to cross the creek. If you get squeezed between the beautiful red canyon wall and the creek on a trail which continues to become narrower and washed out then back track to find your creek crossing. This area is gorgeous but I could not find a safe creek crossing and had to back track. Fortunately riders who frequent these trails showed me where to cross.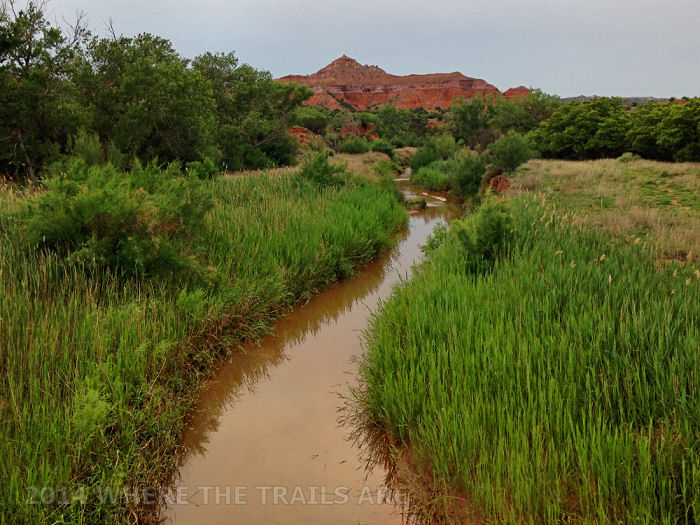 Do not ride in this area if there is a chance of stormy weather, as the meadow and creeks can quickly flood during a storm. There are indian pictographs in the hills and large rock formations you can use as landmarks. This southeast side of the park is also where the Battle of Palo Duro occurred.
Trail Tale:
Riding at the Grand Canyon is a dream of mine and on my bucket list of places to see from between my American Indian Horse's black tipped ears. This past June, we hauled to the next best location, the "Grand Canyon of Texas," Palo Duro Canyon State Park. Palo Duro is the second largest state park in Texas and the second largest canyon in the United States. Encompassing over eighteen thousand acres, the park is 120 miles long and 800 feet deep. It is an eyeful of brilliant shimmering colors and geologic wonders to behold; a stark contrast to the surrounding Llano Estacado. Entering Palo Duro Canyon for the first time is a shocking experience of converging landscapes. As you easily cruise through the flat treeless high Texas plains, also known as the Llano Estacado, then suddenly you find yourself descending down a 10% grade from the canyon rim trying hard to watch the precarious road while your eyes tempt you to sneak glances of the colorful canyon walls. Imagine the sheer force of water, Praire Dog Town Fork of the Red River to be exact; creating such artistry out of what once was a little gully.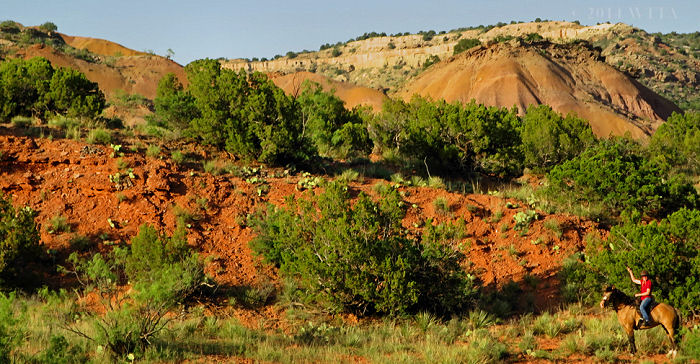 The name "Palo Duro" is Spanish for hard wood, which Native Americans used to make arrows from Juniper tree branches in the canyon. The park's history was a big draw for our little riding club (NETASA) of Spanish Mustang/American Indian Horse enthusiasts. Arriving on a full moon was carefully planned in hopes of witnessing the legend of Indian Horse spirits running free through their canyon home on moonlit nights. These mustangs were massacred in the Red River War. Over one thousand Southern Plains Indian mounts were shot dead by order of Colonel Ranald Mackenzie of the Fourth U. S. Cavalry after the battle of Palo Duro Canyon in September of 1874. Our full moon arrival also happened to land on Friday the 13th.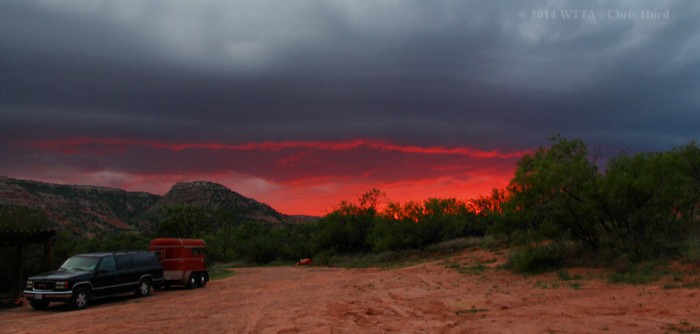 On this evening the skies turned a vicious red and ominous clouds hid all celestial bodies after we settled in at the Canyon's floor. We saw no full moon that night. Unfortunately, our friends were riddled with bad luck; flat tires, a fender bender, and a distraught U joint on their journey from east Texas. To top it off, as they descended into the stormy canyon their trailer awning was partially ripped off by strong winds. The night was full of lightening, thunder, and rain. My thoughts of being on the canyon floor during a storm were a little unnerving.
In the early morning hours the weather cleared and a full moon beamed proudly just above the canyon's rim. The moon's glow was true and full for all to see the remainder of our stay. During the nights at Palo Duro, I heard a frightening rush of wind pouring down from the rim and crashing into the canyon walls creating an eerie sound, unlike I've ever heard. Could it be the Indian Horse spirits or was it just the wind?
Saturday morning after being treated to a hearty breakfast of pancakes and sausage we were ready to hit the trails despite the slippery red mud from the previous night's rain. Temperatures were uncharacteristically low for the month of June due to the blessed rain. Finding the trails leading out of camp was a bit tricky as there are no markers or signage from the equestrian area. Our horses were fresh and ready to get moving due to the abnormal crisp air and were frustrated with our lack of direction. We soon learned that in order to get anywhere, a creek crossing was inevitable. The hard rains made this normally simple task a challenge as the creek banks consisted of thick mud. I dismounted and trudged through the mud to find a safe crossing. During our stay conditions improved and our sure footed American Indian Horses prevailed. That first day we explored Juniper Cliffside trail which runs north from camp along Red Mesa.
On Sunday morning I had the pleasure of tagging along with Palo Duro regulars, Chris and Christie Shippy, who showed me the rugged unmarked southwest trails of "The Equestrian Trail". We rode through the hills and up to Cactus Rock, which is one huge specimen of a rock with a head of cactus.
They took me near Tub Springs to see faded Native American Pictographs which were almost hidden in the shadows along the bottom of a large boulder. Near the end of our ride we rode to a grass filled meadow which the horses truly enjoyed. Christie is also one of the talented wranglers in "TEXAS", an outdoor musical production in Pioneer Theater. I'd recommend making time to see this show while visiting. The outdoor theater with its natural 600 foot canyon wall is what makes all the visual effects a great success. That night we watched Christie in the spot light gallop her horse down the canyon wall with ease while carrying the Texas Flag. Be prepared for heart pumping canon fire and brilliant fireworks.
Christie's family also helped improve one of the creek crossings and helped out one of our NETASA members who had a trailer problem. Also camping in the park was Doug and Claudia Sloan. Doug is an animal wrangler and stuntman who has worked on over 40 films. A better group of fellow campers would have been hard to come by.
My favorite ride was on Monday morning. Everyone was packing up to head home. Fortunately, I was able to get a few extra vacation days which meant we had one more full day at the park! At dawn, Angel and I headed out solo up Juniper Cliff to Lighthouse Trail. The sun bathed, Capital Peak and Lighthouse rock formations as the moon still hung translucent in the blue sky. Angel and I shared the trail with the park's natural inhabitants; only until our ride back to camp did we bump into a few park visitors. I believe Angel enjoyed the peaceful ride and scenery as much as I did. I felt a strong connection with her as we enjoyed our freedom on the trail. Riding during the magic hours of dawn brilliantly highlighted the canyon as sun rays projected onto colorful million year old layers of geological history.
Angel and I returned in time to say good bye to our friends before they began their journey home. That hot afternoon I took our dog Eva to explore False Cave and play in the creek. Chris relocated the trailer to the best spot in camp and we had the entire place to ourselves. I took Angel out for one last ride to explore the nearby south Equestrian Trail. Chris and our dog LB tagged along for a while but then turned back at the creek crossing.
Angel hopped over the narrow steep banked creek and we followed it down to a dead end. This side of the stream came to a red canyon wall and we either had to cross once more or head back. It was peacefully quiet here and a thick grove of mesquite and oak trees lined the canyon wall. A strange feeling came over me as Angel grassed by the creek. The sun was setting and it was time to head back. Angel became full of energy and at every break in the trail she opted to try and take the route which lead back to the canyon wall instead of our campsite. I wanted to explore more as well but we could not be out alone on unknown trails in the dark. It seemed something was really pulling Angel back down the trail. At every turn I had to give a little extra push with my aids to keep Angel back on track to camp. I could not help but wonder if she was feeling the spirits of her ancestors and was that why I also had such as strange stirred up feeling inside. Later I learned we were very near the Battle of Palo Duro Canyon which took place on the southeast end of the park.
Palo Duro Canyon offers approximately 16-18 miles of designated equestrian trails. Trail riders are allowed only on the following trails – Equestrian Trail, Juniper Cliffside Trail, and the Lighthouse Trail. All of the trails are spectacular in regards to scenery. Although the campsite is primitive and the biting summer flies are persistent, don't miss an opportunity to visit Palo Duro Canyon, as the scenery far outweighs any small annoyances.