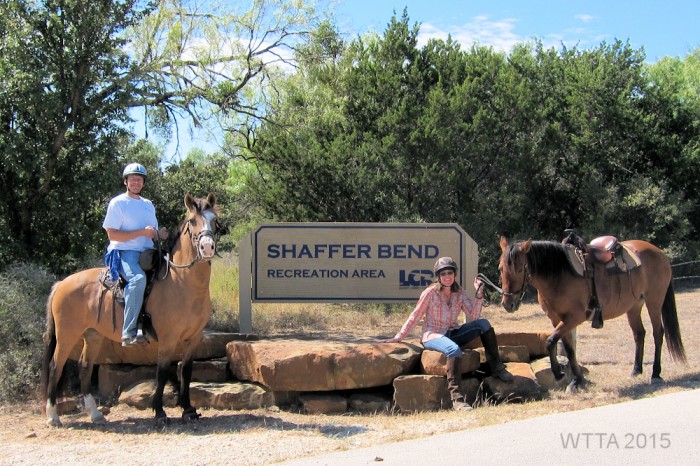 Website:
Shaffer Bend Recreation Area link
Contact:
512/473-3366  or 800/776-LCRA ext. 3366
Reservations:
Call 855/392-7638 or visit – reserveamerica.com
Location: Northwest of Austin, TX
706 County Road 343A, Marble Falls, TX 78654
Directions:
In Marble Falls, at the intersection of 281 and 1431 – take 1431 east for approximately 9 miles, then turn right on County Road 343A and go approximately one mile on 343A which takes you to the park headquarters/entrance.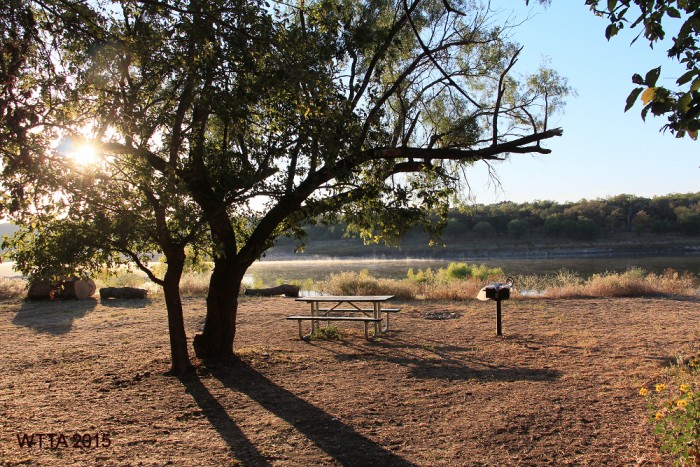 Camping:
Overnight Equestrian Camping is allowed.
Coggins:
Required
Dogs:
Dogs are allowed but must be kept on a leash.
Cell Phone Service:
The cell phone service was fair to good.
Fees: (fees may change so please be sure to check with the park for exact pricing)
$5.00 per adult
$10.00 per night for camping
Facilities:
There is one restroom at the park entrance.  There are a total of 26 designated campsites.   Most of these sites can be used for equine camping but some are more suited for horses than others.  Each site has one or two picnic tables, a fire ring, and a grill.  The sites do not have gravel pads or concrete pads to park on, so they will get muddy when it rains. There are no water or electrical hookups.  All sites are primitive camping.
The group campsites #25 – 26 are the only sites with horse pens.  There are a total of four uncovered 12 x 12 pipe pens at these sites, picnic tables, at least two very large trees, a fire ring, and a deluxe grill for barbequing.  The pens have wide openings between the bottom and top rails and I was sure my little bay mustang would be able to step right through the middle of the pipe fence and then go whereever the grass was the greenest.
We stayed at site #15 which was perfect for a large rig and we high tied the horses to the trees using tree savers.
Sites 15 – 26 are the farthest from the park entrance, about 2.7 miles from the entrance on a mostly gravel road. There is one portable toilet located in the center of these sites.
Mileage: Shaffer Bend has approximately 7-8 miles of trails.  I rode most of the trails on the outer boundaries of the park, taking Lakeview to Cara Cara, to Dagger, to Equine, and then to Homestead Trail. I  skipped most of the middle trails on this ride, which totaled just 5.39 miles according to my MotionX app.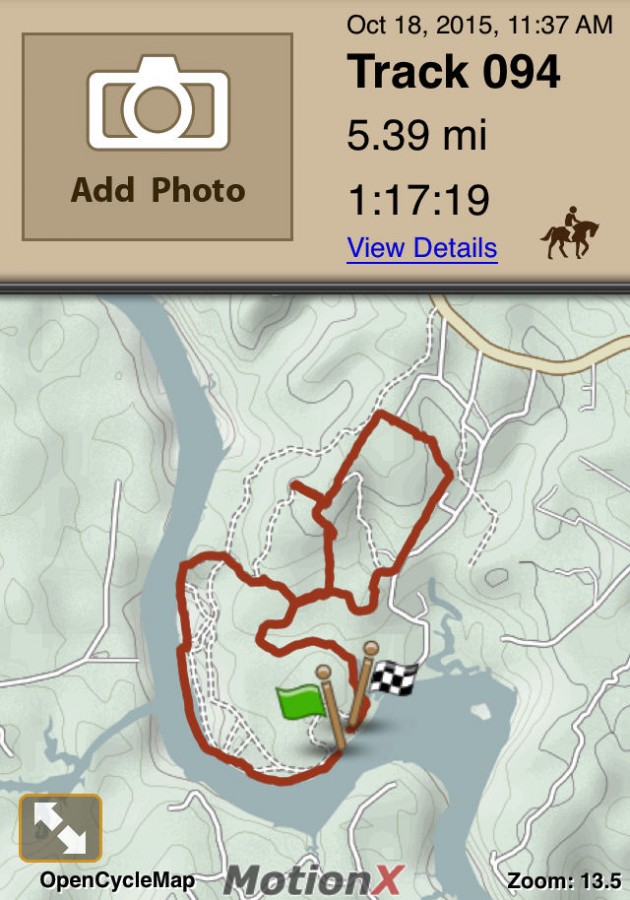 Map: The map below can be requested at the park entrance.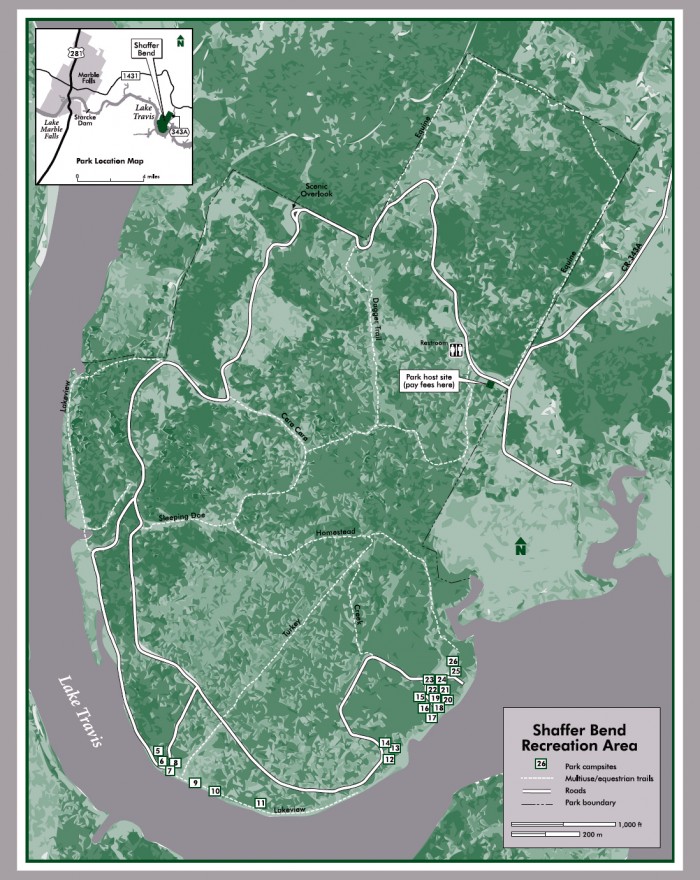 Trails / Terrain: The terrain varies from sandy flat and low when closer to the lake and hilly/rocky when further away from the lake.  Dagger and Equine Trail are especially hilly, rocky, and have some nice overlook areas. Dagger Trail has a good size rocky hill incline and leads to a beautiful overlook.  Several areas on the Equine Trail are rocky and somewhat hilly.  This trail follows parts of the park fence line / boundary and so you will be riding behind some houses which are on the other side of the fence.  One house has a barn type of structure with several animals (which can't be seen but can be heard) that my horse got just a little nervous about.  There was a length of purple tape along the fence marking this spot, so be ready for a possible spook when you pass this area.   Lakeview Trail is sandy, flat, and offers lake access and great views of the lake.  The Homestead Trail will take you from camping sites 25 – 26 to the park entrance.  Most of this trail is free of rocks but it is rocky in places and has a few small rolling hills.  Cara Cara, Sleeping Doe, Creek, and Turkey Trail are mostly flat and rock free trails. The trails are well marked and easy to navigate.
Description:
Shaffer Bend Recreation Area is one of several Lower Colorado River Authority parks located off of Lake Travis which is horse friendly. This park consists of 532 acres of lakeside and Texas Hill Country trails.  Shaffer Bend is perfect for a day trail ride or a short one or two night camping trip; it won't take long to traverse the 7 to 8 miles of trail.  Although it is a smaller sized park, it is beautiful. There were several campers during our visit in October.  At the campsites a few children enjoyed riding their bikes around but we saw no bikes on the trail during our one night stay in the park.  We did not see any other horseback riders either.  I did pass two groups of hikers while riding on the trails.  We also saw a few boats and kayaks in the lake.  When you want to get away but can't be gone for long, this is an ideal spot to visit. Other activities in the park include hiking, biking, swimming, fishing, and boating.  Dogs are also welcome as long as you keep them on leash.  Be sure to haul in your own water since there is no running water available.
We also took the horses a short walk down from our site to the lake.  As you will see from the pictures, they really enjoyed playing in the soft sand and water and munching on the lush lakeside grass.
Pictures:
On The Trail –
At the Campsite –
Fun Pictures –