Please note that a section of Coyote Road at Riverside is closed so you can't ride from Riverside to Deep Sandy with out taking the long way around on Yaupon.  Blue Stem trail is also closed.  Trail closures are due to washouts.
Website:
http://www.lcra.org/parks/developed_parks/mckr_features/mckr_equestrian_information.html
Location:
1884 Hwy 71 West
Cedar Creek, TX 78612
(near Bastrop and close to Austin)
Contact:
24 hr. Trail Hotline 512/578-7427, after hours 512/482-6322, business hours 512/303-5073
Directions:
Off Hwy 71, apx. 13 miles east of Austin-Bergstrom International Airport on the westbound side.
Mileage:
The equestrian trails total 12 miles. This park totals 17.8 miles of trail, however, some of those trails are for hiking only.
Cost:
$12.00 per rider, you pay by the honor system by filling out a slip then depositing payment and slip stub in the metal box.
Trail Map: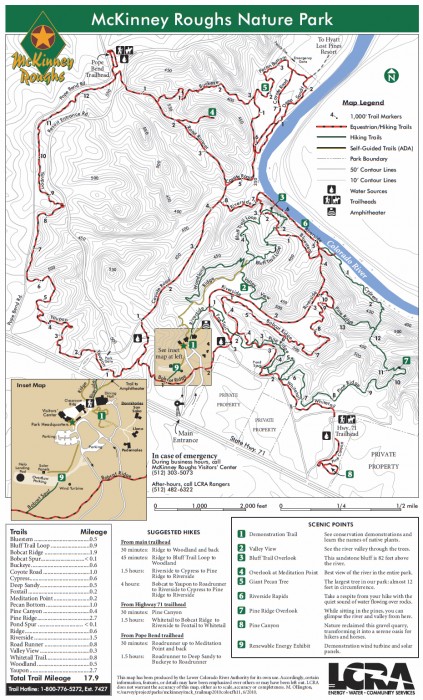 Maps can also be picked up at the payment boxes which are located at the entrances of the two trail heads.
Facilities:
This park has two equestrian trail heads.  Both trail heads offer running water, a portable bathroom, 12 by 12 pens, picnic tables, mounting block, and sturdy hitching posts. No electricity is provided at the trail heads. Along the trail there are rest areas with running water and bucket, hitching post, picnic table, and mounting blocks. The trail is well marked.
The Highway 71 trail head is located on the westbound side of State Highway 71 just 1/4 mile east of the McKinney Roughs entrance. The trailhead allows immediate access to the east side of the park. This trail head also offers a round pen and wash rack and is spacious with grass and shade trees.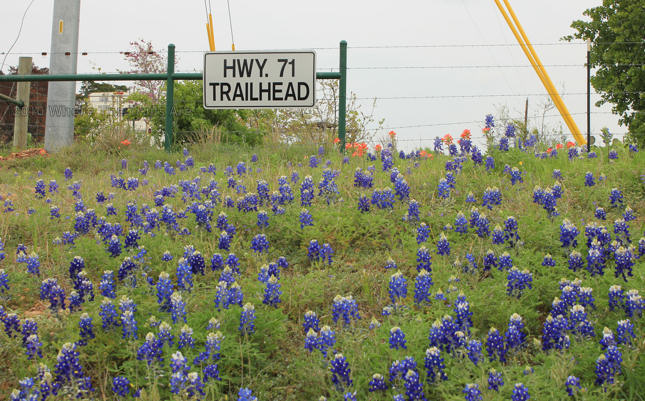 The Pope Bend trail head provides immediate access to the west side of the park. From the McKinney Roughs main entrance, travel one-mile west on State Highway 71 to Pope Bend Road the entrance is 1.5-miles down Pope Bend Road on the right side. This trail head is small with no grass but all gravel.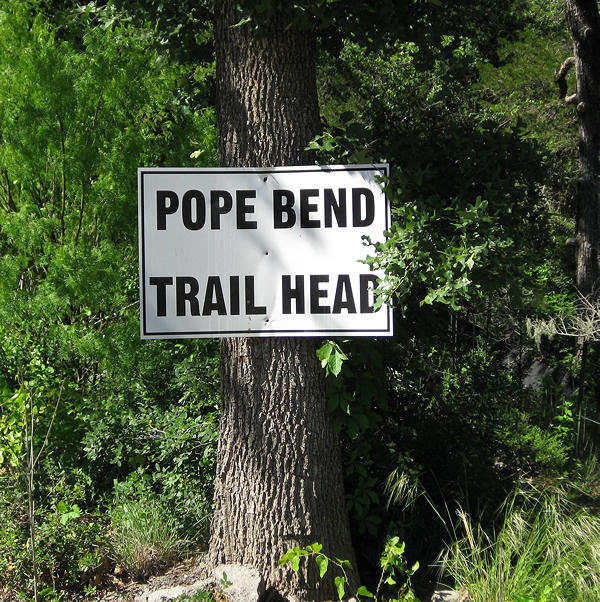 Hours:
The park is opened at sunrise and closed at sunset everyday if weather conditions permit. Definitely call before you haul.  This park is sometimes closed for rain and due to fires.
Overnight Camping:
Overnight camping is not permitted, however if you would like to stay over for weekend riding check out the Happy Horse Hotel .
Terrain:
The trails are diverse some being sandy, rocky, wooded, hills, flats, and there is access to the Colorado River.
Description:
McKinney Roughs Nature Park is an 1,100 acre park cared for the the LCRA (Lower Colorado River Authority), a nonprofit agency that provides energy, water, and community services created by the Texas Legislature. This park is a wondrous mixture of central and east Texas terrain. The LCRA states the park contains four different ecosystems; Post Oak Savannah, Blackland Prairie, Piney Woods, and Riparian. The varied terrain and vegetation is truly unique and a joy to behold. Some trails (Bluff Trail Loop, Cypress, Pine Ridge, Ridge, Valley View, and Woodland) are for hikers only and are well marked as such. All equestrian trails are shared with hikers and sometimes their leased dogs. No bike or motorized vehicles are allowed on the trails.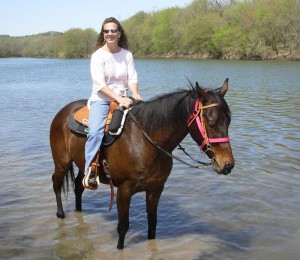 This park is my favorite place to ride, especially during the spring to early fall months as there are numerous wild flowers prevalent throughout the park. Several trails in the park wind next to the Colorado River and the thick forest provides a cool canopy during hot summer days. Trails are well marked and maintained. Access is also easily gained to the Colorado river by way of Riverside trail. Look on the map where Riverside and Cypress (pedestrian trail only) meet and you will see a small spur off Riverside heading southeast down to the river. This river access area is great and the horses seem to love taking a dip in the river. If you want to spend some time in the river with your horse there is a picnic table conveniently located close to the river entrance which is perfect to use as mounting block after pulling off your saddle and boots.
I usually chose to use the HWY 71 trail head as it has the most space and shade trees. When heading out from the HWY 71 trail head on Whitetail you will come to a beautiful little pond on your left and just a short distance from there is a Ropes Challenge Course which just might appear to be a fire breathing dragon to your horse, especially if there are people swinging from ropes or climbing the simulated rock wall which looks like a wooden outlook post. My horse only jumped once at this and that was it, so most likely it will not be a problem, but being prepared is always a good disaster prevention strategy.
Water (marked on the map with a black box containing a water drop), mounting blocks, picnic tables, and hitching posts are well placed throughout the trail system. Plenty of beautiful spots for a picnic lunch or just a nice break are scattered within this park so be sure to pack a lunch in your saddle bags and tote some bottled water for yourself.  My favorite two spots are off of Meditation Point and at the Giant Pecan Tree.
If you look at number 5 (there is not a number five located at the actual site) on your map located off of the Pecan Bottom trail you will find the Giant Pecan Tree, the largest tree in the park, which also has a picnic table and hitching post near by. The tree has a plaque stating it is approximately 199 years old. You might gain a little wisdom sitting under this majestic pecan tree. Pecan Bottom and Deep Sandy are soft sandy trails which wind under the cover of shady trees. Deep Sandy also runs along the river.
Trekking up hill to number 4 on your map will bring you to Meditation Point off of Road Runner trail between Buckeye and Coyote Road. Here is a gorgeous overlook of the park and the Colorado River. The elevation invites cool breezes and the trees make it nice and shady. Picnic tables, hitching posts, and a mounting block make this a favorite destination for taking a lunch break or just having a moment to sit still and find some peace of mind while admiring the best view of the Colorado River in the park.
Yaupon is the longest trail at 2.7 miles and winds along Pope Bend Road on the west side of the park. If you are trying to get some distance covered don't skip this trail. It also has some gentle hills. Several of the park trails such as Bluestem, Buckeye, and Yaupon offer some nice hill work for you and your horse, but nothing dangerously steep. Riverside also offers a long down hill if going towards the river or long up hill climb if traveling away from the river between Bobcat Ridge and Bluestem.
Even though Pine Canyon trail located off the HWY 71 trail head is short, don't skip it. It is a great way to warm up for your ride or wind down and is uniquely different than the rest of the park. This trail winds down into a canyon and around a small pond.  This is a very unique little spot with beautiful red and sand colored rocks.
Below are several photographs of the park taken throughout spring and summer of 2010.  Be sure to visit this jewel of a park and behold it's treasure with your own eyes.  If you would like to add a review, story, or picture about this park be sure to check out the tab, Submit a Review.  Happy Trails!