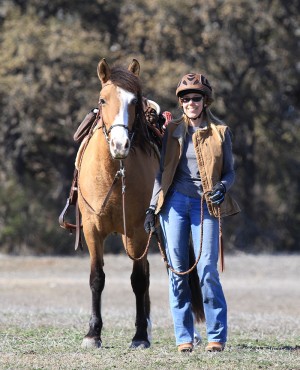 Where The Trails Are (WTTA) strives to provide a useful database of equestrian trails.  Keep your eyes here for a growing resource guide.   The trails for horse back riding are unfortunately dwindling and it can be hard to find places to ride. The best resource for knowledge of equestrian trails are the trail riders themselves.  It is the hope of Where the Trails Are that riders will contribute information about trails they know with their fellow equestrians.  Watch for our articles in The Horse Gazette and "like" us on WTTA's Facebook page.
Help WTTA grow by submitting a trail review to share with your fellow riders!
If you would like to contribute information about riding trails then please check out the Submit A Review Tab for more information. You are encouraged to include pictures of the trails, you and your riding buddies on the trail, and of the facilities, but they do need to be at least 800 pixels wide.  Getting a shot at the trailhead or facility entrance with you and all your riding buddies always makes for a super photo and helps people know what to look for when they are trying to find the park/ranch.
Thanks so much and happy trails!
Kelly Hurd
Send me an e-mail at: hurdkn@gmail.com
HEYNE RANCH © 2015 Lin Sutherland
Contributor:  All content & pictures provided by contributor Lin Sutherland – owner of Onion Creek Ranch   in Austin, Texas. Thank you Lin!
Heyne Ranch Location: Southeast Texas, slightly south and west of Houston.
Website: None at this time.
FaceBook Link:  FB page Heyne Ranch Link
Contact/Owner: Peter Heyne #713/504-3141 Email: writer@peterheyne.com
Address: 10010 FM 960, Glen Flora, Texas 77443
Directions: Look for a Big sign on front of the drive. Please note, the ranch address is not exact on Google Maps. The best thing to do is Google Glen Flora. The ranch is one mile south on 960, just over the Colorado bridge, on the left. Call Peter Heyne if you have any questions or problems: 713-504-3141.
Hours:  By appointment only. This is a private ranch, you need to make arrangements before showing up.
Cell Phone Service: Good.
Dogs: Dogs are allowed if well behaved and under control.
Equestrian Camping: Allowed!
Fees: Fees are subject to change, please ask the owner, Mr. Heyne, for current rates.
Day Riders: $20 per person for day riding (when not camping but only riding for the day) or $15 for day riding that is 4 hours or less.
Camping Fee: $20 per night per rig. (there are no electric hook ups yet)
Pens: $15 per horse.
Farm House Rental: $125 a night.
Facilities: 
Ranch House: The ranch house has electricity, running water, central heat/air. This home is located in a Beautiful setting. Big cottonwood and sycamore trees overlook the 1920's farmhouse, surrounded by a large, trimmed yard.  An old barn sits nearby.  The house is a two bedroom one bath facility.  It can sleep five (two full sized beds and a fold out couch).  A new refrigerator and stove is provided.   Centrally heated and air-conditioned, the house is comfortable and pleasant, with old ranch photos and books. The front porch, complete with rocking chairs, is a perfect spot for wine and conversations.  Cost: $125 a night.  The ranch house is rented on a limited basis when Mr. Hayne is not using it.
Bathhouse: There is a nice newly built bathhouse with running water, showers, toilets, and heat/air.
Pens –  Good pipe pens (full of spring grass), two water troughs in the camping area.  A hose and faucet are available for washing up.   Owner requests you muck out your own area if needed.
Camping: I saw no trailer electrical hookups but understand Mr. Heyne is working on that.  For now it appears to be "dry camping," but it's under a large set of deep-shade trees near the pens. You are welcome to run your generator.
Mileage: Approximately 10 miles of trail.
Map: Provided by the Ranch.
Trails/Terrain: This is a 400 acre ranch with 10 miles of trails.  The 10 mile estimate is word from the owner. It seems about right.   There are few gates to go through.  Existing gates have horseback friendly openers. The  trails were mowed when I was there. Shoes are not required. The soil is basically sandy.  It's solid, soft and mostly grassy footing. There is cattle/longhorn on the property.
The River: Two river trails are gorgeous with winding trails through the trees. Big plus: Large sandy beach on the river.  Owner suggests not entering the river by horseback as certain spots seem to have quick sand.
Coggins:  A current Coggins is required.
Pests: BUG SPRAY HIGHLY RECOMMENDED.  There can be sudden gnat invasions so DO NOT FORGET your bug spray both for you and your horse.  It's southeast Texas and on a river.  A fly mask is also a good idea.
Description: HEYNE RANCH © 2015 Lin Sutherland
Heyne Ranch is an old private ranch in Southeast Texas that offers 10 miles of grassy, no-rock trails through scenic woods, farmland and rolling pastures. The land lies along the Colorado River and includes shaded parking, water troughs and pens.  Peter Heyne, the owner, has opened the ranch to trail riders and overnight campers.  He's recently built a nice new bathroom/shower house that's heated and air conditioned.  The old farmhouse on the place is available for rent on a limited basis. Check with the owner for availability.
We took our two gaited horses to Heyne Ranch and it was perfect for them. The trails at the ranch are maintained by frequent mowing.  We liked the trails that wind through the woods along the Colorado River and the open cantering trails through the fields where we could really move out.  I also loved cantering on the smooth, long dirt road through the cultivated corn and cotton fields. Our horses are barefoot and never had a problem since rocks and tough terrain is virtually nonexistent on the ranch.
Nearby Towns: Close to two towns: the small community of Glen Flora with its Antique Emporium, and Wharton, which is loaded with trash and treasure stores, as well as a Wal-Mart and Buc-ees and a terrific Mexican food restaurant called Los Cucos Café
In Summary: I loved riding this ranch. I found I could really get up and go or just plod along and enjoy the scenery. For endurance riders, the trails do form a loop so you could do two loops with only two gates to open. There is one gas pipeline bridge you have to go under, but the owner has put in a go-around if your horse is wary of it. Our horses had no problem with it.
This trail post is courtesy of WTTA contributor
Ann Sides – Thank you Ann!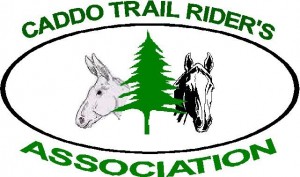 Websites:
Texas Parks and Wildlife Caddo National Grasslands website link
Caddo Trail Riders Association link
Caddo Trail Riders Association Facebook page link
Location:  Caddo Grasslands is about an hour and a half northeast of Dallas. When you come to Caddo Grasslands, plan on getting away from it all and enjoying some of nature's beautiful scenery and great horseback riding.
Just FYI, in case of emergency Paris, TX is the nearest large city with emergency facilities.
Latitude:  33.7372   Longitude 95.9738   If you are using Mapquest etc. type in Telephone, TX (closest town)
Contacts:
Ranger station at Caddo:  903-378-2103 (is NOT answered 24 hours)
Ranger headquarters of Caddo & LBJ Grasslands:  940-627-5475
Caddo Trail Riders Association: President Phil Haley 903-583-3902 and Mike Durbin 903-664-2618 CTRA@K5MJD.US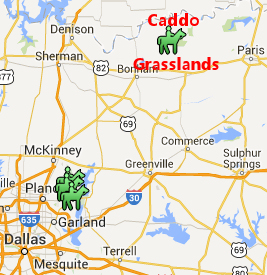 Directions:
Through Bonham:   (Ann's favorite route)
Go out North Hwy 69 to Leonard.
Turn right at Hwy 78.  Stay on 78 through Bonham to FM 1396.
Turn right on FM 1396 and go 9.6 miles
Turn left on FM 2029 approx 3-4 miles.
Turn right on FM 409 and go approx 2 miles.  You'll see a brown sign that says Bois d'Arc Trailhead.  Entrance is on the right side of the road, with a cattle guard crossing.
Note: 
Mapquest will show some little FM roads that skirt around Ladonia and one after Bonham, especially on the FM around Ladonia (twisty and narrow). It is a much better drive pulling horses to stay on the bigger roads.
Equestrian Camping: 
Overnight equestrian camping is allowed.
Fees: 
$2.00 for day riders or day visitors
$6.00 for overnight camping
*There is free day use area which has no water or bathroom
Coggins: 
Current Coggins is required but is not usually checked.  There is no ranger station at front gate.
Facilities: 
The road in the camp is gravel and all campsites are shaded. There are approximately 20 pull through sites and 10 pull in sites. Each campsite on the outer side of the loop has a large picnic table, and either a single pole to tie horses to or a steel highline with a cross piece. The single poles are being replaced with highlines. Other amenities at the campsite include a large covered pavilion with picnic tables, a composting pit toilet, a large water trough, a horse wash rack and a mounting block for handicap riders. All campsites have frost free faucets with water available year round; however there are no showers or electrical hookups. You can tell this camp was designed by horse people, for horse people, as all facets of the campsite are horse friendly. There is day use parking down the road from the main trailhead. It is primarily used when there are large group meetings. The work on the campsite began in 2000 by a volunteer riding club, Caddo Trail Riders Association, who still maintain and improve the trails and campsites today. Their website (Caddo Trail Riders Association link) contains up-to-date maps and phone numbers of members you can check with about weather and controlled burns (more on this later).
Dogs:
Dogs are allowed but must remain on a leash. 
Cell Phone Service: 
Cell phone service is fair.
Trail Users:
This is a multi-use trail for Equestrians, hikers, hunters, and bicycles.  However, due to the sandy trails there are rarely if ever bicycles on trail. Hunters typically hunt. in areas away from the trails.  Trail users are required to wear orange during dear season. No motorized vehicles are allowed on the trails..
Mileage: 
There is approximately 30 miles of trails.
Trail Map:
Click the map to enlarge it.  According to Caddo Trail Riders Association, trail maps are available at the campgrounds.  CTRA also reports that the trails are well marked.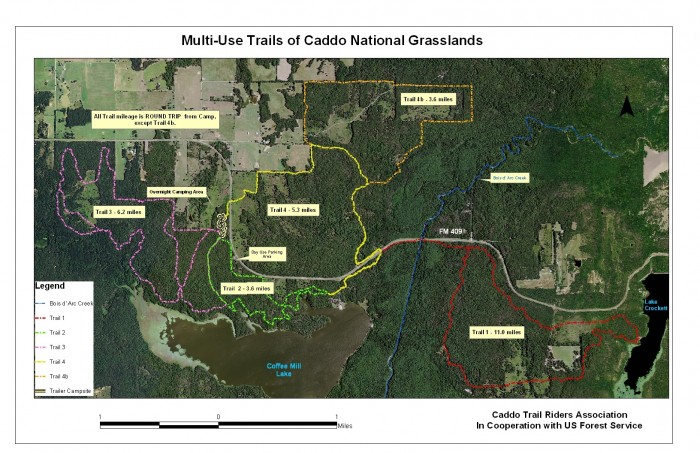 Terrain: 
The terrain is sandy, heavily wooded, and hilly to flat. These are barefoot friendly trails.
Description:
When most equestrian folks hear "grasslands" in Texas they think of the Grasslands in Decatur. However, there is another grasslands area that together with the Decatur area comprises the Caddo-Lyndon B. Johnson National Grasslands. It is located near Honey Grove and called Caddo Grasslands. Caddo Grasslands has nearly 18,000 heavily wooded acres and three pristine lakes. It is open for hunting and fishing (following TX Parks & Wildlife seasons), camping, hiking, picnicking and horseback riding. Equestrian riders will find 30 miles of shady, sandy trails and a comfortable campsite at Bois D' Arc Trailhead. There is additional acreage near Ladonia but it has not been developed for recreational use.
Trails:
Trail 1 is 11.0 miles and for years I was warned this trail was very rough. I finally rode it with some friends who had ridden it before and found it's a wonderful trail!! It had lots of up and downs which I really like. To access Trail 1, go out Trail 2 and take Trail 4. You'll cross a small road into a camping area with horse gates on both sides of the road. After about a quarter mile you'll come to another horse gate that goes out toward the road. Go out this gate and ride by the fence to the right. You'll need to cross the bridge on the highway and go a short distance to another horse gate on your right. This is not a busy highway and has good visibility. This is a long trail and it is ideal to bring along a lunch and stop at the lake overview to eat, where there is a picnic table. The 11.0 miles includes the portion of Trail 2 and Trail 4. If you desire to shorten your ride back a little, you can ride along the highway all the way back. It's pretty boring and is not maintained for horses, so be wary of holes or other hazards.
Trail 2 is the shortest trail at 3.6 miles.  However, it is very scenic with a stop by the lake and a trek through a large stand of pine trees.  This is a very nice trail and is relatively flat.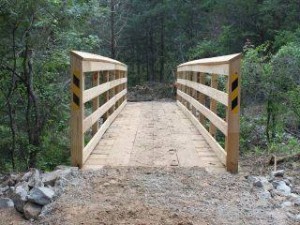 Trail 3 is the next longest at 6.2 miles. It is similar to Trail 1 but has more up and downs. There is a cut through on the trail to use if there's been a lot of rain and is shown on the map. There is a very sturdily made bridge on this trail that is good training for your horses.
Trail 4 is 8.9 miles. This trail is located across the highway from camp but there is good visibility at the crossings. The west side of the trail has some areas that are not shaded. On the north end of the trail is a new trail that's been recently opened, called 4b. I've been told it's the best trail there.  With the weather bumping the 70s a group of us went up to Caddo Grasslands and decided to ride Trail 4 and 4b.  We didn't have any trouble closing gates as we had a pro side passer ride with us, who not only side passed with ease but did so while ponying another horse!!!   The road crossing went well with gates on both sides of the road.  The terrain is gently rolling hills, with moderate ups and downs and most of it was through lovely forests with sandy trails.  One of the really nice things about Trail 4 is if you have a group that some riders want to do a short ride and some want to do a longer ride, it's easy to split up and one group do the inner circle and the other group do the outer circle.  Our group stayed together but we found some of us getting a little tired so we cut off part of Trail 4b by riding a gravel driveway, shown by the red arrows.  From there it was an easy 1 mile back to camp.  The trails were VERY well marked and maintained.   The area shown in the red circle is across an open field and if there had been a recent rain it would have been very boggy.  The trail itself was dry but one horse got off the trail and it was boggy even though there has not been rain in several weeks.
Note on controlled burns. Occasionally the National Forrest Service determines the forest is getting too dense with underbrush and they'll do a controlled burn. In a controlled burn the flames are only about a foot tall and they basically cut through small trees and bushes and clear out the undergrowth. Sometimes the trees are supported by other trees' branches and do not fall. This can be a hazard immediately after a burn; especially if it's windy. Also, as you can imagine its not real pretty after the burn. If you're planning a long stay and/or a long drive, be sure and check dates for controlled burns with the Forrest Service at Decatur (940-627-5475) or with the Caddo Riders Association.
About the contributor: 
Ann Sides, WTTA's newest contributor, lives near Greenville, TX with husband, J.Paul, who is head of security and composting, 5 horses, and 3 dogs.  Ann works at L-3 in Greenville and hopes to retire in a couple of years.  But until then she'll keep riding and camping every weekend she gets the chance.  She and J.Paul have one daughter, Lauren, son-in-law Clint, and one adorable grandchild, Ryan Moore, who live close by in Royse City.  It doesn't get any better than this!!!
Website: Unknown
Face Book Page: https://www.facebook.com/TraceTrails
Location: 7960 County Road 3914, Athens, TX  75752 (North East Texas)
Mailing Address: Trace Trails, 8543 County Road 3914, Athens, TX 75752
Contact: (903) 258-0054, owner Billy Beeson
Email: Unknown
Directions: From the intersection of Texas Loop 7 and US 175 head northwest towards Mabank on US 175 for approximately two miles.  Turn right on Co. Rd. 3918.  Follow this road around a 90 degree curve to the right, then take the first left, which is Co. Rd. 3914 (you will also see signs for Tara Winery).  Co. Rd. 3914 is narrow and curvy. Pass the winery on your left (it's a two story white house with large pillars and a vineyard — you can't miss it). Continue on 3914.  After a curve in the road you will see a silver gate on your left — pass this gate and continue on Co. Rd. 3914.  Trace Trails will be on your right and easily seen from the road.  From Co. Rd. 3914 it is approximately 1.7 miles. The campground is in a large tree lined meadow.  There is a wooden sign placed on two metal barrels.
Overnight Equestrian Camping: Allowed!
Fees: Fees are paid by way of the honor system.  There is a metal drop box located to the left of the entrance road under some shade trees.  Just drop in your payment and enjoy the trails.
$8.00 per person per day
$7.00 per person to camp overnight
Operating Hours: These trails are normally open 24/7 with some exceptions.  On occasion for large events like an endurance race in which 100 or more riders will participate, the trails might be closed to those not participating in the event.  So it is always best to call before you haul.
 Facilities: Primitive camping grounds are located in a large tree lined meadow.  There is no electricity and there are no designated campsites, so you can pick where you want to park or camp.  There is one porta-potty, a few picnic tables, a fire ring, and two water faucets with metal water troughs. Water hoses were attached to the faucets but I do not know if they belonged to another visitor or were provided by the ranch.  I'd suggest you bring your own water hose. There is one horse pen constructed out of 8 metal panels.  The pen is not covered but is located under some shade trees. You may high tie to trees so long as you use tree savers or something like a girth to protect the trees. You may also bring portable or electric pens.  On the north side of the camping area (to the left as you drive in) there are some shady places to park, otherwise you can park along the tree line or out in the open field.  It is first come, first served with regard to parking and/or camping locations.  The water faucets, pen, picnic tables, fire ring, and porta-potty are located to the left (or north) side of the campground under the trees.
Dogs: Dogs are allowed and may be loose so long as they are well behaved… otherwise please keep your dog on a leash. Be aware that some of the trails go near residences who have dogs, and we had two dogs try to chase after our horses.  However, as soon as we turned our horses around facing the dogs they backed off.
Cell Phone Service: Cell phone service was strong and I had no problems using my Verizon cell phone.
Trail Users: Trail users consists of mostly equestrians and maybe an occasional hiker.  There are no motorized vehicles or bikes on these trails.
Mileage: According to the owner, Mr. Beeson, there are more than 50 miles of trails on the 1,000 acre property. The trails are color coded.
Red Trail = 7.5 miles
White Trail = 6.5 miles
Orange Trail = 9.2 miles
Blue Trail = 11 miles
Pink Trail = 16 miles
There are multiple cut-through trails  marked by yellow and green ribbons for which the mileage is unknown.
Maps: Go to the Trace Trails FaceBook page to see additional maps.
Trail Markers: The trails are well marked with colored ribbons (some colors are faded), white signs with colored arrows, and pie plates.  The property fence line, telephone poles, gas line, blacktop road, and dirt road make great guides to also help you find your way around. The trails heading out of camp are fairly easy to find.  Several of the trails start out north of the water troughs and others start out on the edges of the tree line.  You can also go to the very south of the campground meadow to pick up the trails as well.
Additional information on trail markers provided by Ann Sides (Thanks!):
Trail marking:  the ribbons are on the right side of the trail as you're leaving camp on the start of the trail as indicated on the maps.   Turns are shown by three markers on the side to make the turn or by an arrow.    Several competitions are held here each year including endurance rides, trail competitions with NATRAC and ACTHA and all of these folks put in LOTS of hours to keep the trails maintained and marked.  Thank you all!!!  Additional thanks to the Beeson family for allowing us to ride on their lovely ranch!!!  And thanks to GOD for creating this lovely place and allowing us to care for it and our horses.
Terrain: The soil is sandy and mostly free of rocks; shoes/boots are not required for your horse. The sand can be deep in some areas.  This is a great place to ride if there has been rain, as the sandy soil drains quickly and therefore the mud and bog dries up fast. The trails can be dusty if there has been no rain.  The trails take you through wide open grassy meadows and thick forests. The terrain is mostly level or gentle rolling slopes.  The Green and Yellow cut-through trails usually cut across thick woods and wind in and out of creeks and gullies providing more challenging terrain.  There are more ups and downs, creek crossings, and deadfall on these cut-through trails.
Water: There are two water faucets with troughs at the campground.  On the trail I saw one stock tank and a few creeks from which the horses were able to drink.

Trace Trails Description:
Trace Trails in Athens, Texas is a privately owned 1,000 acre working cattle ranch in northeast Texas.  This ranch offers over 50 miles of sandy and scenic trails to enjoy with your friends, family, and horses. Dogs are allowed and may be loose so long as they are well behaved, otherwise please keep your dog on a leash. During one of our rides at the ranch a fellow equestrian had her well behaved dog tag along down the trails with us and he was having a blast.  The ranch often hosts trail competitions, benefit rides, and endurance races.  You are welcome to bring your own horse anytime to ride at Trace Trails, but you might want to call first to find out if there is an organized event also going on. Some of the endurance races held there can have as many as 100 riders. Ranch use fees are very affordable and everyone pays by the honor system by depositing their fees in the drop box. Overnight equestrian camping is primitive in that there are no electrical hook ups or designated camping pads.
This is a great place to camp and ride, especially since there are numerous miles of trails.  The trails are diverse with flat to rolling sandy terrain, open grassy meadows, and thick forests.  The yellow and green cut-through trails wind through thick forests and in and out of gullies and creeks; these were my favorite trails.  The trails are well marked with colored ribbons — although some colors are faded — and white signs with colored arrows, and pie plates.  The property fence line, telephone poles, gas line, blacktop road, and dirt road make great guides to also help you find your way around.
Trail Tale & Review:
Trace Trails Review, Nov 7-9, 2014 – By Contributor Ann Sides (Thanks so much Ann!)
I've probably ridden at Trace Trails in Athens 7-8 times, but I haven't ridden there for a couple of years prior to this trip and have never been brave enough to camp out without electricity!!  So this trip was a welcome return back to a place where I've had some great rides.  In the past we had jumped from trail to trail, never going from start to finish, and I always thought I was probably missing a lot of good trails.  I was so RIGHT!!
My friend Jackie and I arrived Friday mid-day and got busy setting up camp; stringing the highline and setting up the generator.  We decided to ride a portion of the red trail.  It leaves out of camp on the north end, crosses a county road that is not paved, and through a gate into a large pasture.  It took a team effort to open and close the gate but at least we didn't have to dismount!  The trail went through an open pasture and then into the woods.  The trails are sandy, wide, shady and well marked.  We rode the north loop of the trail, probably about 4 miles and it was beautiful; gently rolling hills through heavy forest.  There were some gentle ups and downs, and we passed by a deer stand (no one home).  We stopped by a pond about halfway into the ride for the horses to rest and get a drink.  We took the "scenic loop" and it was a little higher with some very nice views.  The entire trail is through woods, and it was truly a delight.  We were joined in the camp by a local cowboy church, Living for the Brand, and they were great campers!!  They cut up a fallen tree and stacked firewood, started a fire, and invited us for supper, breakfast, and lunch!!!  They were real nice folks and we enjoyed getting to know them.  There were two girls with the cowboy church that were horse crazy and loved on the horses.
The 2nd day we were joined by Brenda and Henry McNair, who are some great folks that helped me start trail riding and camping.   They brought their wonderful horses CJ & Sunny.  CJ is a gray Appaloosa and Walker combination and Sunny is a Palomino QH.  CJ is one of the steadiest trail horses I've ever been around.  His only problem is that he sometimes falls asleep while he's walking!!  After a wonderful breakfast of pancakes and sausage provided by the Cowboy Church we rode out on the Pink Trail from the north end.  We planned to ride 2 hours so we only rode the inside loop of the Pink Trail, which is in the same area as the loop of the Red Trail that we rode on Friday.  This portion of the pink Trail has very heavy woods and sandy, shaded trails.  The south portion of the pink trail includes 3 miles of road riding on very lightly traveled dirt roads.
After a big lunch of hamburgers, again provided by the Cowboy Church, and lots of good visiting around the campfire, Henry & Brenda left for their home in nearby Wills Point.  We decided on a short ride and left out on the south end of the Red Trail.  We planned to just hop around on whatever trail took our fancy.  This end of the trails has a lot of ups and downs and is very heavily wooded, but as usual well trimmed and marked.  Jacki spotted a deer not far out of camp.
Trail marking:  the ribbons are on the right side of the trail as you're leaving camp on the start of the trail as indicated on the maps.   Turns are shown by three markers on the side to make the turn or by an arrow.    Several competitions are held here each year including endurance rides, trail competitions with NATRAC and ACTHA and all of these folks put in LOTS of hours to keep the trails maintained and marked.  Thank you all!!!  Additional thanks to the Beeson family for allowing us to ride on their lovely ranch!!!  And thanks to GOD for creating this lovely place and allowing us to care for it and our horses.
Saturday evening we were joined by Annette Griffin and her two horses, Tally, a Paint and Percheron combination, and Mister Man Griffin, (Mister for short) a Haflinger and POA combination.  Annette competes in NATRAC on Tally and recently won Sweepstakes in their first year of competing together!!  We were joined on Sunday morning by Julie Whitaker and a Paint horse she was trying out named Laredo; a really pretty horse with one blue eye.
We rode the Orange Trail, which starts in the south end of the meadow.  It was spectacular with some good ups and downs; lovely, lovely ride.  This took us way back on the ranch to places I've never been.  We went through several large pastures and stopped by a nice sized pond for the horses to drink.   I finally rode one trail start to finish!!!!
Saturday evening we were joined by Annette Griffin and her two horses, Tally, a Paint and Percheron combination, and Mister Man Griffin, (Mister for short) a Haflinger and POA combination.  Annette competes in NATRAC on Tally and recently won Sweepstakes in their first year of competing together!!  We were joined on Sunday morning by Julie Whitaker and a Paint horse she was trying out named Laredo; a really pretty horse with one blue eye.
We rode the Orange Trail, which starts in the south end of the meadow.  It was spectacular with some good ups and downs; lovely, lovely ride.  This took us way back on the ranch to places I've never been.  We went through several large pastures and stopped by a nice sized pond for the horses to drink.   I finally rode one trail start to finish!!!!
We rode the Orange Trail, which starts in the south end of the meadow.  It was spectacular with some good ups and downs; lovely, lovely ride.  This took us way back on the ranch to places I've never been.  We went through several large pastures and stopped by a nice sized pond for the horses to drink.   I finally rode one trail start to finish!!!!
Trail Tale & Review:
November 8-9th, 2014, provided by contributor Kelly Hurd
I had the opportunity to visit Trace Trails due to last minute changes in our camping plans on account of the weather. Our original destination was a muddy mess, but since Trace Trails is sandy, the water drains through the soil quickly and that means little to no mud after several days of rain. I joined my American Indian Horse riding club, NETASA, to enjoy Trace Trails during a fall weekend in November.
The leaves were starting to turn and the bright purple beauty berries were everywhere. This is a working cattle ranch so there are roaming cattle throughout and gates to open and closed as you ride through the property. During our short weekend visit to Trace Trails I ran into some old friends (Shirley & Vern) by chance, which was a pleasant surprise.
Vern and Shirley had brought their Rocky Mountain horses to the ranch and were meeting up with their riding club "Trail Gaiters and Friends."  Our two clubs met together to ride some of the trails and we had a fun time. Overall it was a great weekend with cool weather for a campfire, good friends and family, good horses, super trails, and good food!  I'm looking forward to riding at Trace Trails again. It is definitely worthy of a return trip.
During this trip Curtis with NETASA showed me all sides of the ranch.  Since this was my first trip to Trace Trails and because we didn't always stick to one trail in particular (as it was fun to ride the cut through trails and jump around to different trails), I don't have a good description of each individual trail.  If you know these trails well and can give a good description of each of the colored trails then please email the info to me and I'll add it on this page.  I also invite others to share their reviews of the trails as well and I will share the information here.
Additional Pictures: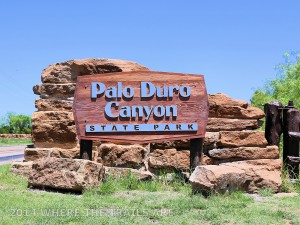 Website: 
http://www.tpwd.state.tx.us/state-parks/palo-duro-canyon
Contacts: 806/488-2227 or park information at 1-800/792-1112
Reservations: Made by phone 512/389-8900 or on line
at: http://texas.reserveworld.com/Home.aspx
Location: 11450 Park Road 5, Canyon, TX 79015
Latitude (degrees, minutes, seconds) N: 34° 59′ 04.84″
Longitude (degrees, minutes, seconds) W: 101° 42′ 06.51″
Directions to Park Headquarters:
South of Amarillo and 12 miles east of Canyon on State Highway 217
Link to location on Google Maps


Directions to Equestrian Trailhead: The Equestrian trailhead/campsite is located on the southwest side of the park, south of the circular turnaround. From the park entrance/headquarters, follow Park Road 5 down into the Canyon. Be cautious as there is a 10% grade for two miles as you descend to the canyon floor. At the split we kept left due to park road construction. It is about an eight mile drive from the park entrance to the equestrian site. There are a few low water crossings that will have water over the road after a heavy rain. The equestrian campsite is located behind the equestrian day use area. If hauling a larger rig you will need to be cautious when turning into the trailhead, by taking it wide or circling around in the day use area to come from the opposite direction and get a better angle for your turn from the day use area to the campsite area. Our visit in June of 2014 coincided with park road construction and bridge repairs which made for some very narrow bridge crossings when hauling a three horse living quarter trailer.
Camping: Overnight equestrian camping is allowed!
Fees (fees are subject to change, please call the park for most accurate and current fee rates):
Seniors, Texas resident age 65 and up – $3.00 a day
Adults or children ages 13 and up – $5.oo a day
Children under age 13 – free
Equestrian Campsite – $12.00 Nightly (up to eight persons per campsite)
Non Equestrian Campsites with water/electric – $24.00 Nightly
** parking fees are added on for sites with more than two vehicles, your trailer is counted as a vehicle
Horse Unloading Areas: Horses can be unloaded at the Equestrian campsite and day use area located at
the south end of the park south of the circular turn around and at the Light House Trail parking area; you
cannot park on the road.
Equestrian Trailhead – Campsite Facilities: There are 12 primitive and reserveable equestrian
campsites. These sites are not marked. The area is open and you just pick a spot to park your trailer.
It is not an overly large campsite so maneuvering larger rigs is mildly difficult depending on how many
other trailers are there. The ground is red dirt; there are no gravel or concrete pads. Some areas along
the outside brush/mesquite tree line are not level and there are some washouts in spots. There is
almost no shade.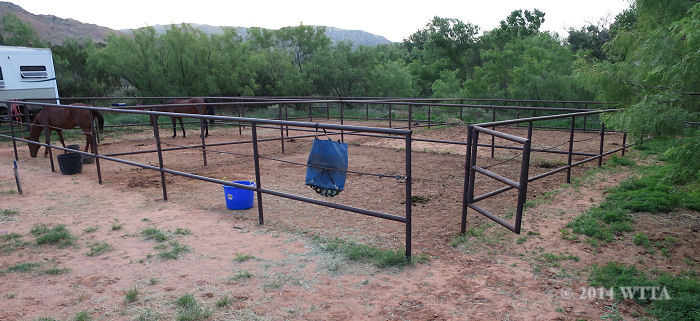 Pens: There are four large connected pipe pens about 24 by 24 feet in the shape of a square. These
are nice sturdy pens. There are no chains or latches to secure the pen gate with, so be sure to bring
something to tie or chain the gate closed. No more than two horses are allowed in each pen. The pens
seem to be on a first come first serve basis. The pens are not covered and there is no shade. You may
also bring portable panels or tie your horses to the trailer or tie to the outside of the pipe pens. The park
asks that you do not tie your horse to trees and that you do not leave your horse unattended. You may spread
manure.
Water: A water pump/facet is located directly in front of the horse pens and a second water pump is
located in the center of the equestrian campsite area along with a water trough. A second water trough
is also located in the day use equestrian parking area. I'd recommend you bring a water hose.
Picnic areas: Two picnic areas with tables and rustic wood awnings for shade are located at opposite
sides of the equestrian campsite. Each area has a fire ring.
Bathrooms/Showers: The equestrian campsite is primitive so there is no bathroom or shower at the
campsite. However a 1/3 mile walk or drive on a slight uphill to the Mesquite Camp Area will take you
to the closest bathroom/shower location. You are not allowed to ride your horse to this area.
Park Store: This state park has a store which provides some supplies , ice, souvenirs, and it has a small
restaurant which serves hamburgers and sandwiches.
Pets: Pets are allowed if kept on a leash no more than six feet in length. Pets are not allowed in the state park buildings. You are required to pick up your pet's waste.
Pests: When the weather is warm be prepared for large biting flies. My fly spray seemed two work for about ten to fifteen minutes against these terrible critters. Some horses had less of a reaction to the bites than others. I could actually see the fly dig its awful head deep into my horse's flesh. Angel was one of the horses that had a reaction to the bites. She had swollen welts which you can see in some of the pictures of her. I really regretted not having a fly sheet for her and I will not return to this location again during warm weather without one.
Cell Phone Coverage: There is no cell phone coverage on the canyon floor.  We had to drive back up out of the canyon to the park entrance for cell phone service.
Mileage: The park offers approximately 16-18 miles of designated equestrian trails. Trail riders are allowed only on the following trails – Equestrian Trail, Juniper Cliffside Trail, and the Lighthouse Trail.
Trail Users: The trails are shared by hikers, bikers, and equestrians. Equestrians are restricted to the Juniper Cliffside, Lighthouse, and Equestrian trails only.
Recommended Reading:
Trails & Tales of Palo Duro Canyon State Park
by Richard Lamaster
MAPS:
Trail Markers: The Juniper Cliffside and Lighthouse trail (north trails) are decently marked but
the Equestrian Trail and its branches (south trails) are not marked.Finding the trailheads leading out of the
campsite was a challenge as there were no signs in the equestrian campsite to direct us to where the trails begin.
Terrain: The ground consists of red gritty caliche, clay, and sandstone dirt that glitters in the sun. It is
rough and rocky in many areas of the park. Shoes/boots are recommended. There is little to no shade
along the trails.  The wind can kick up a lot of red dirt which manages to get everywhere. I was cleaning red dust
out of my LQ trailer for a while after returning home from our trip.
The Trails:
       North  Trails
The north trails (Juniper Cliffside and Lighthouse Trails) are a little less challenging and
decently marked with milder ups and downs.
From the equestrian campsite the Juniper Cliffside Trail runs north approximately three miles and then
connects to Lighthouse Trail and is decently marked once you find it from the campsite. To get on this
trail leaving from the equestrian campsite go north to the equestrian day use area so that you are facing
the main park road, head left (northwest) from where the water trough is in the day use area and follow
the unmarked trail. From there you will come to the creek and make a slight right following the creek.
The creek will be on your left. From there you turn left before hitting the main road and cross the creek
near the main road, or if the bridge is completed on the main road you might be able to ride over the
bridge. During our visit in June of 2014 the bridge and main road was under construction here. After
crossing the creek stay to the left of the road and you will see the Juniper Cliffside trail sign which when
coming from the equestrian campsite goes northwest and is parallel to the main park road. This route
will eventually connect to Lighthouse Trail.
(See pictures below for an idea of how to get to the Juniper Cliffside trailhead from the equestrian campground and
day use area).
Once you cross the creek (which has gentle sloping banks but can also be pretty boggy after a heavy rain) there
will be no more watering opportunities unless a heavy rain recently poured down on the park. This trail is marked
with wooden signs and blue metal steaks with "JC" and the mileage written on them.
Juniper Cliffside Trail starts out grassy with lots of cedar and mesquite trees. However, the grass soon
disappears and there is very little to no shade for the remainder of the trail. Juniper Cliffside trail
consists of red clay, sand, and rocky patches. This one track trail weaves through hills along normally
dry creek beds and gullies. On Juniper Cliffside there are two wooden bridges which appear to be made
for hikers and not horses. I would not recommend riding over these bridges. The first bridge has a very easy
detour, just ride beside it and through the shallow dry creek. The second bridge is over a deep gully and requires
a short detour to the main park road to skirt around it.
Once you get around this bridge you will ride by False Cave which is on the left. This is a high traffic area with
lots of little trails from the road to the cave. To stay on the main trail and follow the wooden posts. You will
pass the "Red's Rock" sign, and you will pass other trails to your left that says no horses allowed and you will
pass the Capitol Peak Mountain Bike Trail sign on your left. In this area Juniper Cliffside runs very close to the
road. Juniper Cliffside trail ends or runs into an open area. This is the parking area for Lighthouse
Trail. Ride to your left on the edge of this parking area and you will see the sign for Lighthouse
trail, which also has a white mailbox with red writing that says "Take One."
Lighthouse Trail is wider and provides no shade. This is a one way trail that is almost three miles,
making about a six mile round trip. Along this trail there are some wooden benches with wood awnings
for shade to rest if needed. Lighthouse trail is also more popular with hikers and bikers, most likely
because of the amazing views. Because I rode this trail on a very early Monday morning I was fortunate
not run into many other trail users.
My recommendation is not to miss this trail; it is too gorgeous not to see. To get to Lighthouse Trail you will
either have to ride from the equestrian campsite up Juniper Cliffside Trail which is about three miles or you can
trailer to the day use Lighthouse Trail parking area. You will see several trail junctions but stay on the main
trail. Trail markers are wooden signs and bright green metal stakes marked with an "L" and the mileage.
Along this trail you will have amazing views of Capital Peak , Lighthouse, other rock formations, and the canyon.
You can even ride right up to the base of Capital Peak and see your shadow on this monumental mass of exposed
sedimentary rock.  The trail dead ends into a shady area which has a picnic table and bike rack. From here a narrow
hiking only trail that has several rocks across where it starts winds up to the Lighthouse formation. Regulars
informed me they have left their horses tied here so they could hike up to Lighthouse.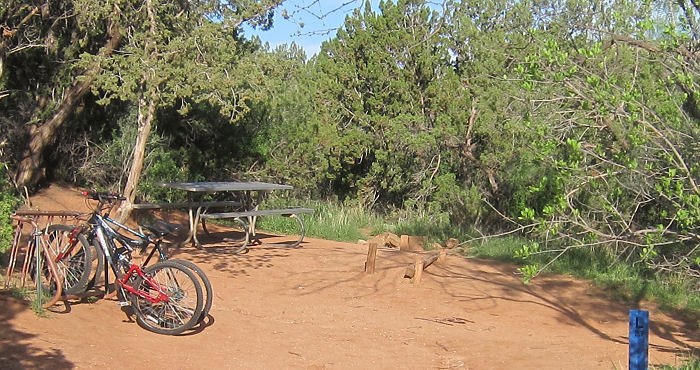 I'd recommend if you want to do this to have one volunteer with you to stay behind with the horses. I did not get
to hike up this trail as I did not want to leave my horse tied up unattended. Park regulations also request that
you do not leave your horse unattended. So plan ahead and bring someone to look after the horses if you want to
explore this hiking trail and see Lighthouse up close.
Link to state park handout about the Light House Trail
South Trails
The terrain is fairly challenging along the Equestrian Trail south of the campsite. This trail opens
up to lots of additional unmarked branches and loops. You will have a few creek crossing to gain access
to additional trails. The creek in this part of the park is narrow and has steep banks for several of the
crossings, so it can be a challenge. During our visit it had just rained so it was also boggy. Be prepared
for some steep grades and rocky areas here. However, once you cross the creek and go through the hills
it opens up into a lovely flat meadow quite different from the rest of the park terrain.
To get to these trails from the equestrian use area once you come to the creek go left/southeast with
the creek on your right. This will take you behind the horse pens and into a large area of unmarked
trails to explore, labeled as the Equestrian Trail on the maps, but there are no trail signs. You can also
get to these south trails by riding out of the campsite between the picnic area and the horse pens. This
area starts out very hilly. There are no trail markers in this area either. You will eventually also have
to find a safe place to cross the creek. If you get squeezed between the beautiful red canyon wall and
the creek on a trail which continues to become narrower and washed out then back track to find your
creek crossing. This area is gorgeous but I could not find a safe creek crossing and had to back track.
Fortunately riders who frequent these trails showed me where to cross.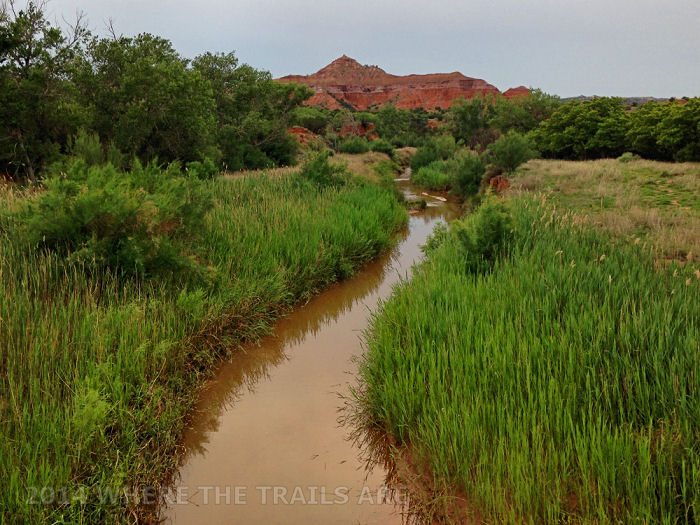 Do not ride in this area if there is a chance of stormy weather, as the meadow and creeks can quickly flood during
a storm. There are indian pictographs in the hills and large rock formations you can use as landmarks. This
southeast side of the park is also where the Battle of Palo Duro occurred.
Trail Tale:
Riding at the Grand Canyon is a dream of mine and on my bucket list of places to see from between
my American Indian Horse's black tipped ears. This past June, we hauled to the next best location, the
"Grand Canyon of Texas," Palo Duro Canyon State Park. Palo Duro is the second largest state park in
Texas and the second largest canyon in the United States. Encompassing over eighteen thousand acres,
the park is 120 miles long and 800 feet deep. It is an eyeful of brilliant shimmering colors and geologic
wonders to behold; a stark contrast to the surrounding Llano Estacado. Entering Palo Duro Canyon for
the first time is a shocking experience of converging landscapes. As you easily cruise through the flat
treeless high Texas plains, also known as the Llano Estacado, then suddenly you find yourself descending
down a 10% grade from the canyon rim trying hard to watch the precarious road while your eyes tempt
you to sneak glances of the colorful canyon walls. Imagine the sheer force of water, Praire Dog Town
Fork of the Red River to be exact; creating such artistry out of what once was a little gully.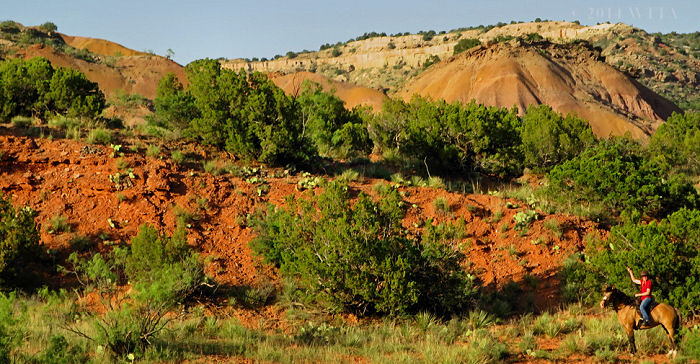 The name "Palo Duro" is Spanish for hard wood, which Native Americans used to make arrows from
Juniper tree branches in the canyon. The park's history was a big draw for our little riding club (NETASA)
of Spanish Mustang/American Indian Horse enthusiasts. Arriving on a full moon was carefully planned
in hopes of witnessing the legend of Indian Horse spirits running free through their canyon home on
moonlit nights. These mustangs were massacred in the Red River War. Over one thousand Southern
Plains Indian mounts were shot dead by order of Colonel Ranald Mackenzie of the Fourth U. S. Cavalry
after the battle of Palo Duro Canyon in September of 1874. Our full moon arrival also happened to land
on Friday the 13th.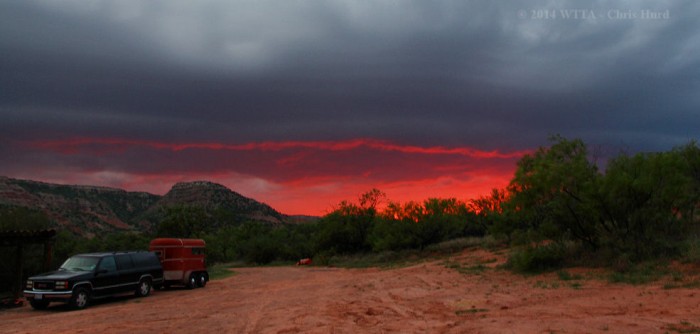 On this evening the skies turned a vicious red and ominous clouds hid all celestial
bodies after we settled in at the Canyon's floor. We saw no full moon that night. Unfortunately, our
friends were riddled with bad luck; flat tires, a fender bender, and a distraught U joint on their journey
from east Texas. To top it off, as they descended into the stormy canyon their trailer awning was
partially ripped off by strong winds. The night was full of lightening, thunder, and rain. My thoughts of
being on the canyon floor during a storm were a little unnerving. In the early morning hours the weather
cleared and a full moon beamed proudly just above the canyon's rim. The moon's glow was true and full
for all to see the remainder of our stay. During the nights at Palo Duro, I heard a frightening rush of wind
pouring down from the rim and crashing into the canyon walls creating an eerie sound, unlike I've ever
heard. Could it be the Indian Horse spirits or was it just the wind?
Saturday morning after being treated to a hearty breakfast of pancakes and sausage we were ready
to hit the trails despite the slippery red mud from the previous night's rain. Temperatures were
uncharacteristically low for the month of June due to the blessed rain. Finding the trails leading out
of camp was a bit tricky as there are no markers or signage from the equestrian area. Our horses
were fresh and ready to get moving due to the abnormal crisp air and were frustrated with our lack of
direction. We soon learned that in order to get anywhere, a creek crossing was inevitable. The hard rains
made this normally simple task a challenge as the creek banks consisted of thick mud. I dismounted
and trudged through the mud to find a safe crossing. During our stay conditions improved and our sure
footed American Indian Horses prevailed. That first day we explored Juniper Cliffside trail which runs
north from camp along Red Mesa.
On Sunday morning I had the pleasure of tagging along with Palo Duro regulars, Chris and Christie
Shippy, who showed me the rugged unmarked southwest trails of "The Equestrian Trail". We rode
through the hills and up to Cactus Rock, which is one huge specimen of a rock with a head of cactus.
They took me near Tub Springs to see faded Native American Pictographs which were almost hidden
in the shadows along the bottom of a large boulder. Near the end of our ride we rode to a grass filled
meadow which the horses truly enjoyed. Christie is also one of the talented wranglers in "TEXAS", an
outdoor musical production in Pioneer Theater. I'd recommend making time to see this show while
visiting. The outdoor theater with its natural 600 foot canyon wall is what makes all the visual effects
a great success. That night we watched Christie in the spot light gallop her horse down the canyon
wall with ease while carrying the Texas Flag. Be prepared for heart pumping canon fire and brilliant
fireworks.
Christie's family also helped improve one of the creek crossings and helped out one of our NETASA
members who had a trailer problem. Also camping in the park was Doug and Claudia Sloan. Doug is
an animal wrangler and stuntman who has worked on over 40 films. A better group of fellow campers
would have been hard to come by.
My favorite ride was on Monday morning. Everyone was packing up to head home. Fortunately, I was
able to get a few extra vacation days which meant we had one more full day at the park! At dawn, Angel
and I headed out solo up Juniper Cliff to Lighthouse Trail. The sun bathed, Capital Peak and Lighthouse
rock formations as the moon still hung translucent in the blue sky. Angel and I shared the trail with
the park's natural inhabitants; only until our ride back to camp did we bump into a few park visitors. I
believe Angel enjoyed the peaceful ride and scenery as much as I did. I felt a strong connection with her
as we enjoyed our freedom on the trail. Riding during the magic hours of dawn brilliantly highlighted the
canyon as sun rays projected onto colorful million year old layers of geological history.
Angel and I returned in time to say good bye to our friends before they began their journey home. That
hot afternoon I took our dog Eva to explore False Cave and play in the creek. Chris relocated the trailer
to the best spot in camp and we had the entire place to ourselves. I took Angel out for one last ride
to explore the nearby south Equestrian Trail. Chris and our dog LB tagged along for a while but then
turned back at the creek crossing.
Angel hopped over the narrow steep banked creek and we followed it down to a dead end. This side of the stream came
to a red canyon wall and we either had to cross once more or head back. It was peacefully quiet here and a thick
grove of mesquite and oak trees lined the canyon wall. A strange feeling came over me as Angel grassed by the
creek. The sun was setting and it was time to head back. Angel became full of energy and at every break in the
trail she opted to try and take the route which lead back to the canyon wall instead of our campsite. I wanted to
explore more as well but we could not be out alone on unknown trails in the dark. It seemed something was really pulling
Angel back down the trail. At every turn I had to give a little extra push with my aids to keep Angel back on track
to camp. I could not help but wonder if she was feeling the spirits of her ancestors and was that why I also had
such as strange stirred up feeling inside. Later I learned we were very near the Battle of Palo Duro Canyon
which took place on the southeast end of the park.
Palo Duro Canyon offers approximately 16-18 miles of designated equestrian trails. Trail riders are
allowed only on the following trails – Equestrian Trail, Juniper Cliffside Trail, and the Lighthouse Trail.
All of the trails are spectacular in regards to scenery. Although the campsite is primitive and the biting
summer flies are persistent, don't miss an opportunity to visit Palo Duro Canyon, as the scenery far
outweighs any small annoyances.