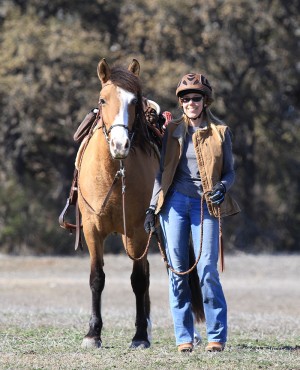 Where The Trails Are (WTTA) strives to provide a useful database of equestrian trails.  Keep your eyes here for a growing resource guide.   The trails for horse back riding are unfortunately dwindling and it can be hard to find places to ride. The best resource for knowledge of equestrian trails are the trail riders themselves.  It is the hope of Where the Trails Are that riders will contribute information about trails they know with their fellow equestrians.  Watch for our articles in The Horse Gazette and "like" us on WTTA's Facebook page.
Help WTTA grow by submitting a trail review to share with your fellow riders!
If you would like to contribute information about riding trails then please check out the Submit A Review Tab for more information. You are encouraged to include pictures of the trails, you and your riding buddies on the trail, and of the facilities, but they do need to be at least 800 pixels wide.  Getting a shot at the trailhead or facility entrance with you and all your riding buddies always makes for a super photo and helps people know what to look for when they are trying to find the park/ranch.
Thanks so much and happy trails!
Kelly Hurd
Send me an e-mail at: hurdkn@gmail.com
San Angelo State Park SASP
Location: Central West Texas
Business Address: 3900-2 Mercedes Road, San Angelo TX 76901
GPS Coordinates (main park entrance – not the equestrian entrance):
Latitude: 31.463922
Longitude: -100.508038
Contact: Park 325.949.4757 Reservations 512.389.8900
Website:
https://tpwd.texas.gov/state-parks/san-angelo
FaceBook page:
https://www.facebook.com/San-Angelo-State-Park-Texas-Parks-and-Wildlife-120216764662169/
Directions to North Shore Gatehouse entrance for Equestrian use: You must go through this gatehouse first to check in, pay fees, and have your Coggins checked. You will get a map, directions to where you are camping or the day use area, and the gate code. There is more than one way to get there; here is one, from US 87 turn south on FM 2288 (also known as Grape Creek Road and near the little town of Grape Creek north of San Angelo, TX). Just before the bridge crossing / river, turn left (see park signs) to the San Angelo State Park North Shore Gatehouse entrance. There is enough room to get your rig turned around easily once you get checked in.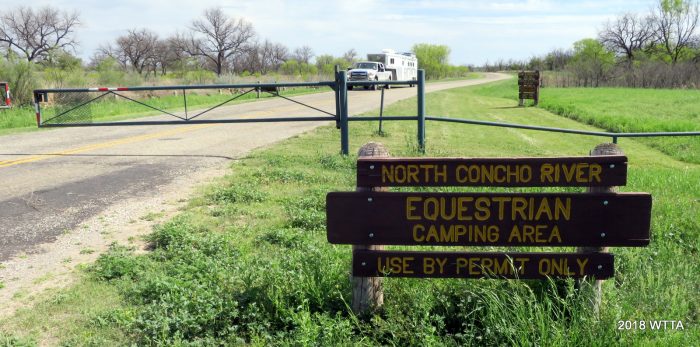 Hours for the North Shore Gatehouse:
Spring/Summer Monday – Thursday 9am – 6pm and Friday – Saturday 9am – 7pm
Fall/Winter Monday – Thursday 9am – 5pm and Friday – Saturday 9am – 6pm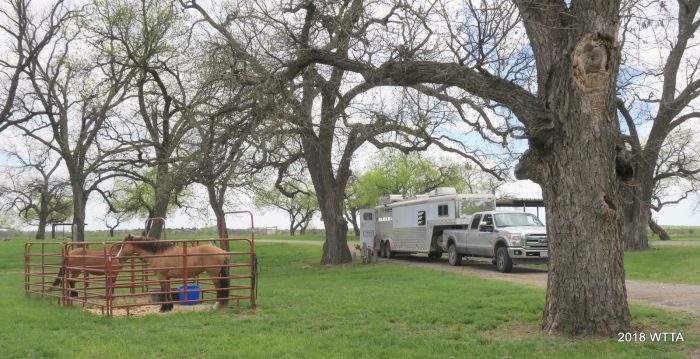 Facilities:
Day Use – First, check in at the North Shore Gatehouse (pay fees, have Coggins check, get the gate code, and be sure to get a map). Turn around and head back out of the gate entrance, go left on FM 2288, cross the river, and take the first left. Pass the North Concho Camping area and continue to the end of the road where there is a large parking lot area. This area is basically a concrete parking lot. At the backside of the parking lot is the main trail access entrance called, Bells's Trailhead (point #7 on the maps) with a brick metal archway, posted map, hitching rail, and two benches (which can be used as mounting blocks). From here continue straight for a beautifully shaded stroll next to the river on Shady Trail or go right through the gate to get to the main trailhead to trailhead route and/or Dinosaur Trail.
North Concho Camping Area – is the main equestrian camping area. First check in at the North Shore Gatehouse (pay fees, have Coggins check, get the gate code, and be sure to get a map). Turn around and head back out of the gate entrance, go left on FM 2288, cross the river, and take the first left (gated entrance ). When riding to the trails you can just cross over the main park road and go through the gate or you can follow the park road south to Bell's Trailhead (point #7 on the maps).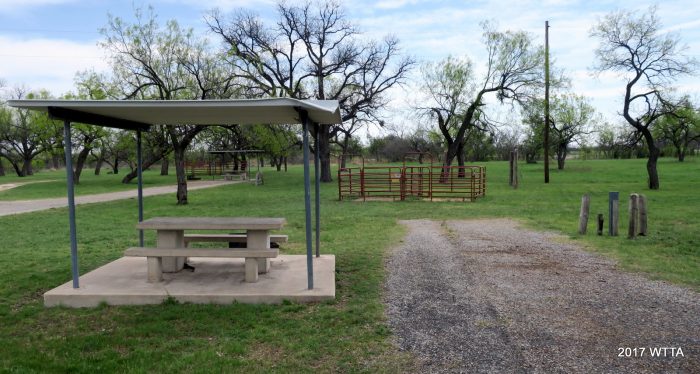 At North Concho, there are 23 well maintained camp sites, all are primitive except for sites 1-10. Sites 1-10 have water, electric, a covered picnic table, grill, two metal paneled horse pens that share a center panel and are about 10 by 10, three tethering posts to high tie your horses, a level asphalt parking pad, and large oak trees. Some of the sites are pull through. There are no mounting blocks. The campsites are beautiful and well kept. On my visit in March we had no issues with the electric hookups but in November of 2017 they were working on some of the electric hooks ups and was able to get mine going just in time. However, my microwave did end up shorting out and I was not sure if that was due to it's age or problems with the electricity. There is lots of shade and grass on the campsites and you can set up your own pens (to include electric) if you want your horse to have more space and grazing time. Park hosts told us we could spread our manure in the field.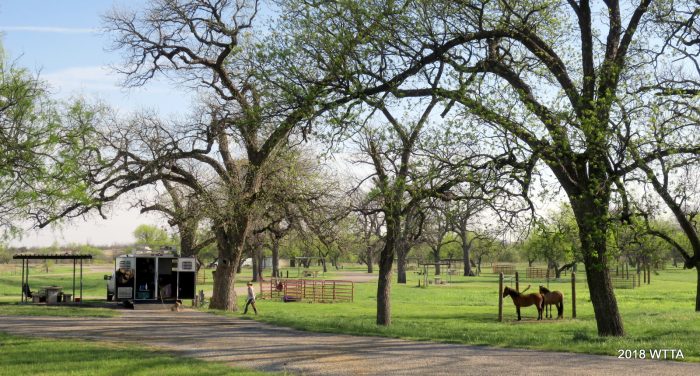 I loved the extra option of the tethering posts and used them to high tie my horses to give them a break from the small stalls while I cleaned the stalls, or tied them to tack up. I also high tied my younger mare using the tethering posts when I rode off on her buddy and left her behind. This was the safest way to contain her, as she most likely would have reared up on the stall panels and possibly caught a hoof in between the panels. She does not like being left behind. The stall would not have been safe for her while in a state of emotional abandonment. My husband stayed behind and kept a close watch on her as well.
The primitive sites vary with some (not all) having one larger paneled horse pen and/or three tethering posts, covered picnic tables, grill and/or fire ring, and some had paved parking pads while others are only dirt. There are no mounting blocks.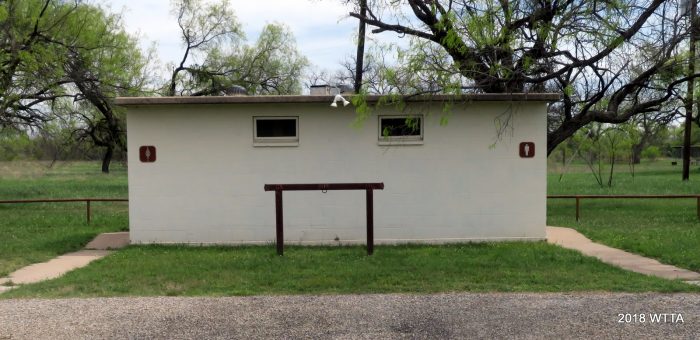 There is an enclosed men's/women's restroom (chemical toilets) but no showers. There are showers in the Bald Eagle Camping Area which is located by way of the North Shore Gatehouse entrance.
Firewood: is provided and located by the restroom area; donations are encouraged.
A dumpster for trash is also located near the restroom area.
An RV dump station is located on the way out of the North Concho Camping Area.
Bald Eagle Camping Area – This area has water/electric sites as well as primitive sites. Horses are sometimes allowed here, with permission from park staff, but there are no pens or tying posts. You are allowed to bring your own portable pens to the park. There is a shower house and restroom located in this area. This area can be reached by going through the North Shore Gatehouse.
Other non-equestrian camping areas are located throughout the park and on the south side of the park. There are also primitive camping areas within the park that you can ride, hike, or bike to.
Pets: Pets are allowed but must be contained or remain on a leash. In addition to our two horses we brought along our two dogs and one cat. Yes, one cat! This was my first time to camp with a cat and it actually went well and saved us $$ on boarding fees!. Itsy Bitsy had her own little pop up cat playpen, harness & leash, and she stayed in the trailer with us at night.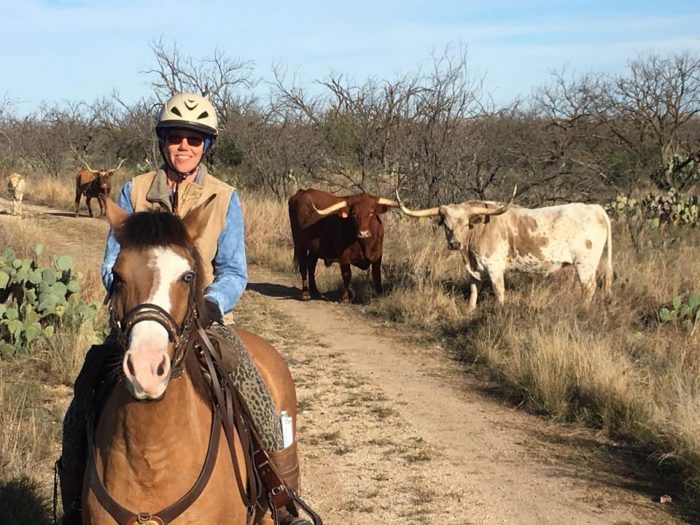 Park residents: When entering SASP we saw a rafter of turkeys taking flight. At our campsite we also saw owls and hawks. Our shady site seemed to also be the social hang out for all the park owls who were enjoying teasing our dog all night long. We received several warnings about rattle snakes but luckily I saw none on our trips there so far. We did see deer, javelina, and a wide variety of birds. Longhorns roam throughout the park. San Angelo State park is the home of the Official Texas State Longhorn Herd. I frequently came across these beautiful residents while on trail and learned that you go around them, not the other way around. It was really exciting when we were on a trail leading to a large water trough and the Longhorns were running from behind us, evidently to get to the water. They were thirsty and we had to get our spooked horses out of their way fast. Quick note on trail etiquette for San Angelo State Park; everyone yields to the Longhorns! After we all settled down one of my riding friends, Kathy, took this great picture (above) of me on Angel with the Longhorns. On the south side of the park there is a herd of buffalo (they have their own section in the park and do not roam on the park multiuse trails). Check with the Park for Buffalo or Longhorn educational tours/events.
Cell Phone Service: My service with AT&T was good at this park.
Trails Users: The trail is shared and divided between equestrians, hikers, and bicyclist. Everyone is to yield for the horse (except for the Longhorns and wildlife of course). No motorized vehicles allowed on trails. I saw several bicyclists on trail during both my visits to SASP in 2017. They were very courteous and careful around the horses.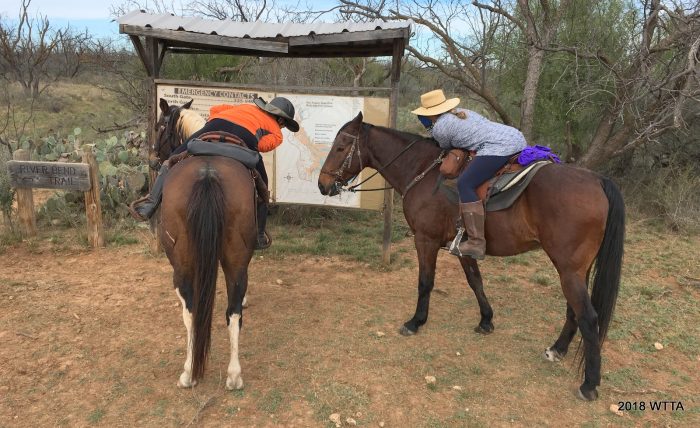 Mileage: SASP has approximately 50 miles of multiuse trails. Now that's a lot of riding!
Maps:
The park has two official trail maps (North and South Unit maps) and a facility park map which you can ask for at the gate and which is also listed on their website; see links below: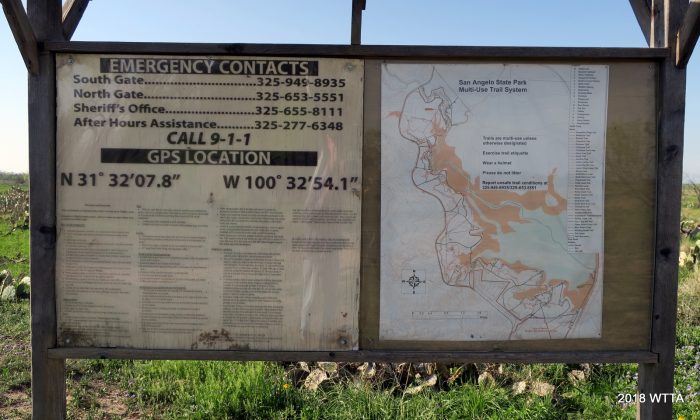 The trail maps are not as detailed as the maps posted along the trail. I suggest you take a good look at the map signs on trail as they are much more thorough and often have a "YOU ARE HERE" bullet on the map. I took a picture of one of the maps which is posted above.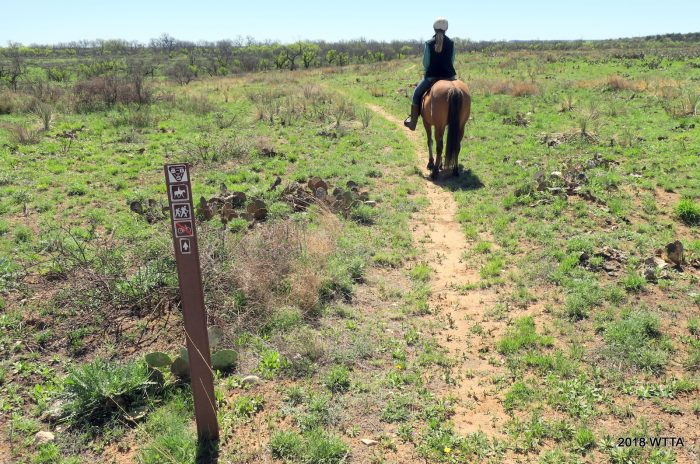 Trail Markers: Overall, I found the trail markers (mix of wood and metal markers) to be pretty good. On a few spots there were trail intersections that had no marking but I just stayed on what appeared to be the main trail and had no trouble. It is fairly easy to navigate this park because the trails are all in between the river and FM 2288. If the road is on your right and the river on your left, then you are heading south and away from the North trailhead… and vise versa.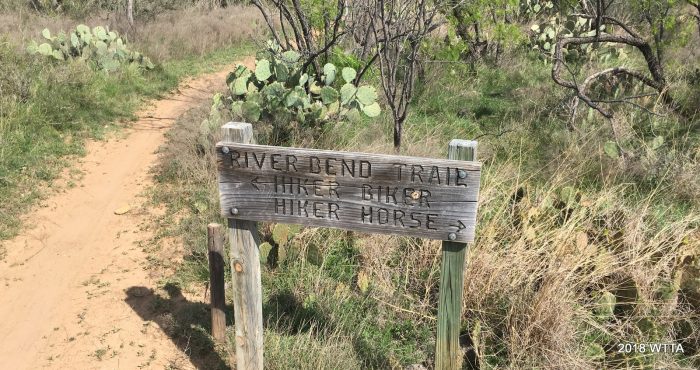 What is awesome about a lot of the trails is that they have separated the bike trails from most of the horse trails with hikers being able to go on either the bike or horse trail. The bike trail often runs alongside parallel to the horse trail. However, there are still some sections of trail that are shared by all users.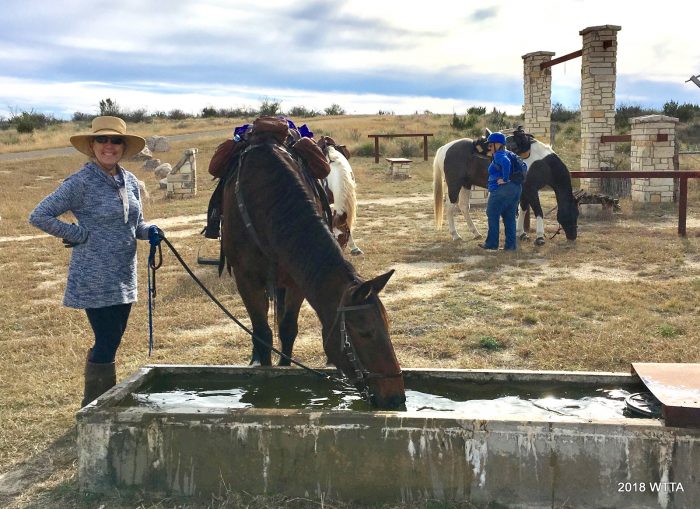 Water On Trail: Above is a water trough located at Burkett Trailhead which is marked at point number 2 on the maps. There are a few water troughs located on the trails. A water trough is also located on point 4 on the maps which is called Five Points (not sure why they did not assign it as point five on the map, lol). Another one of the water troughs is off of Dinosaur Trail closer to the equestrian campgrounds. There are also a few streams on some of the trails that are most likely dry during the summer or dry seasons.
Gates: I will say there are several gates to open and close along the trails but most are fairly easy to open/close off the back of your horse while a few are sticky and tricky (being too close to the cattle guard making your horse nervous). So if your horse is not gate trained, ride with someone who can easily open/close gates or be prepared to dismount/mount as needed to get through them.
Terrain: San Angelo State Park offers diversity in it's terrain with four regions converging, Edwards Plateau, Hill Country, Rolling Plains, and the Trans-Pecos desert. Most of the trails are fairly flat and level but there is a little Hill Country in Concho Land. Be ready for a few ups and downs in some areas. You can tell by the name of some of the trails if they will be challenging or not, such as Roller Coaster Trail versus Tasajilla Flats Trail.The ground varies from black dirt, sandy clay type soil, and hilly rock surfaces. My horse got by fine barefoot but there are some rocky and hilly areas in which you may want boots or shoes on your horse. Some of the trails are wide open with miles and miles of catus but no tree coverage, while other trails have short brushy trees, lots of mesquite, and oak groves closer to the North Concho River.
A Short Description:
San Angelo State park is off the banks of the O.C. Fischer Reservoir and the Concho River. Opened in May of 1995, it is approximately 7,500 acres. My first equestrian camping trip to the park was March of 2017 but I was eager to return, going back in Nov. of 2017. I'd love to time my next trip when all of the prickly pair cactus are blooming, because they are everywhere. The park is really interesting and diverse in it's landscape. The Reservoir water levels have greatly receded leaving behind several abandoned picnic and camping sites now far from the shores and over grown with cactus. While at the park be sure to check out the inviting town of San Angelo and it's Fort Concho a National Historic Landmark.
Lots of Pictures!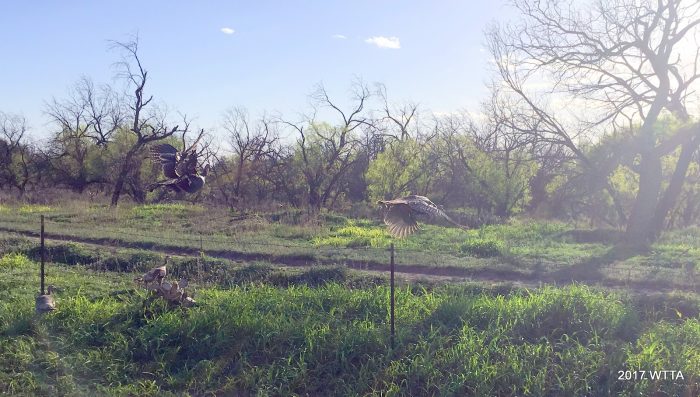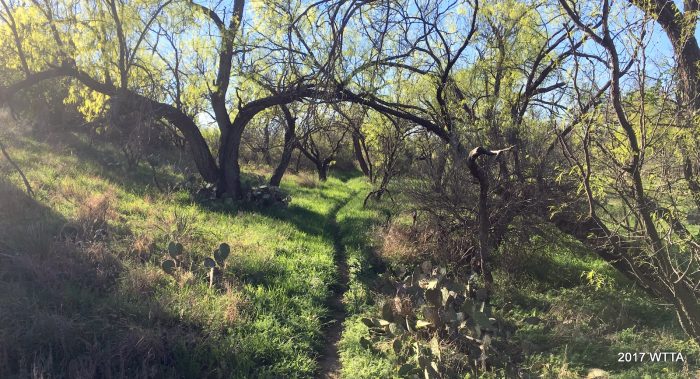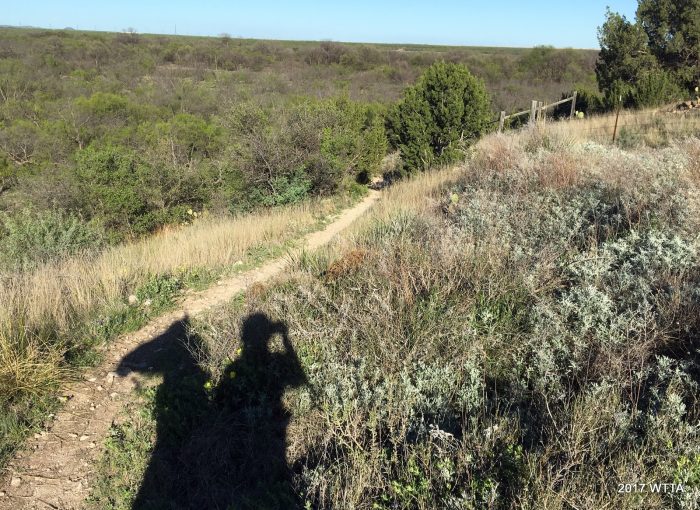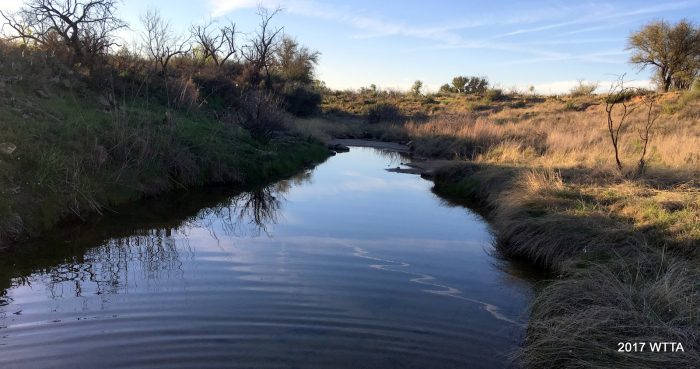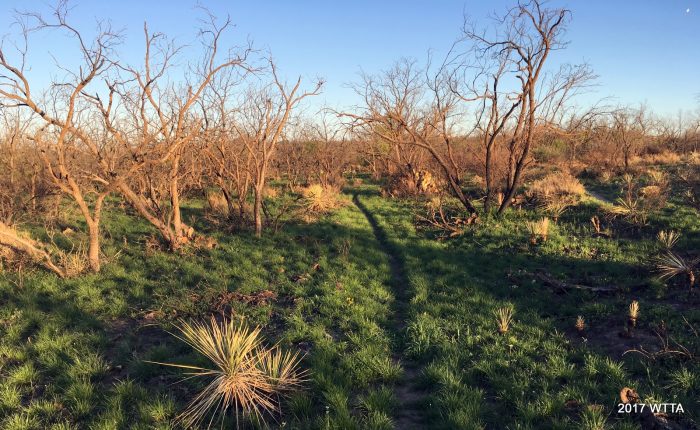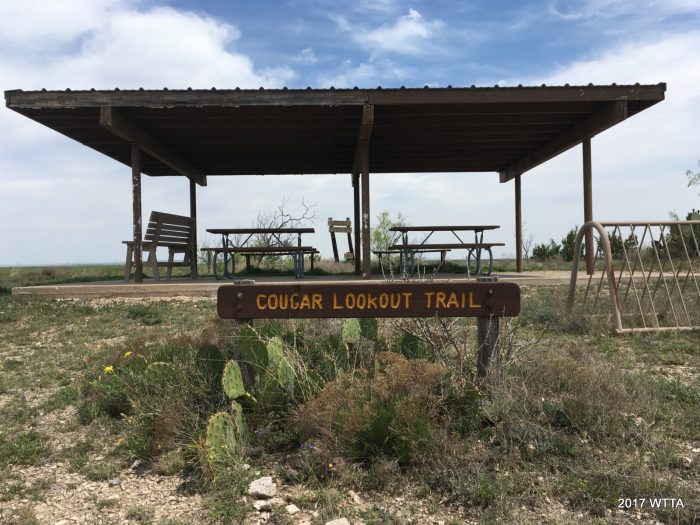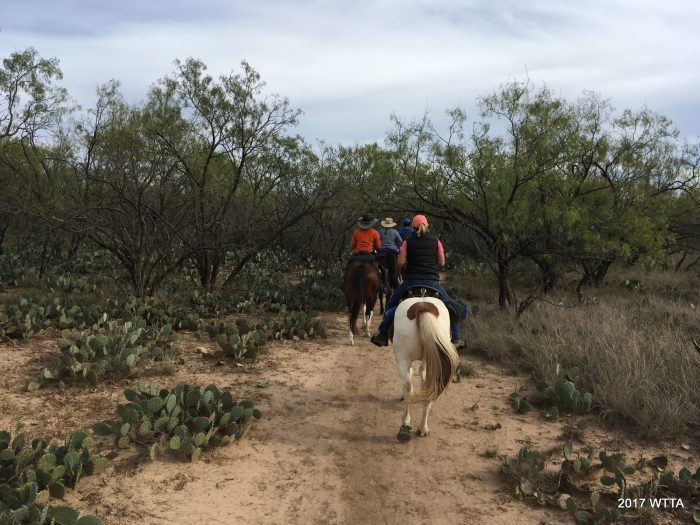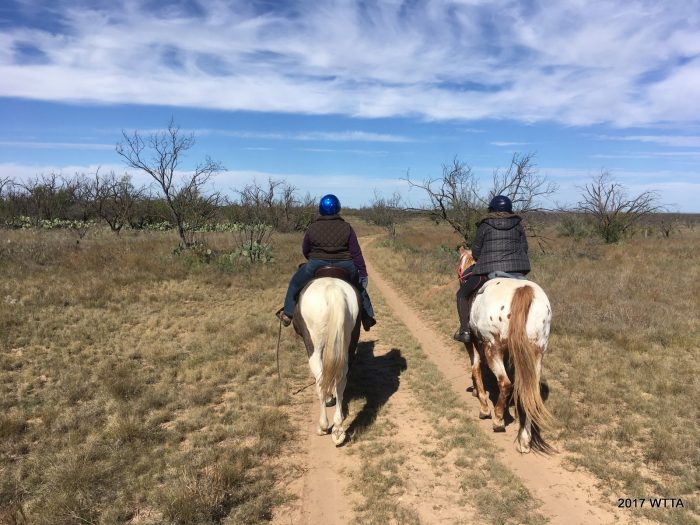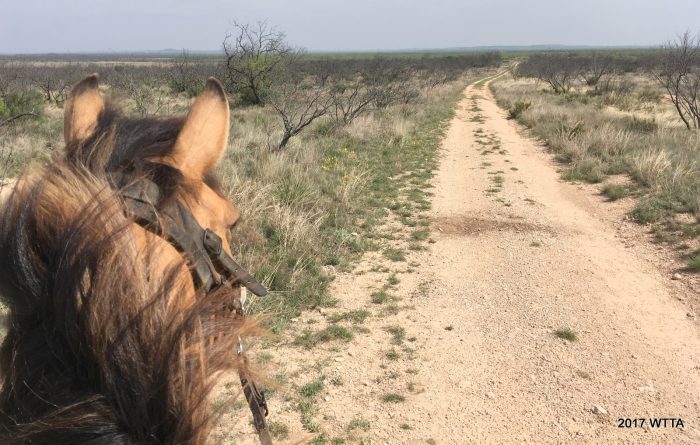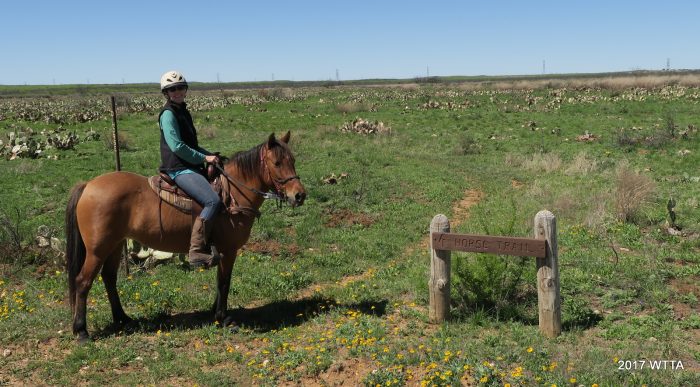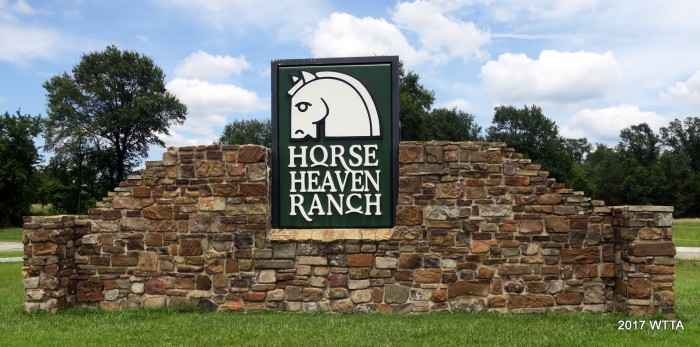 Horse Heaven Ranch Resort
Website: http://www.horseheavenranchresort.com/
Location: Located in the Ouachita National Forest near Talihina in southeastern Oklahoma.
Mailing Address:
Horse Heaven Ranch Resort
1 Horse Heaven Lane
Talihina, OK 74571

GPS
N 34 42.965 W 094 55.740
Directions: Coming from Talihina, take 63 East for approximately 6-7 miles. You will see a blue road sign alerting you to Horse Heaven. Turn left at the white fence and the Horse Heaven rock sign on the left. Go approximately one mile on the gravel road. You will see another Horse Heaven sign on your right. On the right is the barn and this is also where the office is located. On the left you will see the arena. Campsites are further down the road and the Cabins are the furthest back.
GPS N 34 42.965 W 094 55.740 (note google maps is incorrect as it shows the address located in the city of Talihina).
Contact: Ranch hand/helper, Elfie cell #254/289-2242 or ranch #918/567-4200, email: equineempress@yahoo.com
Elfie said she really does not have a title at Horse Heaven, she just helps out. She has been there for about 14 years now and lives on site. She found the place due to her love of trail riding. She works on keeping the trail clean and enjoys helping out. She is the trail rider that never left.
Owner: Dudley Black
Camping: Overnight camping with horses is allowed and encouraged!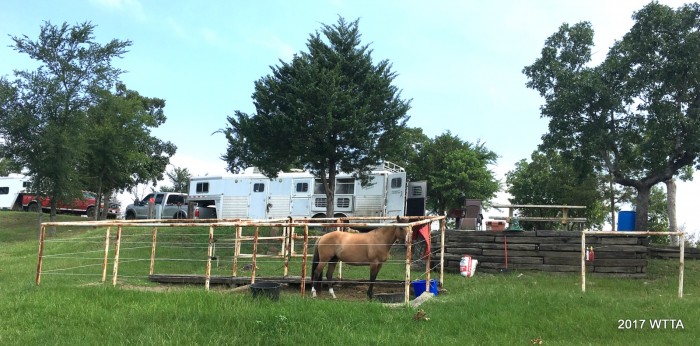 Fees:
(fees will may vary and there are extra charges for more than two horses or additional people – please call to verify fees):
$10.00 a person for day riders
$20.00 a night for a 30 amp camp site to include two horse pens
$25.00 a night for a 50 amp camp site to include two horse pens
$142.76 – $174.48 a night for the 1 or 2 bedroom cabins for 4-6 people which include 2-3 stall barns with loafing shed. Extra fees may apply for additional persons/horses.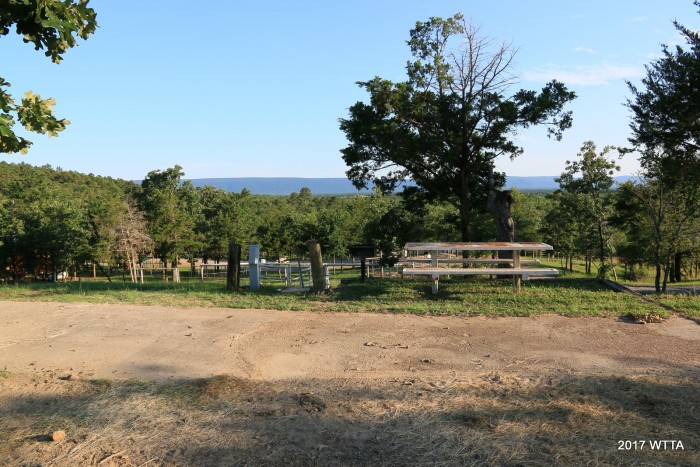 Horse Heaven Facilities:
32 RV / Living quarter horse trailer sites include
30 to 46 foot concrete level pads (some are pull through)
Electric (50 amp or 30 amp)
Water
Some have sewer
Pipe hitching post
Metal picnic table
Grill
Fire pit
Two 12′ x 12′ pipe framed pens
You are also allowed to set up your own electric pen or containment for your horse on the campgrounds if you want them to have more space and be able to graze.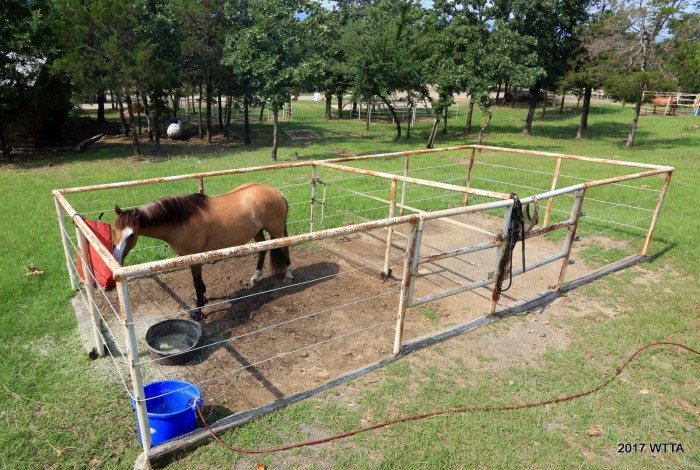 Many camp sites have great mountain views to the north and south. Lots of shade trees are all throughout the camp. The camping area is hilly. At some of the sites the parking pads are at a different level than the horse pens which requires you walk up and down an incline to go from your RV/trailer to the pens. My site, #25, had a pleasant view of the mountains to the north, but there was a fairly steep grade from where my trailer was parked to where the horse pens are located. Many other sites are level. If that makes a difference to you, then be sure to ask for a site that has a pad fairly level with the horse pens. The pens are close to the pads. Some of the pens are in very good shape while others need repairs and have temporary fixes like bailing twine or straps/ropes used for the railings on the center divider. The pens are pipe and the rails are rubber coated wire. The two pens are adjoined, sharing a center divider. Not all horse pens are in the shade. You are also allowed to set up your own electric pen or containment for your horse on the campgrounds. Bring your own water buckets and water hoses.
Cabins:There are six one to two bedroom cabins each with an adjacent covered 2 to three stall horse barn and attached open paddock. Cabins are fully stocked with bed linens, a full kitchen, living room, bathroom, fire place, covered back porch, grill, and fire pit. The cabins are cute and fairly spacious. The cabins have a nice covered back porch with a swing and chairs. Bring your own water buckets and hoses for your horses. Near the cabins and with in view of cabins 5-6 is a three acre pond stocked with catfish, bass, and perch.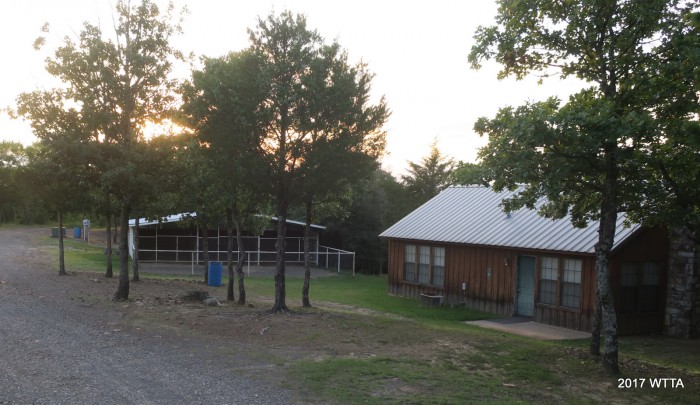 Additional Facilities:
Arena
Barn with enclosed box stalls available for an extra fee
Bath house with separate men's and women's sections to include three sinks, three toilets, and two showers (one is handicapped)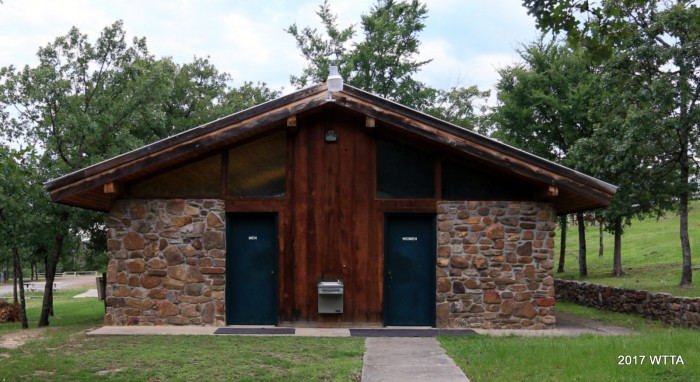 Cell Phone Service: My AT&T phone worked well in the campground and on the trail. You can see two AT&T towers on top of a hill at a distance north of the ranch.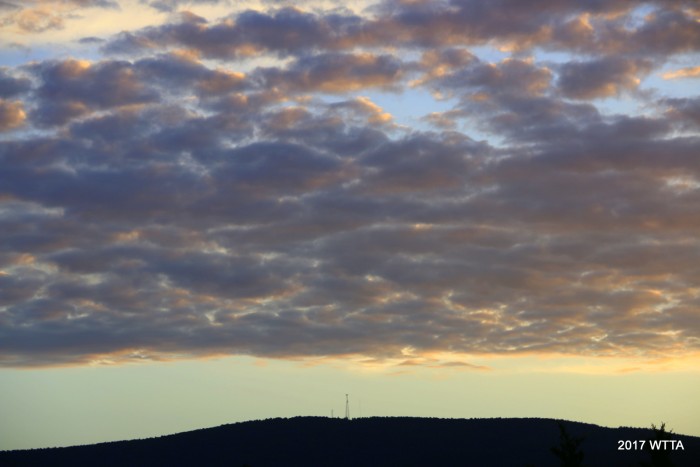 Dogs: Dogs are allowed but are to be on leash in the campground, however, they may go out on the trail with you. They are not allowed in the cabins.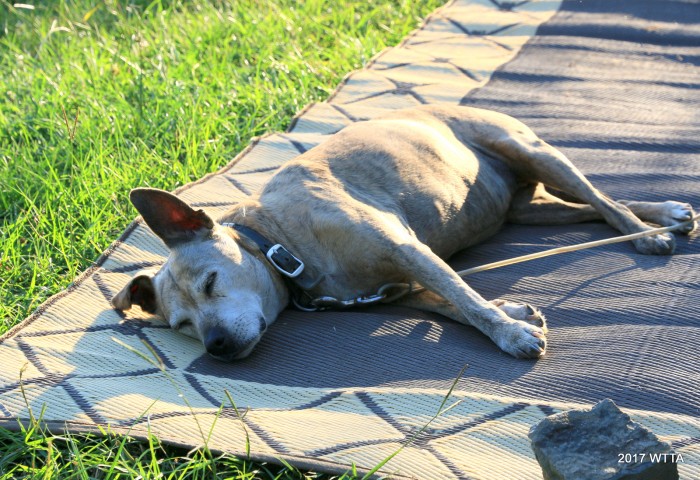 Manure Management:: Bring a manure fork, muck bucket, and several strong trash bags. You will need to bag the manure but can leave the bags to be picked up. There are also two truck beds on the north side of the RV camping area that manure can be put in.
Trail Users: Equestrians, bicyclist, hikers, and motorized vehicles in some areas of the National Forest share the trails/roads. I did see signs on the CNT (Comanche Nation Trail) specifying ATVs allowed on one trail and ATVs not allowed on other trails. We also crossed paths with one ATV and one truck on the back roads of the forest. I saw several tire tracks on trails. We also saw what appeared to be bear tracks.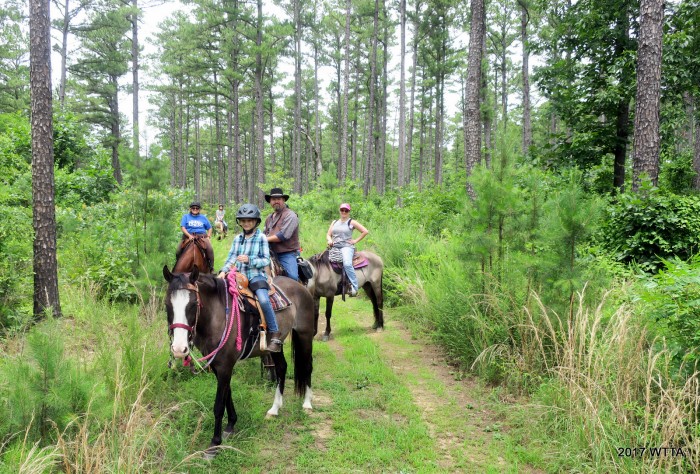 Map: Elfie will provide a copy of a hand drawn map to each person. Elfie also went over the map with us, giving us good ideas of where to ride and the current conditions of the trails. On my last day at the park, Elfie helped me pick out a route that was fairly simple, since I'd be riding on my own, and she was available by phone for me to call if I had questions while out on the trail. Since the map is hand drawn, it is a little hard to read and confusing. The map could stand to be updated but it is still useful. This part of the national forest is bordered to the west, north, and south by roads, and the east has several land marks such as houses and a boy scout camp; making it easier to navigate your way.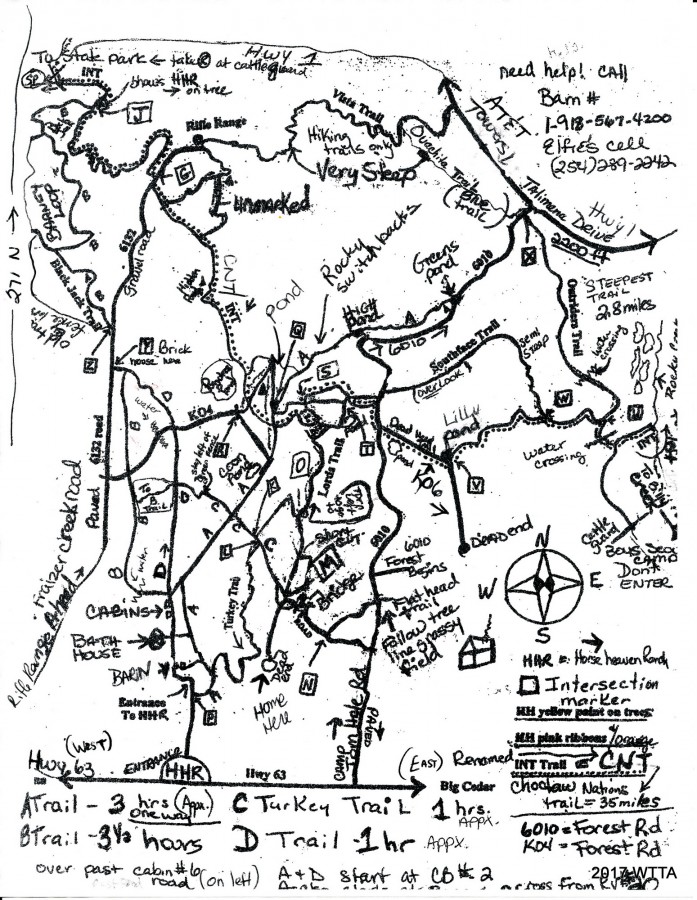 Mileage: The ranch advertises over 100 miles of trails which is highly likely since the ranch provides access to the Ouachita National Forest. There are several trails not listed on the map provided by Horse Heaven, which are not too far from the Horse Heaven Camp. Only a section of the CNT (Comanche Nation Trail, formerly known as the INT, Indian Nation Trail) is shown on this map as it goes further east and west.
Check out this website to learn more about trails in the Ouachita National Forest area: www.ouachitamaps.com
Trail Markers: The trails are marked by small yellow wood signs nailed to the trees, yellow paint on the trees, and also by pink and orange ribbons. It can be easy to miss the small wood signs on the trees if you don't look close enough and there is not always a trail marking at all intersections. The map has letters in a box at intersections which correspond with letters at the intersections on the trail. The Forest Service has cleared paths with red signs and their own letters which are not on the map and this can get confusing. Elfie said that these forest service paths are mostly for forest work and fire breaks. She said you can ride these paths if you want to, but they are not on the map and have nothing to do with the Horse Heaven Ranch.

Terrain: The trails at Horse Heaven Ranch Resort are mostly rocky so please have shoes or boots on all four hooves. Some of the rocks have angled points, so if you are not using boots you might also consider pads with your shoes for protection of your horse's hooves. A few trails closer to the campsite are sandy with minimal rocks such as parts of A where it runs parallel with the barn and cabins, but you will still have quite a few areas on these trails that are rocky. The terrain is also flat to rolling, with some steeper grades. Elfie shared that the northeast side of the ranch, on Southface and Outriders trails have the steeper inclines and rockiest areas, but they also have the best views. She said the best views are on the northeast side of the ranch. She said you can ride up towards Talimena Drive / HWY 1 near the AT&T towers for the best overlooks. Elfie also shared that the Southface trail is really rocky now due to wash outs and on parts of it she recommends getting off and leading your horse. There were several creek crossings along the trail which still had water flowing through. Most of the creek crossing have large rocks rounded and smoother from years of water flowing over them. Almost all of the trails are heavily forested, full of vegetation providing lots of shade. Do watch out for the black berry bushes; they will reach out and grab you with their thorny vines. They particularly favored me for some reason.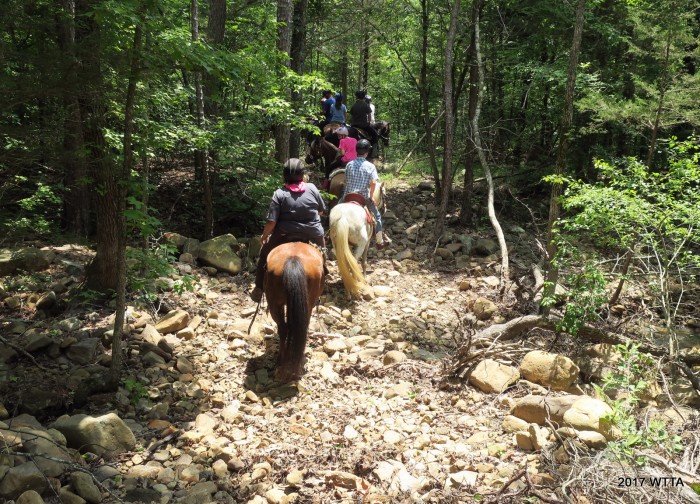 Difficulty: The trails we rode (A,B,C, D, Turkey, Black Jack, parts of CNT, and Flat Head Trails, KO4, Frazier Creek, and 6010 forest roads) during this visit were not difficult but they are mostly rocky. These trails are buried deep in the forest under towering trees and vegetation, which did not allow for open overlooks or mountain views. Elfie reports that the Southface and Outriders Trails are more difficult, rockier, have steeper grades, switch backs in some areas, but provide on the northeast side near by the AT&T towers some great overlooks.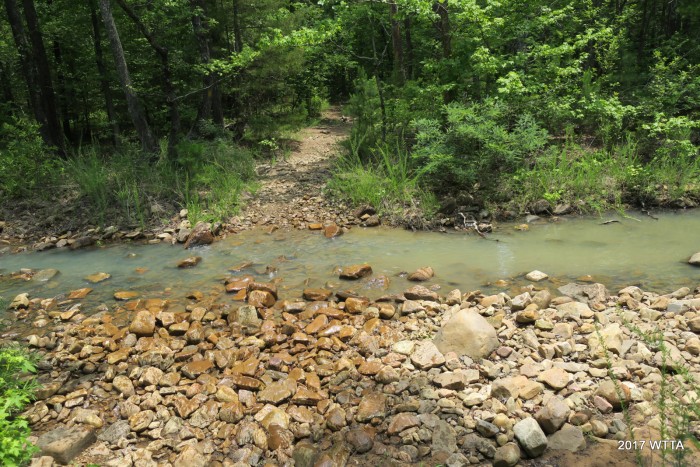 Water: This area of Oklahoma recently had rain resulting in several stream, puddle, and creek crossings. There was lots of water available to the horses on trail. Be aware there are no water troughs set out, the water sources are all natural. If it gets dry enough this will most likely limit water access on trail, especially during summer months.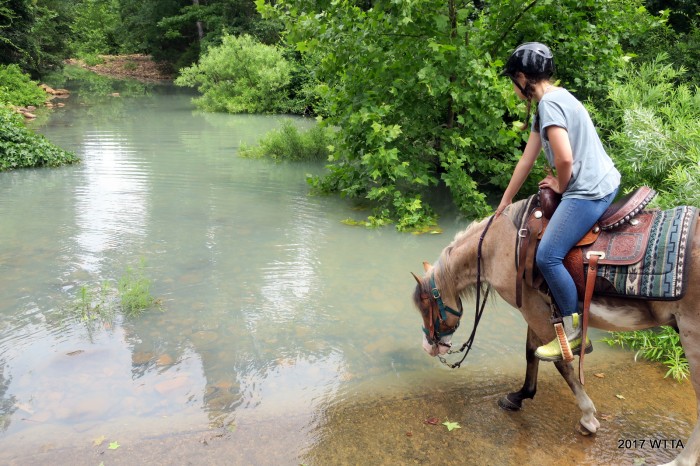 Trails: I really enjoyed the trails at Horse Heaven Ranch Resort. You will find yourself twisting and winding up and down through the thick cool forest. Our visit in June was a little warm so the shaded trails were a big plus. If you don't want to venture off too far, many of the trails are close to the campground or if you are in an adventurous mood you can ride off the map. There is certainly not a lack of trails. Riding out on four separate occasions I was able to take a new path each time. Along the trail we came across deer, armadillo, a beautiful and vocal red tailed hawk, lots of various birds, and lots and lots of large fat rabbits. Our trail boss also pointed out some bear tracks in the mud. Elfie said they do have bears and cougars in the Ouachita Forest, luckily we did not see any. Between the sound of hooves and our group, I'm sure we scared off most of the local inhabitants before we could catch a glimpse of them. This is a place I'd return for future horse get aways.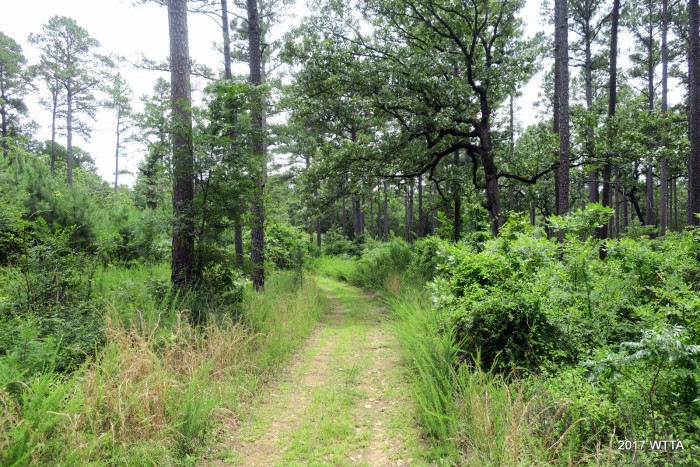 Other Things to Do:
Scenic Drives: Be sure to take your vehicle up to HWY 1 / Talemina Drive for great sight seeing opportunities of the Ouachita Mountains. http://www.talimenascenicdrive.com/
Fishing: Fish in one of the two ponds filled with bass, cat fish, and perch in the Horse Heaven camping grounds.
Visit Talihina: Go out to eat and get one of the best steaks at The Rockhouse Steakhouse in Talihina. Visit this little town and pick up what ever supplies you might need; only seven miles from Horse Heaven.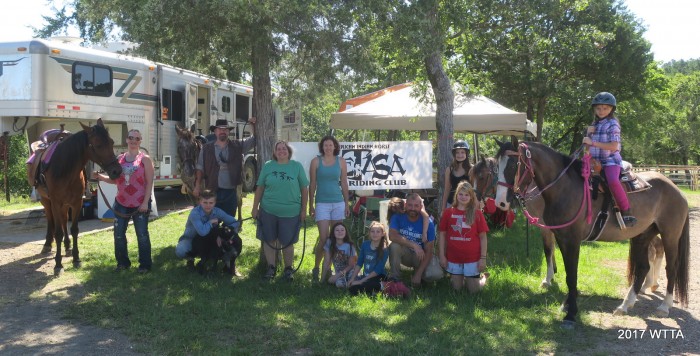 Trail Tale: How I needed a horsey vacation and going to the Horse Heaven Ranch Resort in the Ouachita National Forest was just the fix. I was meeting up with NETASA, our Spanish Mustang/Indian Horse trail riding group. Upon inspection of our trailer it was clear we needed new trailer and truck brakes. That was expensive, but I'm thankful it was caught before we had a catastrophe. I could not catch a break, as now my husband Chris could not get off work, so I was going to have to haul my horse Angel up there 470 miles solo. Well not exactly completely alone, as I had my sweet dog LB along. Lastly, the weather forecast did not look promising with daily rain storms. I felt something was telling me not to go. But I really needed to get away and pushed myself forward with the plan. I was able to break up my travel into two days. I stayed overnight at my Mom's and took her out for a birthday breakfast the following morning before heading off to Horse Heaven. Now that was good timing! Things were clearing up, as then I met up with the NETASA group in Paris. Unfortunately, Curtis and Patty had a flat on their truck, but between Curtis, David, and Chance, they quickly changed the spare out. Patty made for some good company as she rode the rest of the way with me. Thankfully, the remainder of the trip was mostly uneventful with one minor detour resulting in the sighting of a brilliant mountain rainbow, courtesy of Curtis.
June 22nd 2017 we arrived at Horse Heaven, settled into our sites, and had a dinner of hot dogs. Another great thing about being with the NETASA group is that Curtis likes to cook, so I don't have too! We all pitch in $$ for the food and enjoy. We had eggs, bacon, pancakes, sausage, and breakfast tacos; we had simple lunches, and had scrumptious dinners of pork chops, beans, corn on the cob, and fajitas with all the fixings. I greatly enjoyed the skits preformed and antics of David and Michelle's and Andrea's children. We had a blast playing Chicken Foot and Texas Hold'em in Andrea's cabin. The cabin was perfect with a great view of the large pond in front and a quiet secluded back porch with a swing in back. The cabin, RV sites with electric and water, and the bathhouse with hot showers sure made it feel like I was not really camping at all. We were definitely not roughing it.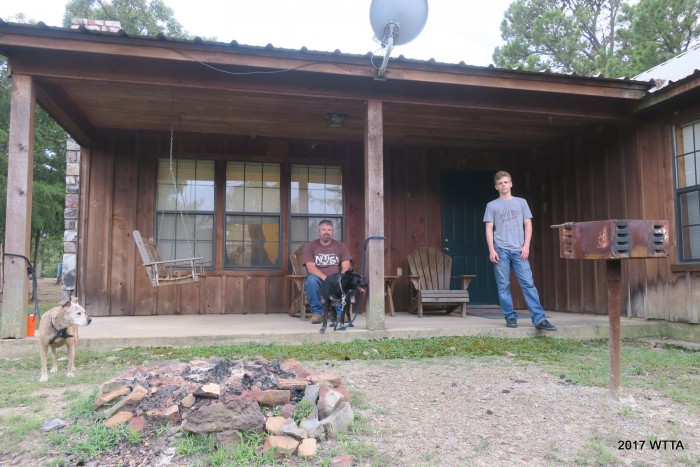 The camping sites (25, 26, and 27) made for great views of the mountains both to the north and south of us. We gazed with delight at the sunsets, fire files, stars, and mountain sunrises. Overnight all I had to do was glance out my trailer window to see that Angel was just fine in her pen.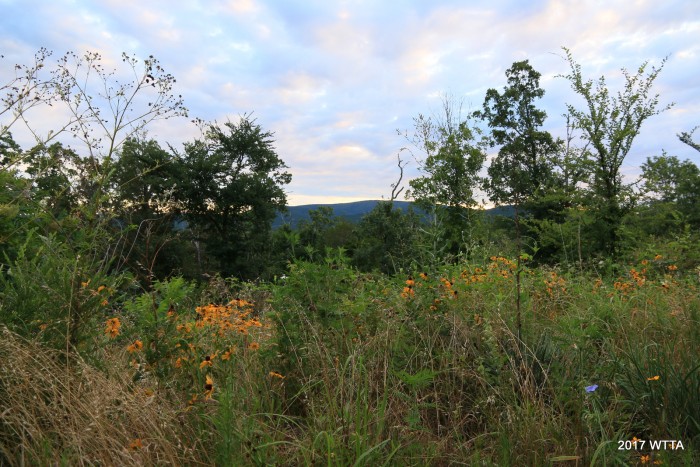 Finally, I'm getting to the highlight of the trip, thirteen Spanish Colonial horses were making their way through the Ouachita National Forest, moving with swiftness and ease over the twisting rocky dense forest trails as if they were raised on them. Stepping over downed trees, carefully picking their way through the rocks, slurping up cool streams, grabbing mouthfuls here and there of sweet tall grass without slowing pace, and looking ever alert as they step forward with purpose and spirit. Our horses were in their element and loving it. This joy of being where one belongs was transferred from horse to rider; I felt in myself and observed it in my companions. Peace, relaxation, and the beauty of nature surrounded us all.

Our First ride out was terribly hot and humid and therefore short as well. We rode a short loop on trails C and D located behind the cottages. The tree cover and creek flowing alongside us gave some relief. Moisture hung thick in the air; we were all ready for the rain to cool things down. It turned out the foretasted rain was a great blessing. That evening, we enjoyed rain showers from under a pop up canopy and watched a distant lightening show to the south of us. The humidity was finally gone and thankfully the showers blessed us with unusually cooler weather for late June in Oklahoma.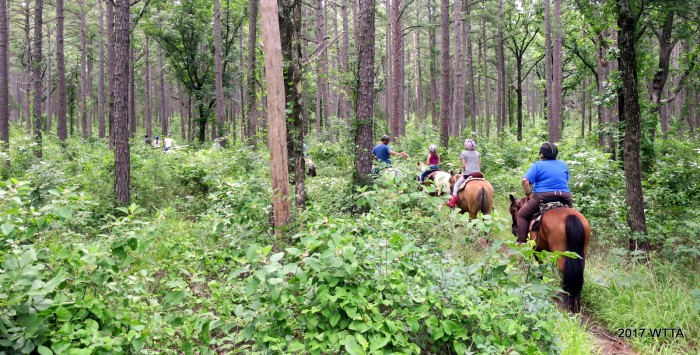 On our second ride we started out at intersection P which is just south of the barn and off of Horse Heaven Lane. There are a few large rocks on the east side of the road with a yellow wooden sign lettered P nailed to a tree above eye level to mark this point. From here we rode to Turkey Trail, to C, A, then K04 log road, to B I think, and then up north for a few strides along Fraizer Creek Road. Then we cut west taking the Black Jack trail loop around and then back to Fraizer Crk. Rd. From here we planned to go left at K04. We were blocked by a cattle guard at this intersection. Luckily Curtis scouted out a way around it, then back to camp we headed via trail B. This made for a great ride of just over 11 miles.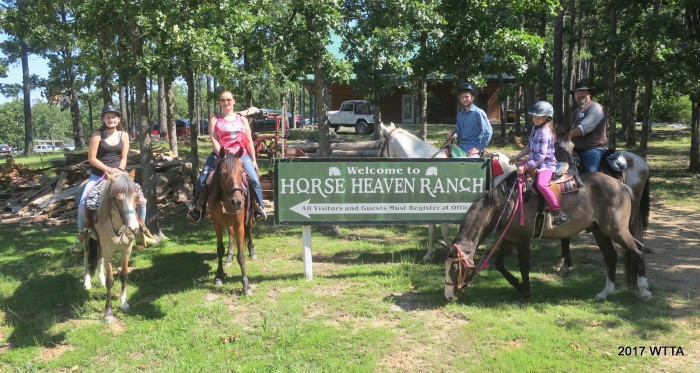 Sunday morning was our last group ride and we were a little thinned out as David's family had to head back early. We enjoyed a leisurely five mile ride from trail A, to CNT, then along the KO4 and headed back to camp by way of the B or D trails which run parallel to each other.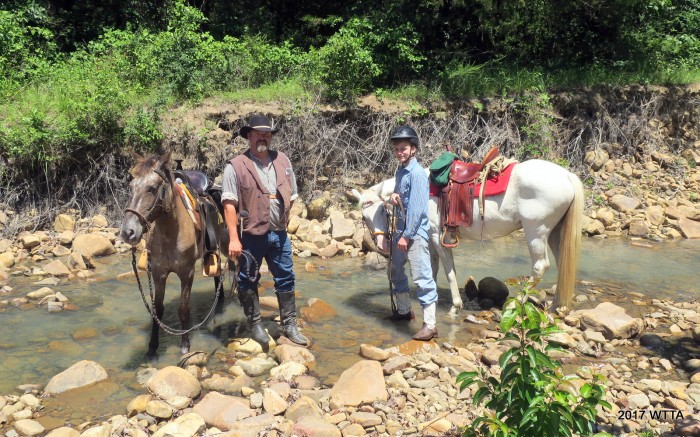 Stopping at a shallow flowing creek to cool off, we soaked our horses hooves, and enjoy ourselves. Of course we took lots of pictures too. I shared an apple with Angel. I love to pack trail treats that both I and my horse can enjoy. It was lovely not to be in a rush. Once back in camp we enjoyed lunch together and I said goodbye to our NETASA group.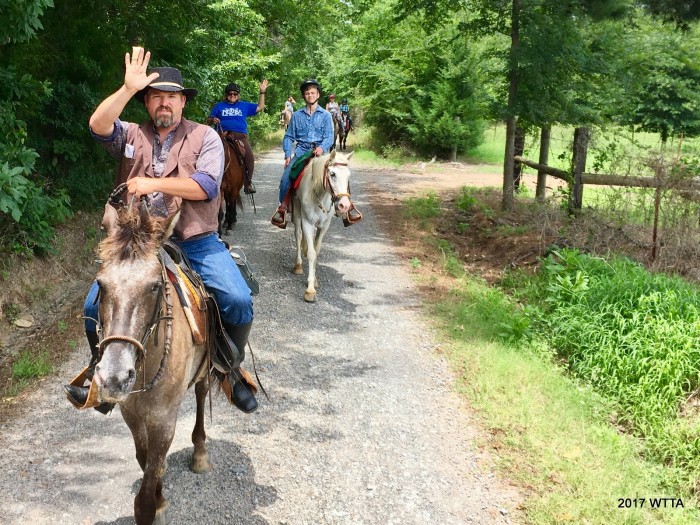 I still had one more night at Horse Heaven to enjoy before heading home. That evening I went out with Angel on an easy two and a half mile ride around the camp grounds and down one of the nearby forest service clearing paths. With the exception of two other RVs in camp we almost had the place to ourselves. I was looking forward to getting in one more ride before leaving tomorrow morning.
Monday morning, Elfie walked her dog over to my site and we settled up the bill. She recommended a route that would be about a two and a half hour ride, which was perfect. She was very helpful and went over the route with me. Elfie said I could call her if needed. Yes, there is fairly good cell service on the trails in this area. Angel and I headed north on A trail. I love that I can ride her with confidence in a group or independently, she is so versatile and the best horse I've ever partnered with. Since I was not in a group this time around I got to see little bit more of the wild life, no bears or cougars though thank goodness.
Starting out on trail A we (my horse, Angel, and I) crossed paths with an armadillo and a few deer. I was not fast enough with my camera to catch a shot of them.
We cut east on the CNT trail which is fairly rocky and had a few creek crossing. We came across a hitching post and wheel barrow structure put together with dead fall and orange bailing twine next to a rock fire pit. This must be a hikers tent camping spot.
The CNT trail branched off into two trails, one with a ATV sign and the other with a no ATV sign. I did not realize I might run into an ATV on trail. I think these trails eventually came back together. From then on out I noticed lots of tire tracks along the trail. I later asked Elfie about this. She said it was unlikely I'd run into an ATV on trail on a Monday. She said the ATV's are usually only on the CNT and logging roads.
Along the CNT, we passed a copper colored pond. Here, there was also a forest service path to the left which we passed by.
We continued on CNT and then came to the 6010 gravel road. A red sign pointed us to the right/south.
Angel and I went along this road for a few miles before our next junction. On this road, there was no traffic and we did not see another soul. From here we had a few glimpses of a mountain range to our south.
Just as Elfie and the map points out I came to a house. Angel was happy to greet three horses pastured next to this home.
Here there is an open field to the right. I rode down the right side of the field and kept the trees to my right, as the map and Elfie instructed.
I soon saw the pink ribbons, we picked up flat head trail heading southeast. I enjoyed this short trail through the woods and it was well marked with several ribbons.
Flat Head eventually opened up to another road. I did not see a name for this road on the map or on the actual road.
Turning right at this nameless road eventually took us over a small wooden bridge.
I continued to followed the road a little ways, then turned right off the road onto a trail before hitting the intersection labeled M on the map. Here I got a little confused and thought I was taking the Lord's Trail by going right but soon saw the yellow wooden sign nailed to a tree with the letter C. This worked too and just made my route slightly shorter than anticipated. I'm not sure how I got off my planned route but the good news was, I was not lost.
From trail C, I went left to Turkey trail, and then on A to head back to camp.
Angel and I had a great ride. My Angel, as usual, was steady and dependable.
I thanked Angel for being so awesome. I hosed her off then gave her some hay to enjoy while she rested and I packed up camp. We said goodbye to Horse Heaven and headed home.
Heading Home:

This time I was the one to get a flat tire on HWY 2 just four miles north of Antlers. I had to get off the two lane highway, as I was on a curve and it was a dangerous spot. The grassy side of the road was at an awkward incline which caused other problems. When I weighted my options, I'd rather be in an awkward position than get hit on the side of the road. Just keeping the door open at that angle was a challenge. I got out the spare tire key and jack handle and started putting them together to get the spare out from under the tuck. However, with the trailer attached and being at such an incline things were difficult. I also was not sure our jack could handle the weight of our truck with the trailer in tow. Then I thought to myself, why am I doing this. Honestly I was not so sure I knew what I was doing. People kept coming by that I did not know wanting to help. Everyone seemed friendly enough, but I just told them I had someone coming.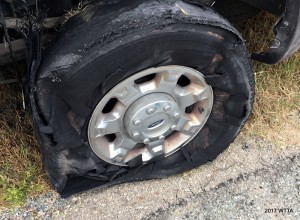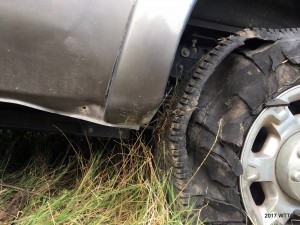 I decided to call a tire shop in Antlers. Isaac with Kiamichi Tire Service was by in no time. However, he also could not change the tire due to the incline the truck and trailer were at. I had to put it in four wheel drive low and drive up a hill and over to the right further away from the road to get on level ground. It was slow going as the rim was digging into the ground while the truck labored along. Once in a better position Isaac got the spare out and tire changed.
Getting back up to the highway was another ordeal. 4×4 low was a no go. Isaac suggested I try 4×4 high and go straight up and out instead of gradually going up at an angel. It took some effort but this plan worked. Problem was, once the truck got up on the road the angle of the truck bed and trailer nose was too much and the bed of the truck hit the trailer nose causing some minor damage to the truck bed, damn!
I then followed Isaac into town to pay my bill and get all my tires checked. Thankfully the rest of the tires were fine. Angel had enough and was stomping impatiently in the trailer. I found a nice grassy area to take her out of the trailer to give her a rest and make sure she was ok. Angel enjoyed grazing for about an hour. She also had a nice roll in the grass, some hay, and drank a good amount of water before we headed back to my mom's. She was just fine.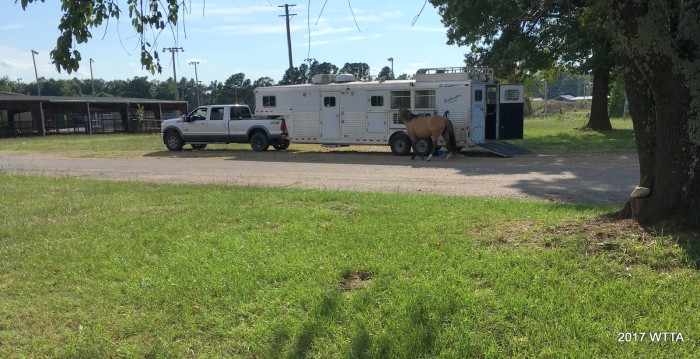 We were a bit off schedule now and I decided to take the back way staying away from Dallas, so we finally got to my mom's around 12:30am. I had a good long visit the following day with family and headed home once it started to cool off some time around 7pm. If anything were to go wrong again, I did not want to be on the side of the road midday in June in Texas. Luckily, there were no more hiccups and we made it home just fine. I learned that I need to practice changing truck and/or trailer tires while the trailer is attached. I also learned, if I'm going on a long trip I'm going to have an extra spare within easy access in the bed of the truck. Lastly, don't worry about ruining the wheel rim, if you are in a bad spot just keep driving slowly on the road with hazards on until you can get to a better area. Looking forward to my next camping trip but hoping next time I'll have someone along for ride, as a horse and dog can't really help much with changing a tire.
Photo Gallery:

Website: Davis Mountains State Park
Contact: Park phone number #432/426-3337  Reservation phone #512/389-8900 or Texas Reserve World
Location: Fort Davis, TX – southwest of Fort Stockton
Mailing Address: P.O. Box 1707, Fort Davis, TX 79734
Directions: The Davis Mountains Park Headquarters directions: Coming from Fort Davis on State Highway 17 take State Highway 118N, and then west on State Highway 118N for three miles to the Park Road entrance on the left. Latitude (degrees, minutes, seconds) N: 30° 35′ 56.83″ Longitude (degrees, minutes, seconds) W: 103° 55′ 46.09″
Equestrian Day Use and Camping area is called, Limpia Canyon Primitive Area , and is located on north side of Texas 118 about two miles outside of Fort Davis.  The entrance has a brown metal gate locked with a chain and combination lock.  You can get the combination from headquarters or call before 5pm if you will be getting there after 5pm to get the code.  The entrance is short, so if  you have a long rig, more than 30 feet and the gate is closed the backend of your rig will be sticking out in the road while you are opening the gate. Park headquarters is located on the opposite side of TX 118 from the equestrian use area.  If you are coming from Fort Davis, the entrance is on the right just before you get to the park headquarters entrance.  If you are coming from IH 10 going south and then east on TX 118, then you will pass the park headquarters on your right and the equestrian area will be the next entrance on the left.
Camping: Horse camping is allowed at Limpia Canyon Primitive Area.
Fees: (Fees are subject to change – check directly with the park for the most up to date information) Primitive Equestrian Camping at Limpia Canyon $10.00 a day -8 people are allowed per site  and total number of sites is 6.  The sites are not numbered or marked. Day Use $6.00 daily per person / ages 12 and under free
Facilities: Horse day use and camping is allowed in a cabled off section at Limpia Canyon Primitive area.  This is an open field with one water trough.  Nothing else is located in this field.  There are no horse pens, no shade trees, no mounting blocks, no picnic tables, no electricity,  and no porta potty. There are two large rocks which could be used as mounting blocks. The area is cabled off on 0ne side with three foot wood posts and a wire cable running through them. On the back side is a brush tree line and decline leading to Limpia Creek. I was able to lead and ride my horse to the creek to drink.   The surface of the equestrian area is fairly flat/level terrain, but bumpy due to mole's digging up the ground.  The area is slightly narrow but long, sort of like a rectangel.  This area would be easy for a truck and averaged sized two horse trailer to maneuver but a little more difficult for a larger rig or living quarter trailer.  The entrance is fairly narrow but manageable if not crowded.
You can tie your horses to the trailer, high tie between trailers, bring panels, or use an electric fence.  There are really no suitable trees to tie to.  For this trip my husband, Chris, put together an electric pen.  This was the first time I've used an electric pen for camping.  We do have electro braid fences at home so my horse is used to it.  The ground was cooperative in some areas and uncooperative in other areas in accepting the step in posts and grounding rod.  In the end it all worked out great and Angel respected the fence.  Thanks Chris! Davis Mountains SP also offers RV camping with water/electric hook ups, a hotel (Indian Lodge) with swimming pool, and restaurant on the south side of TX 118. However, horses are not allowed on that side of the park.  There are also restrooms and shower facilities on the south side of the park.
Cell Phone Service:  poor to no cell service in most areas.
Pets/Dogs: Pets/dogs are allowed but must be on leash and not left unattended.
Trail Users: Equestrians, hikers, and mountain cyclists. No motorized vehicles are allowed on the trail.
Trail Markers:  I only saw two or three trail markers at most, the trails are very poorly marked.   However, the park does have new trail signs they plan on installing soon. On the upper loop the location of the water well and primitive dry tent campsites numbered 94 – 100 are also marked on the map below and can be used as well as the views of the MacDonald Observatory center, Indian Lodge, Limpia Canyon campsite, and park headquarters to help navigate.
Mileage:  North of state highway TX 118 Davis Mountains SP has approximately 11-12 miles of multiuse trails to include equestrians.  Horses are not allowed on the other side of the park, south of TX 118. The trail from Limpia Canyon Primitive Area up to the loop is about 2.5 miles one way and the outer loop on top of the mountain is about 6 miles. There are also some jeep trails on the top which are not included in this mileage.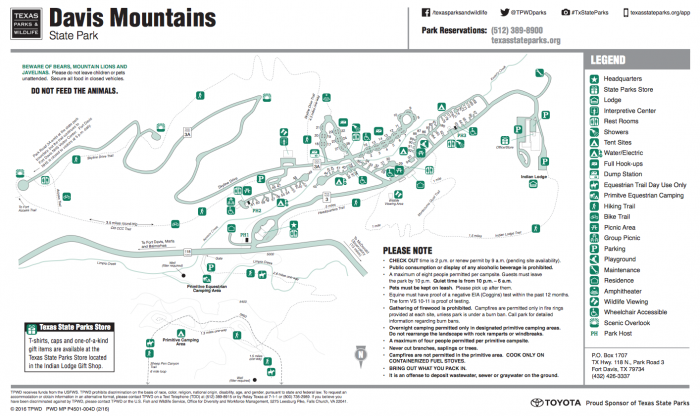 Map: A map of the facility (posted above) can be found on line but does not show much detail regarding the equestrian trail.  You can ask for a slightly more detailed map at park headquarters showing the multiuse equestrian trail and it is also posted here below.  According to park staff they are in the process of creating a new trail map.  So be sure to ask at headquarters for their most up to date map.
Terrain: The terrain is rugged, hilly, and of course rocky.  Shoes/boots for your horse are a must.  To get up to the loop, one section of the trail consist of switch backs to decrease the incline and another short section of the trail on the way up and back down has a drop off on one side.  The park states they plan to eventually widen this section of the trail.  There is no shade or cover on the trail so bring along your hat and sunblock.
Difficulty Level: The trail is challenging in areas and I'd recommend riders to be at least moderately experienced.
Water:
At Camp –
There is a non-potable water trough located in the horse camping area at Limpia Canyon Primitive campsite.  When we arrived this trough was empty but the park later turned it on.  Also at the back of the camp is Limpia Creek.  During our visit the creek was small but my horse was happy to drink from it.  There is no other water sources at the campsite.
On Trail-
On the lower part of the main trail (leaving Limpia Canyon) you cross Limpia Creek three times.  At the first crossing there was a great watering hole to the south but the other two crossings were dry.  However, I'm sure this varies depending on how much it has rained. From the looks of the old bank boundaries carved out by high waters, Limpia creek has been more than a creek in the past and is even prone to flooding in the right conditions.
Once on the upper part of the trail, Sheep Pen Canyon Loop, I only saw one water source, the well, which is marked on the map.
Solor powered well on Sheep Pen Loop coordinates:  30°37'16.0″N 103°56'09.4″W Well location on Google Maps
Description: Ride high in Davis Mountains State Park just a few miles west of the highest town in Texas.  At 5,050 feet, the mile high west Texas city of Fort Davis is the most elevated city in the state.   Davis Mountains SP encompasses approximately 2,700 acres.   The park opened in 1933 and was one of the Civilian Conservation Corps earliest projects. Texas Highway 118 runs right through the state park cutting it into north and south sections. The north section is on approximately 1,500 acres and has eleven miles of designated rugged multiuse trail for equestrians, hikers, and mountain bicyclists waiting to be explored. Six miles of this trail was most recently completed in 2015.  The new trail makes a loop at the top of the mountain and is named Sheep Pen Canyon Loop. Starting at 4,900 feet in Limpia Canyon Primitive Area the rocky trail winds up  800 feet to the top of the mountain reaching 5,700 feet in elevation.  Once on top, you can see for miles and miles!
I decided to visit Davis Mountains State Park for two reasons; to combine two delightful tasks in one.  Number one, to visit a life long high school friend, Karen, and her family who reside in Fort Davis. Number two, to ride my horse in a park which I've never visited before for a write up on Where The Trails Are.   Arriving in early March made for perfect weather.  Although due to the higher altitude, it was a bit cooler during the evenings than I had expected.  I've heard the Texas Summer heat is much milder here and there really is not much humidity in this location.  Since we were due to arrive after 5pm I called the park before 5 to determine the check in procedures for late arrivals.  We were given the go ahead to drive directly to our camp site, the combination lock for the gate was provided, and we were to check in and show proof of negative Coggins at the main office the following morning.  A few RV non-equestrian campers came over from the other side of the park.  Evidently they were all full on the South side due to spring break. We were the only equestrian overnight campers during our stay.  Our new non-horsey friends enjoyed petting Angel and taking a few pictures of her.  They were also curious about our living quarters horse trailer.  Chris made camp and set up the electric pen for Angel.  We enjoyed a tasty taco dinner made by Karen's husband Tim. The skies were clear and night fall brought on a whole new perspective.  Dense unpolluted darkness made for a spectacularly brilliant star studded night. Each time I woke up to check on Angel the skies capture my eyes and filled my heart with wonder. You can't visit Fort Davis without also making a trip to the MacDonald Observatory, as this is some of the best country for star gazing.  Karen had made reservations for us to visit the observatory the day before our departure!
The following day my good friend Karen joined me for a short ride to try out her new horse, Kitty.  It was like old times when we used to ride together as teenagers!  After our ride Karen enjoyed the peace and tranquil views of Limpia Canyon while visitng with Chris.  Before riding back out on Angel to explore the mountaim trails a day rider arrived from Alpine. I was excited to make some new friends and have someone to share the trail with. Pilar with her BLM Mustang, Ute, and her friend Travis with his rescued Doberman Pinscher were happy to have me  join them on the trail.  This was also their first trip to the park.  Travis is a cross country runner and had no trouble keeping up with us on foot.
Setting out from Limpia Canyon Primitive area, the trail was initially flat and took us across Limpia creek three times.  At the first crossing there was a great watering hole to the south but the other two crossings were dry.  From the looks of the old bank boundaries carved out by high waters, Limpia creek has been more than a creek in the past and is even prone to flooding in the right conditions. The creek was mostly dry on this day exposing tons of rocks made smooth from years of  water streaming over them.  The first trail sign steered us to the right and gradually zig zigged north up the mountain.  The trail straightened out following the side of a hill before starting up again. We passed over the base through a two trunked tree growing up out of the ground in a V shape. On our return Angel felt she had to snort at this odd tree before stepping through it again. The trail did narrow some with a short section having a drop off on one side.  Once on top we took Sheep Pen Canyon Loop to the left. Views of the mountain range, ranches, MacDonald Observatory, Indian Lodge, and Fort Davis stretched out for miles before our eyes.  Angel seemed to enjoy looking out at the horizon as much as I did.  However, she did grow impatient with my constant picture taking.
Along the trail we came upon an unusual looking stone well with a water trough at it's base.  "Abirel 8 1948" was etched in cement at the base of the well.  I could not help but wonder if that was the Spanish word for April (Abril) misspelled or if it is someone's name?  An old rusty windmill base rested on the ground with it's twisted wheel a few feet away. At one point I'm sure this old windmill ran the well, but now it was laid to rest on top of the mountain.  Sunrays soaked up by solar panels now keep this well running strong.  Angel was a little hesitant to drink from the well but soon realized there was no harm.  Take time here to really encourage your horse to drink, as I saw no other water sources at the top on Sheep Pen Canyon Loop.
From the well, we followed a two track jeep trail going north.  Pilar saw a more interesting one track trail to the left just to the outside of the jeep trail.  She followed that trail and I stayed on the jeep path for a while. We were able to keep each other in sight most of the time.  Angel called out to Ute a few times.   The Jeep trail ended up going down into a shallow ravine and disappeared.  Pilar rode over and we went back to the one track trail which was most likely the Sheep Pen Canyon loop.   The jeep trail seems to run north and south of the well to the primitive mountain campsites and is the only path on top of the mountain which has a fairly level surface with less rocks.  We continued on Sheep Pen Canyon Loop and eventually came to the primitive tent campsites numbered 94 – 100.   This gave us a good idea where we where when looking at the map, as this is also marked on the map.  Currently there are hardly no trail markers. Instead of circling around to the right which would eventually take us back down the mountain and back out the way we came in, we headed to the left / southwest and were going up an incline.  There is a section of trail that heads that way and just dead ends, according to the map.  I think that is what we were on.  Since we were ready to head back, Pilar scouted out a bit to pick up our return trail and we ended up back tracking to the primitive campsite area to pick up the correct trail and head back.  On our way back we had a great view into Limpia Canyon Primitive Area campsite.  I wanted to yell out hello to Chris who was down below, but decided against it as I did not want him to think I was yelling for help.   On our way out of the loop the sweet fragrance of Mountain Laurels were strong as we passed a few of them on the verge of blooming.  The treck back down the mountain went smoothly and we were back to camp in no time.  Although we had only covered about 11-12 miles of trail we were out for about four hours as we stopped often to admire the views and for me to get a few pictures.  Due to the rocky terrain a walk was the gate we maintained most of the time.
The following day before leaving I took Angel on a short last ride in the park.  Because I saw a serious looking mountain cyclist heading up the mountain I stuck to the lower trails.  I did not want to be heading up some of the narrow sections of trail while the cyclist was coming down.  Chris walked LB (our sweet little brindle Pit Bull mix) along with me part of the time and we got some good pictures by the first watering whole.  I also explored a very short spur of trail which leads out of camp and curves back around to the main trail.   This trail was a little hard to follow near the creek but we were able to pick it back up. Angel did a great job crossing the creek where it deepened and narrowed with thick sand on both sides.
For the rest of our time in Fort Davis we camped out at my friend, Karen's place and had a blast with them visiting the fort and observatory.  We also were invited to get a quick look at the Davis Mountains Preserve (DMP), part of The Nature Conservancy.   The DMP is opened a handful of times a year to equestrians, campers, hikers, and cyclist.  The horse pens were in great shape and this looks like another great place to ride in the Fort Davis area.  I'll definitely be back to explore these trails.
Nearby Places to Visit:   There is so much to do in Fort Davis making the drive well worth the trip.  Here is a small list of places to visit in the area:
Fort Davis Historical Site, a very well restored frontier period military fort which often has reenactments and educational activities.
McDonald Observatory , an astronomical research center that also has many public education programs and activities.
>Overland Trail Museum, displaying exhibits of local history, culture, and records. #432/426-3404
Balmorhea State Park, the world's largest spring fed swimming pool.
Fort Davis is also not far too far from Big Bend State and National Parks.
Additional Trail Photos: View the Davis Mountains SP album on our Facebook page for more photos.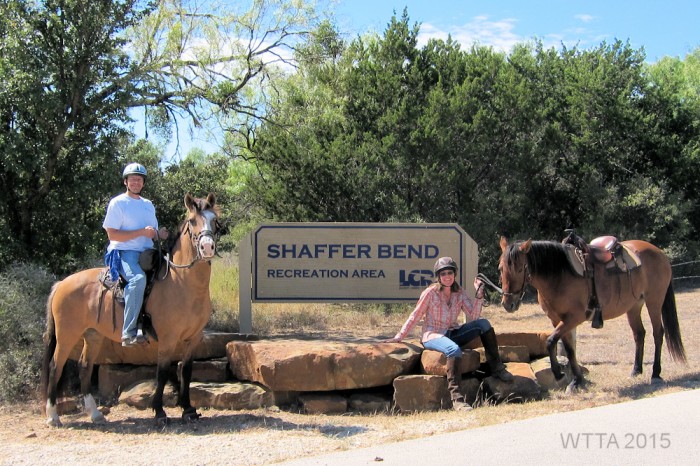 Website:
Shaffer Bend Recreation Area link
Contact:
512/473-3366  or 800/776-LCRA ext. 3366
Reservations:
Call 855/392-7638 or visit – reserveamerica.com
Location: Northwest of Austin, TX
706 County Road 343A, Marble Falls, TX 78654
Directions:
In Marble Falls, at the intersection of 281 and 1431 – take 1431 east for approximately 9 miles, then turn right on County Road 343A and go approximately one mile on 343A which takes you to the park headquarters/entrance.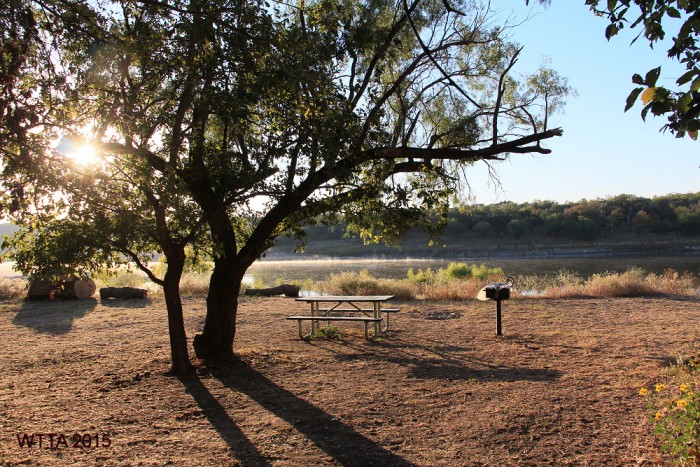 Camping:
Overnight Equestrian Camping is allowed.
Coggins:
Required
Dogs:
Dogs are allowed but must be kept on a leash.
Cell Phone Service:
The cell phone service was fair to good.
Fees: (fees may change so please be sure to check with the park for exact pricing)
$5.00 per adult
$10.00 per night for camping
Facilities:
There is one restroom at the park entrance.  There are a total of 26 designated campsites.   Most of these sites can be used for equine camping but some are more suited for horses than others.  Each site has one or two picnic tables, a fire ring, and a grill.  The sites do not have gravel pads or concrete pads to park on, so they will get muddy when it rains. There are no water or electrical hookups.  All sites are primitive camping.
The group campsites #25 – 26 are the only sites with horse pens.  There are a total of four uncovered 12 x 12 pipe pens at these sites, picnic tables, at least two very large trees, a fire ring, and a deluxe grill for barbequing.  The pens have wide openings between the bottom and top rails and I was sure my little bay mustang would be able to step right through the middle of the pipe fence and then go whereever the grass was the greenest.
We stayed at site #15 which was perfect for a large rig and we high tied the horses to the trees using tree savers.
Sites 15 – 26 are the farthest from the park entrance, about 2.7 miles from the entrance on a mostly gravel road. There is one portable toilet located in the center of these sites.
Mileage: Shaffer Bend has approximately 7-8 miles of trails.  I rode most of the trails on the outer boundaries of the park, taking Lakeview to Cara Cara, to Dagger, to Equine, and then to Homestead Trail. I  skipped most of the middle trails on this ride, which totaled just 5.39 miles according to my MotionX app.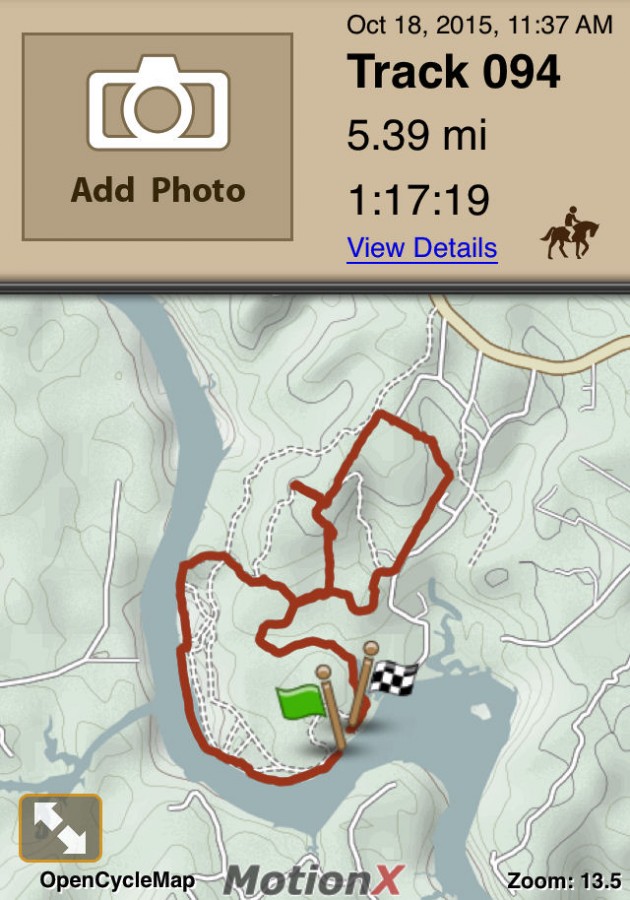 Map: The map below can be requested at the park entrance.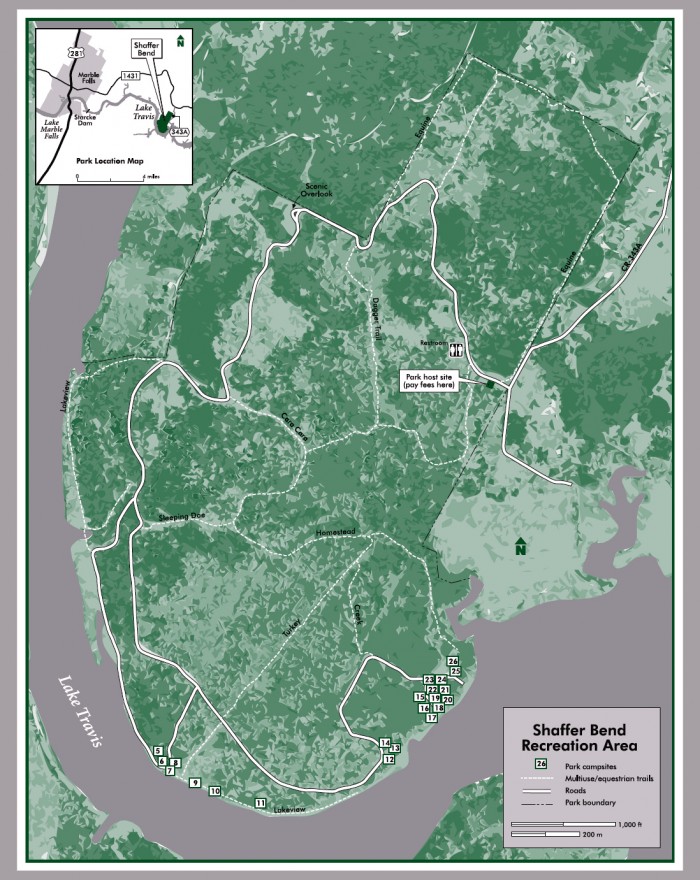 Trails / Terrain: The terrain varies from sandy flat and low when closer to the lake and hilly/rocky when further away from the lake.  Dagger and Equine Trail are especially hilly, rocky, and have some nice overlook areas. Dagger Trail has a good size rocky hill incline and leads to a beautiful overlook.  Several areas on the Equine Trail are rocky and somewhat hilly.  This trail follows parts of the park fence line / boundary and so you will be riding behind some houses which are on the other side of the fence.  One house has a barn type of structure with several animals (which can't be seen but can be heard) that my horse got just a little nervous about.  There was a length of purple tape along the fence marking this spot, so be ready for a possible spook when you pass this area.   Lakeview Trail is sandy, flat, and offers lake access and great views of the lake.  The Homestead Trail will take you from camping sites 25 – 26 to the park entrance.  Most of this trail is free of rocks but it is rocky in places and has a few small rolling hills.  Cara Cara, Sleeping Doe, Creek, and Turkey Trail are mostly flat and rock free trails. The trails are well marked and easy to navigate.
Description:
Shaffer Bend Recreation Area is one of several Lower Colorado River Authority parks located off of Lake Travis which is horse friendly. This park consists of 532 acres of lakeside and Texas Hill Country trails.  Shaffer Bend is perfect for a day trail ride or a short one or two night camping trip; it won't take long to traverse the 7 to 8 miles of trail.  Although it is a smaller sized park, it is beautiful. There were several campers during our visit in October.  At the campsites a few children enjoyed riding their bikes around but we saw no bikes on the trail during our one night stay in the park.  We did not see any other horseback riders either.  I did pass two groups of hikers while riding on the trails.  We also saw a few boats and kayaks in the lake.  When you want to get away but can't be gone for long, this is an ideal spot to visit. Other activities in the park include hiking, biking, swimming, fishing, and boating.  Dogs are also welcome as long as you keep them on leash.  Be sure to haul in your own water since there is no running water available.
We also took the horses a short walk down from our site to the lake.  As you will see from the pictures, they really enjoyed playing in the soft sand and water and munching on the lush lakeside grass.
Pictures:
On The Trail –
At the Campsite –
Fun Pictures –