Parrie Haynes Equestrian Center
Parrie Haynes Equestrian Center remains open to horseback riders!
Website: www.parriehaynesequestriancenter.com
Location:
13816 N. Maxwell Rd. (East Unit- Equestrian Center)
Killeen, TX 76549
(Please note when you Google this address it does not take you to the correct location)
Contact: Ona Trubee spottedhorselivery@gmail.com 254-394-0330
Directions: Parrie Haynes Equestrian Center is centrally located within 3-4 hours of the Houston, Dallas, and San Antonio metropolitan areas, one hour north of Austin, and 13 miles south of Killeen.
Step 1:
-Traveling from Waco I-35S, take Hwy 190 west at Belton. In Killeen turn south on Hwy 195 for about 13 miles, then turn right on FM 2670. If you cross the Lampasas River Bridge you have gone too far. Go 3.7 miles and take right on North Maxdale Road.
-Traveling from Austin I-35N, take Hwy 195 north (exit 266) & drive for 24 miles, traveling through Florence and crossing the Lampasas River, then turn left on FM 2670. Go 3.7 miles and take right on North Maxdale Road.
Step 2:
-The East Unit is located at 13816 North Maxdale Road – The multi use entrance is 2.2 miles straight on North Maxdale Road, on the left past the main ranch entrance. The entrance to the camp is through the second set of double silver gates. Proceed down the paved road until you come to the iron ranger. Payment is required before parking.
Overnight Equestrian Camping: allowed!
Cost (rates are subject to change so be sure to call or e-mail Ona Trubee for details and reservations):
You can pay in advance through PayPal and have your site reserved or you can pay when you get there by placing your payment in the honor box.
-Day Use: $10 per rig – this includes two horses, but it is an extra $5 for a third horse.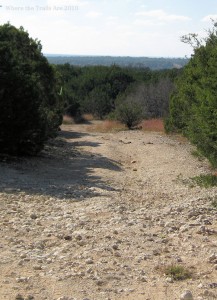 -Overnight primitive camping: $10 per 24 hour period per rig
-Overnight, with electrical hook up: $20 per 24 hour period per rig – this includes pens, it is an extra $5 for a third horse.
-Cowboy Cabin: $60 for the weekend-  reservation only
Rustic bunk lodging. Includes primitive parking for one rig. Maximum capacity is 5. Towels, bed linens and cooking utensils are not furnished. Horse pens are located behind the cabin.
-Hideout Clubhouse: $150 per 24 hr period- reservation onlyThe Hideout Clubhouse has a commercial kitchen for guest use, tables with seating for 40 people, an indoor meeting room, and covered porch. 24 hour rental is available on a daily basis beginning at noon.
Hours: The Ranch is open 24/7
Facilities:
Parrie Haynes Equestrian Center /East Unit has 30 camp sites with 30-amp electrical and water hookups with two side by side 10×10 pens each . There are about a total of 64 pens if you count them individually. Some of the sites now have three pens. The pens are made of thick metal piping and are sturdy.  There are additional sets of two side by side pens and large oak trees to accommodate many primitive campers and day riders.  There is a huge field for additional trailer parking and primitive camping.  There is also a round pen. The park provides wheel barrows and designated areas to dump manure so you don't have to pack it out.  Several water faucets are available for use as well. There are showers and what is described as vault toilets .  I had no idea what a vault toilet was until I saw them and Googled the term.  It is basically a high class outhouse, a cement hole in the ground with a toilet and building
on top. The vault is seeded with chemicals to prevent odor and disease . It is regularly pumped out and retreated. There is also a cowboy cabin and club house which can be rented out.  There are a few picnic tables scattered throughout the trail head.
Mileage: The East unit trail head opens up to approximately 25 miles of trails.  There are three different trails which are color coded.  The RED trail is 6.5 miles, the BLUE trail is 9 miles, and the YELLOW trail is 10 miles.  Each trail has a colored arrow marking it.
Trail Markers: Ona has shared that the trail markers have been improved. The trails are color coded with different color painted rocks and some posts with colored arrows as well.
Map: Parrie Haynes Equestrian Center Trail Map (Scroll down to the second page to see the color coded trails). Be sure to print out your map from home as they do not generally give out the maps at the center.
Terrain: The terrain at Parrie Haynes is most definitely rough but beautiful Texas Hill County with plenty of rocks and cedar
trees. Unless your horse's hooves are extremely tough your mount will most likely need shoes or boots.  There are a few trails which are flat and free of rocks but the majority of land is quite rocky.  These trails wind in and out of woods and there are plenty of trails out in the open with no shade as well.  You will surely enjoy the Hill Country scenery.  There are some water crossings and a few water troughs along the trail.
Description:
The Texas Juvenile Justice Department currently holds the trust to Parrie Haynes Ranch.  The Equestrian Center located on the east unit is leased to Ona Trubee. Ona is excited to manage this Ranch and continues to add improvements. As we all know making improvements and adding additional facilities requires an income.  So be sure to bring your horses and experience this beautiful piece of Texas to the fullest so we can keep these trails open and keep adding improvements.  The 4,500 acre Ranch is divided into two units, east and west. The west unit is leased to C5 and Coca-Cola who have invested nearly four and a half million in buildings to be used for programs serving disadvantaged youth. Ona has permission to ride on the west side of the Ranch, so equestrian trails are open on both sides!  Parrie Haynes Equestrian Center/East Unit seems to be primarily set up for equestrians but the trails are also shared with hikers and cyclist.  On my two day ride at this ranch I saw no hikers or cyclist.  I stayed one night in the primitive camping and was happy with the 10×10 pen for Angel and she was happy not to be tied to the trailer. Running water was not located too far away from my camping location.  The vault toilets were clean but a good hike from where I was camping which was fine by me. Everyone was friendly and I felt safe.  Angel and I thoroughly enjoyed the trails and took in some nice hill country views.  Please see the review below provided by Karen Boone.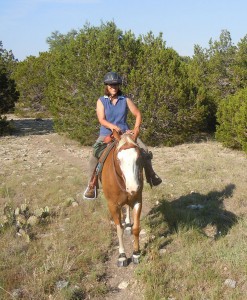 Review:
Provided on January 2nd 2011 by Karen Boone (Thank You!)
This is a first come first serve equestrian camping area.   I was not impressed by the full RV hookup area.  It was very rocky and the pens were small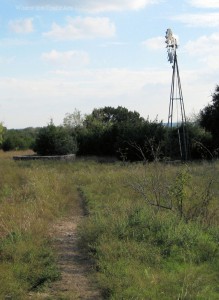 and VERY rocky too.  If you can swing it the primitive area is much nicer and has a lot more shade.  They also have a Cowboy Cabin which is listed on the website, but I do not know anything about that.  The bathrooms and showers were ok.  We chose not to use them.   The trails are right off the camp area and are awesome.  Make sure you bring a "color" map as it is very easy to get lost.  All the trails are color coded with strips of tape and are easily missed if you are not looking.   I would recommend shoes or boots for your horses as these trails get very rocky.  There is water for the horse's along the trails and if not too dry, plenty of streams.   One spot not to miss it the waterfall / swimming hole area.   Dogs are welcome and you can take them on the trail with you, as long as they are well behaved.  It is not real shady on the trails so I would not recommend this place for summer riding. All in all we really enjoyed the trails and would go back for that reason.
Additional Pictures: